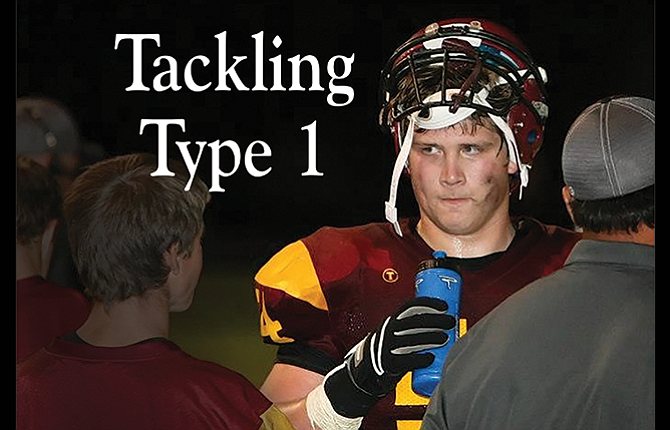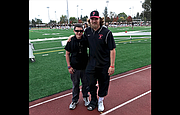 Connor Shortt, a 2014 grad of The Dalles-Wahtonka High School, always had his eye on some type of work in the medical field.
He wasn't sure just what it would be until May 2016, when he was diagnosed with Type 1 diabetes after his sophomore year at Pacific University. Now he wants to be an endocrinologist, a doctor who specializes in treatment of the disease.
Now a senior at Pacific, studying biology and chemistry, he will take a year or two off after college and then apply to medical school.
That May back in 2016, he'd just gotten home from school for the summer and had been feeling lousy for a month. He was constantly thirsty, had to go to the bathroom every 30 minutes, felt lethargic, and was sleeping all the time. Classic symptoms of the disease.
He didn't know it, but he was in diabetic ketoacidosis. He wasn't producing the insulin that turns carbohydrates into energy in the body's cells. Instead, the cells were using fats and proteins as energy. That process creates a byproduct called ketones.
Despite drinking water constantly, he was becoming dehydrated, because his body was flushing it all out as it tried to get rid of the ketones.
Then he began throwing up, and one morning he woke up short of breath and headed to the hospital. There, they found his blood sugar was 550. The normal range is 80-120.
Once they learned he was diabetic, he was sent to Oregon Health and Science University in Portland. "After a couple days in the hospital I started to feel a lot better. It'd been such a long time since I really felt good."
They learned he was a Type 1, meaning his body produced virtually no insulin, by testing the organ that produces it, the pancreas. Type 2 diabetics still have some insulin production.
He said his body still produces a tiny bit of insulin. "But eventually, all the insulin producing cells will get killed."
Getting the shocking news of a diabetes diagnosis was actually something of a relief at first. He'd been sick for so long, and he finally knew why.
"But in the hospital it hit me later. 'Oh, I do have diabetes and it's not going away.'"
Adding a layer of complexity to management of his disease is the fact that Shortt, the son of Pat and Jan Shortt of The Dalles, is a collegiate football player. He's a defensive end for Pacific, a Division III school, and it was a rocky start when he got back on the gridiron in August 2016 as a junior, just three months after his diagnosis.
His biggest blood sugar high since getting diagnosed happened during his first game after he was diagnosed. It was 385. He could tell when he had highs because he was short of breath and felt "kinda slow."
He had to be careful keeping his blood sugar stable as he played. While exercise in general can lower blood sugar, he said the adrenaline — "the excitement and nerves" — of playing football actually caused his blood sugar to spike.
"You just keep an eye on your blood sugar and I carry around a bag of gummy bears, and if I notice my blood sugar is going low I'll eat a couple gummy bears and that will usually take care of it."
In March 2017 he got an insulin pump, a low-profile device a little longer than a Tic-Tac box that he attaches to his body with adhesive. It delivers a small, steady base rate of insulin, and then a larger single dose for meals. He enters the amount of carbs he's eating and it delivers the proper amount of insulin.
He takes between 60 to 70 units of insulin a day.
He usually puts the monitor on the back of his arms or his abdomen. He also wears a constant glucose monitor on his abdomen, which tells his phone what his blood sugar is every five minutes. He changes his monitor every week.
For games, he carefully tapes the insulin pump and monitor to himself, and puts pads over it so it doesn't get grabbed. He's never taken a direct hit on it during practice or a game. He's had it fall off, though, but he just quickly tapes it back on with the spare adhesive he always has handy.
He doesn't worry about it while playing. "The stuff isn't a huge inconvenience to change and when it's taped up it doesn't really bother me."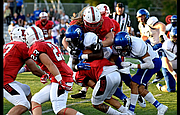 There have been ups and downs with his diagnosis. The particular downside has been "having to miss time in certain games because my blood sugar was too high to play, or if it got too low and I had to sit out."
Recently, a student from The Dalles, Aiden Marx, who also plays football and also has Type 1 diabetes, got to take in a Pacific game with Shortt.
It is part of the outreach Shortt is doing as part of a $5,000 scholarship he received from the Team Type 1 Foundation.
The two mostly talked football. "His dad asked me some tips on what I do for games and what I do for sports."
Aiden was diagnosed a month or two after Shortt was.
It can be daunting to constantly monitor blood sugars, but he also thinks he's got the right personality traits to be successful at managing his diabetes. He considers himself a driven person who is determined to stay on top of his disease.
He's maintained good control, and knows that the long term risks of diabetes — such as stroke, blindness and amputations — are lower with good control.
It took a little time to learn how to count carbohydrates —which must be controlled to manage the disease — but everyone in his family has managed. "It wasn't an option. It's the new reality," he said.
He can rattle off the carb count for a variety of things: 15 grams in a serving of strawberries, which is 1 ¼ cups; there's 10 grams in a half cup of nuts; a hamburger bun is 30 carbs, same for a hotdog bun.
He tries to get around 100 grams of carbs per meal, and 300 a day. He eats close to the same thing every day. He cooks for himself and has learned a few new dishes, but not many.
Shortt was always a "fairly healthy" eater, he said, but he's tightened up his diet.
He not only eats healthier, but he eats on a more regular, scheduled basis. He stays away from food like pizza, ice cream and candy.
He's lost about 30 pounds from his 6-foot-1 frame, and now weighs about 240.
Asked what he would tell someone who was newly diagnosed, he said, "Give the disease the respect it deserves but ultimately it shouldn't have to impact how you live your life as long as you take care of it."
He added, "You can do everything everyone else does, it just takes a little more practice and planning and thought."