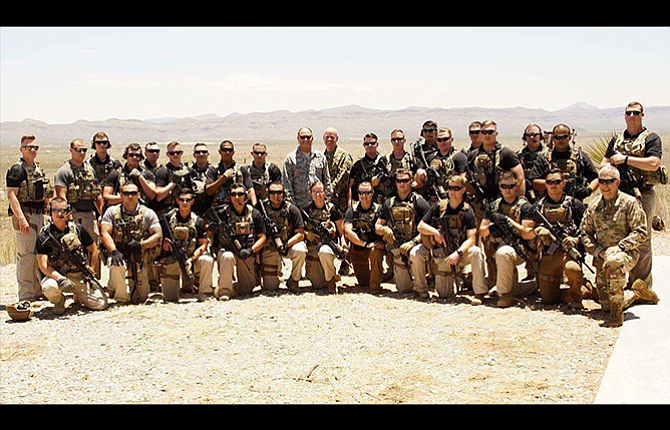 Community members in The Dalles and Hood River are asked to donate snack and hygiene items to make Christmas merrier for an Oregon National Guard platoon and other troops in Afghanistan.
The goal of the Holidays for Heroes Committee is to pack at least 30 boxes at a public event on Thursday, Nov. 16. The doors of the Civic Auditorium, 323 E. Fourth Street in The Dalles, will open at 5:30 p.m.
Got Your Six, a local band that formed to promote veteran causes, will perform during the evening. The band's name is the military term for "Got Your Back."
There will be paper and markers available for children to draw pictures — art supplies are needed — and write messages to service personnel.
Dan Brophy, a retired Marine officer who was disabled during a 1968 deployment to Vietnam, is also the chaplain for The Dalles Outpost of Point Man International Ministries, which is providing people making monetary donations with tax deductible receipts.
"Care packages from anywhere in the U.S. are always a morale builder," he said. "We should be doing this for that very reason. We need to let them know how much we care by the volume of what we send.
"We all have an opportunity to demonstrate our appreciation for what they are doing — because what they are doing is important to us and our safety."
The committee includes representatives from businesses and area service organizations. The group is still working out details for food service. Their plan is to offer people a dinner plate for a nominal cost.
A raffle will also take place to raise some of the $500 needed to cover shipping costs and includes a motorcycle helmet, gift cards and graphic art.

"There's so much turmoil in the world right now and this brings us together," said Jodi TePoel, a committee member who works at Sawyer's True Value, 500 East Third Street in The Dalles.
That business has set up collection bins and cash donation boxes. TePoel has also arranged with owner Jared Sawyer to put red, white and blue ribbons by items popular in the field, such as hand warmers, chap stick, lotion, canine treats and Christmas decorations.
The Civic, Safeway, 520 Mt. Hood Street, and The Dalles Chronicle, 315 Federal Street, will also be local drop off places for donations. In Hood River, items can be left at the Hood River News, 419 State Street.
Most of the bins have been decorated by "doodler" Tina Walsh of The Dalles.
"No matter how we feel about our current political situation this is a way to transcend it,"" said Elizabeth Wallis, manager of the Civic, who co-chairs the committee with Chris Mumford.
He is the founder and drummer for Got Your Six and a member of Point Man.
"Our troops in foreign countries need our support," he said of the reason for his involvement. Wallis said the Civic was built as a memorial to World War I veterans, so it is fitting to have the box packing there and honor those serving today.
"This seemed like a good way to reconnect the Civic with veterans," she said.
Meanwhile, almost 7,000 miles away, Capt. Rich Smith, commander of the platoon from the National Guard's 1186th Military Police forward detachment, known as the "Praetorians" is arranging for distribution of the items collected by Gorge communities.
"Unfortunately, like many soldiers, the unit finds itself serving in theater during the holiday season, away from families, and due to the operational tempo, unable to afford to send soldiers home on leave," he said.
"Our soldiers look forward to mail pickup every day as it is probably the single most important reminder of reality and the home they will return to soon. Getting mail helps keep them focused on getting through their everyday assignments."
The military police train in Hood River and Salem and its soldiers come from across Oregon and Washington, said Capt. Brian Fike, who oversees the training regime for the unit.
Fike served as commander of The Dalles Armory during the unit's 2010-11 deployment to Iraq. In 2012, he deployed to Afghanistan.
He said it is difficult for people not facing the stress of a combat zone to understand the importance of getting a care package.
"It's huge to know that someone is thinking of you while you are thousands of miles away in a culture that is totally foreign, and where you always have to be on high alert," he said.
He commended the 29 soldiers from the unit for stepping up to deploy and help provide for the national defense.
"They're making Oregon proud by showing the rest of the world what caliber of soldiers this state produces," said Fike.
The "Praetorians" left for Afghanistan in late July and will return at an unspecified time in 2018.
Smith said the unit is providing protective services for high-level officials in support of Freedom's Sentinel and Resolute Support, both missions to train and advise Afghan forces.
"I believe it is extremely important, no matter the political climate, individual opinions or circumstances of events, that soldiers remember what they do here reflects on the safety and security of our families and loved ones back at home," he said.
Gary Elkinton, a resident of The Dalles and member of the committee and Point Man, is an Air Force veteran who well remembers the uplift of getting mail from the states.
In 1977 he was in South Korea and received care packages from his family that he described as the "greatest gift."
"That was my first Christmas away from home and to get a box was really something," he said.
In addition to taking care of military police, the committee is seeking enough goods and money to cover shipping at $17.85 per flat rate box through the U.S. Postal Service, for other defense personnel in Afghanistan and a special operations unit in an undisclosed location.
"The support demonstrated by citizens even after 16 years of war speaks volumes to the commitment toward a common goal we share as Americans — that these service members are not alone in this fight," said Smith.
"Additionally, the support of Americans also aids our efforts to combat the internal war that so many soldiers struggle with upon their return."
People who want to contribute, but can't make the Nov. 16 box packing, are invited to send monetary donations to: Point Man at P.O. Box 1775, The Dalles, Ore. 97058. For more information about the event, call Mumford at 541-980-1911 or Wallis at 541-298-8533.