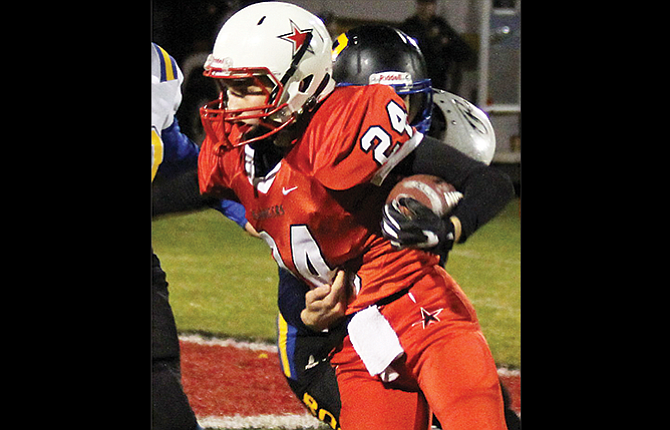 Hagen Pence rushed for 150 yards and a pair of touchdowns, and Derek Frakes and Cole Kortge connected twice for long scores in No. 2-ranked and undefeated Dufur's 58-22 romp over Pilot Rock Friday in Dufur.
The Rangers hit the end zone three times in the first half of the opening quarter, on a Frakes to Kortge completion of 47 yards, an eight-yard run from Abraham Kilby and an 88-yard rush by Asa Farrell to lead 22-0.
After a Pilot Rock touchdown, Pence rumbled 80 yards for a touchdown, Kortge caught a 49-yard pass, and Anthony Thomas hit the end zone from 33 yards out, extending the Ranger lead to 40-6 entering the second quarter.
Pence would make it a 46-6 margin after a 49-yard scamper, and early in the third quarter, Tanner Masterson returned a kickoff 55 yards for a touchdown to invoke the 45-point rule.
The final end zone trip came from Ian Cleveland, a 55-yard run with time running out in the third period.
Frakes hit on 3 of 5 passes for 99 yards and two touchdowns, Kortge had 96 receiving yards, Jacob peters had four yards receiving and Curtis Crawford went for three yards on one grab.
On the ground, Dufur carried the ball 21 times for 340 yards for a 16.2 yard-per-carry average.
Farrell had 88 yards, Thomas rushed for 33, on one carry, both touchdowns, and Cleveland totaled 58 yards on two rushes.
On defense, the Rangers held Pilot Rock to 119 yards passing and 97 yards rushing, to go with four sacks, three interceptions (Thomas with two and Farrell with one) and three fumble recoveries (two by Cleveland and one from Marcus Brown).
Logan Weinke scored Pilot Rock's only touchdown, and he finished with 51 yards rushing, and completed 13 of 21 passes for 119 yards.
Dufur (7-0 overall) will now have a week off before the state playoffs begin.