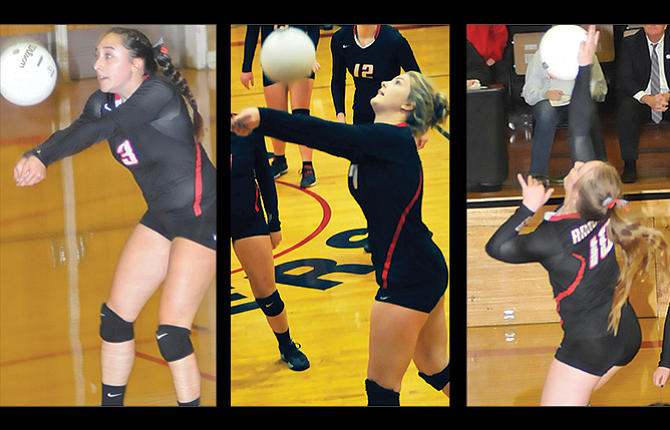 DUFUR – Her eyes reddened from tears, body ragged from an emotional five-set marathon match that eclipsed more than two and a half hours, Dufur senior Chloe Beeson could only think of the moments she shared with her teammates, having her friends and family in the stands cheering wildly every step of the way and the amount of time and dedication to put into a sport that has given her joy over the years.
Then the fact that this was her final high school volleyball match at Dufur High School, hit her the hardest.
"The thing that hurts the most is not being able to play with this team again," Beeson said. "This loss was very bitter, but I had a great team, so that's what I am looking at, the positives and not the negatives. I will never forget any of them. I will come back and support them as much as I can."
The Dufur Rangers jumped out to a 2-1 lead in this 1A state sub-round matchup, but the No. 20-ranked Griswold Grizzlies won the fourth set, 25-14, and broke open an 11-all fifth-set deadlock with a 4-1 run, capped by a kill from Kailey Mize for a 15-12 victory Wednesday in Dufur.
Dufur coach Kristin Whitley likened the playoff tilt to a classic showdown between two evenly-matched teams that did not want their season to end.
Senior Haili Wolf-DePriest agreed.
"Both teams left it all out there," Wolf-DePriest said. "It went back-and-forth, the crowd was loud, and you just feed off that energy. It's so great to be a part of that. These are moments in high school that you never forget. It sucks that we had to lose because we all gave everything we had to win. They were just able to make the big plays when it mattered."
A five-set match appeared to be far from the minds of either of the teams or their fans, as the Rangers jumped ahead by scores of 6-1, 13-3 and 18-4, until a kill by Dufur's Sydnee Byers, followed by a hitting error by the Grizzlies, made it a 25-13 score.
Griswold did not fold in the second set, however, with both teams matching each other hit for hit.
The Grizzlies (21-9 overall) had three set-point serves and the Rangers had one, but the road team went on a 3-0 run to erase a 26-25 deficit, the final point for a 28-26 win coming on a block by Mize, to even the match at 1-apiece.
At that point, momentum could swing either way, especially after an exhausting second set.
It was the Rangers, who showed new life on the court, as Alexus Outlaw dropped four kills and had 10 digs, Beeson and Mikayla Kelly tacked on two kill shots apiece, and Byers and Wolf-DePriest went for an ace, a kill and three digs each in a 25-22 victory to go ahead in the match, 2-1.
Mize had four kills, Arianna Krol tallied three and both Charmayne Bennett and Sadie Wilson added two apiece in the Grizzlies' 25-14 fourth-set win.
In the fourth set, Dufur committed two service errors, 10 passing miscues and had five kill errors.
The Rangers led 8-3 at one point in the fifth set, after a kill and a stuffed block by Beeson, but Griswold stormed back on an 8-3 run to tie the score at 11-11, forcing a timeout.
Outlaw dropped a kill to even the count at 12-all, then two consecutive Ranger miscues, followed by Mize's kill, advanced the Grizzlies to the second round for the first time in three years.
Beeson finished with seven kills, five aces, five blocks and a career-high 27 digs, and Mikayla Kelly followed up with 10 kills, four aces, six blocks and a dig to lead the Rangers.
Outlaw notched nine kills and eight digs, Wolf-DePriest tacked on three kills, four aces and 10 digs, and Byers went for four kills, an ace and eight digs.
All told, the Rangers committed 28 kill errors, 11 missed serves and 21 passing errors in the five sets.
"In these close matches, every play is magnified, so it forces you to be extra precise and on your game," Wolf-DePriest said. "Both teams had things like missed serves and hits, a little miscommunication, and it was so close that when there are points going here or there, the best thing to do is focus on the next serve and get your team's momentum back."
The Lady Rangers started with a 1-5 record, three sweep losses, and at one point had a 3-8 record.
Starting on Sept. 19, Dufur won nine non-tournament matches in a row, seven by sweep, until a district championship loss to South Wasco County on Oct. 21 in Moro.
"I am really proud of them. When we first started out, I saw a lot of insecurities with just trusting each other, talking to each other," Whitley said. "It is hard when you have a team that was used to having great senior leadership from their setter, so there was a lot of timidness at the beginning of the season. I am really proud about how they came together throughout the season and started trustim ng each other."
With their late-season resurgence, Beeson was a first-team, all-league winner and Player of the Year, and Outlaw, Byers, Trinity Blake and Kelly were also league recipients.
As a first-year coach Whitley relied on the positivity that Outlaw, Wolf-DePriest and Beeson brought.
"I think they paved a good path all-around. It is great to have senior leadership in all aspects of the game," Whitley said. "It was a trifecta of leadership at the end. It made my life a lot easier, knowing they were on the court. They wanted to work hard for their team and pull their team through."
Having Blake at setter, Kelly in the middle, Aleksei Uhalde at libero, Kalie Ellis at hitter, and incoming seniors Byers and Kayla Bailey back next season, Whitley will build around that core with hopes of vaulting them to Redmond for state.
"I am excited that Trinity will be back. She is a very solid setter. She is very perceptive and reads the game so well," Whitley said. "Her and Mikayla are stepping into that leadership role together. Knowing that they will be back and knowing that I have two incoming seniors in Kayla (Bailey) and Sydnee (Byers) is good thing because we can start the year with them already knowing my team philosophy, so hopefully it will be a little more of a smooth transition with them knowing my expectations and being excited to be upperclassmen."