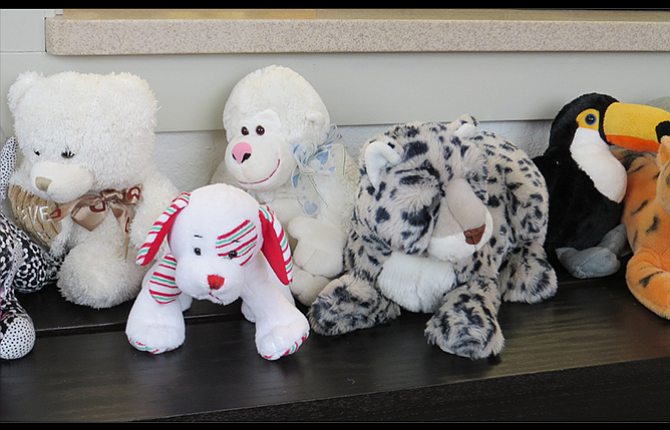 The Columbia Gorge Child Advocacy Center looks like a typical day care when one first walks in the door: the room is brightened by primary colors and hundreds of stuffed animals line shelves and window sills.
It's hard to see the cheerful space at Woods Court in Hood River and believe it is a place where children who are in trauma come, and that is exactly the point.
"We've worked very hard to make it a welcoming place. I'd like to say that this is the first step in the healing process," said Beatriz Lynch, director of the CGCAC.
The center has deliberately created a serene and child-friendly environment where young victims of sexual and physical abuse can receive the services they need to get their abusers prosecuted.
The interview room at the CGCAC has wall hangings that are soothing but also intended to absorb sound if the child becomes emotional.
There are crayons and a coloring book on the table in front of two plush armchairs. Some children use coloring as a distraction while they are disclosing what happened to them, said Lynch.
All interviews are recorded and monitored while they are happening by law enforcement and child protective workers, who may suggest questions.
Lynch is one of three people trained to conduct the interviews, which she said can be tough because most of the children are under 8 years of age. In addition, their entire family is in crisis — either one of the parents has been implicated in the abuse or they are trying to grapple with the pain of knowing that someone has hurt their child.
"Their world's coming apart," she said.
She said the interviews can be especially heart-wrenching when a parent doesn't want to believe what the child is saying about a spouse or life partner. And that leaves the boy or girl without anyone to turn to during a time of great stress, Lynch said.
After the interview, there is a forensic examination "from head to toe" of the child in a private room outfitted with equipment for that purpose.
Dr. Michele Beaman of Providence in Hood River performed the exams for seven years but stepped down at the start of 2017.
That has left the CGCAC with a crisis of its own, said Lynch, because none of the hospitals in the Gorge will examine children for sexual abuse, and sometimes they even turn away physical abuse assessments.
If the primary doctor of the child does not agree to perform the exam, Lynch said the
families, law enforcement officials, prosecutors and child service providers must travel to Portland to get the evidence needed to build a case.
"We really need two or three doctors right now to split up those duties," she said.
Wasco County Sheriff's Detective Scott Williams said, once the doctor crisis is resolved, it will be beneficial for investigators to have all the services they need in one place. "It's really all about the kids," he said.
Lynch said 73 children were seen at the center in 2016 and there have been 51 this year — mostly for physical abuse.

With Wasco County now added to the mix, she said the numbers could double. She is writing grants to supplement the $30,000 per year that the county will provide.
"It's awesome that we're able to work together now," said Lynch.
Mandatory reporters, such as schools, the Department of Human Services and child care providers, among others, usually refer cases to law enforcement entities, which arrange for the child to be interviewed and examined at CGCAC.
"We greet them when they walk through the door and give the family a tour," said Lynch. "Then we sit down and explain what's going to happen. Nothing's a secret; the parents know, and the child knows."
When the child is relaxed, and a rapport has been built with Lynch or the person who will be doing the interview, he or she is taken to the room where their conversation can be recorded.
"We ask open-ended questions, so the child is telling the story in his or her own words," said Lynch, who is bilingual and assists with cases involving Latino families.
She has undergone 40 hours of specialized training to learn how to follow Oregon Forensic Interviewing Guidelines, and there are other regular training opportunities.
Three times a year, tapes of interviews are reviewed by the entire team, so they can look for ways to improve the process and debrief about situations that were upsetting.
"It's fantastic because you come back with really good ideas and support," she said.
The CGCAC also helps families access counseling, medical assistance and other resources they need during the prosecution of a case. Families do not pay to have a child assessed at the center, although insurance providers are billed.
Knowing that children are spared the trauma of being interviewed at the emergency room or a police station is enough to keep you going on rough days, said Lynch.
"I'm just thankful we've gone as far as we have in our society to have a place like this."