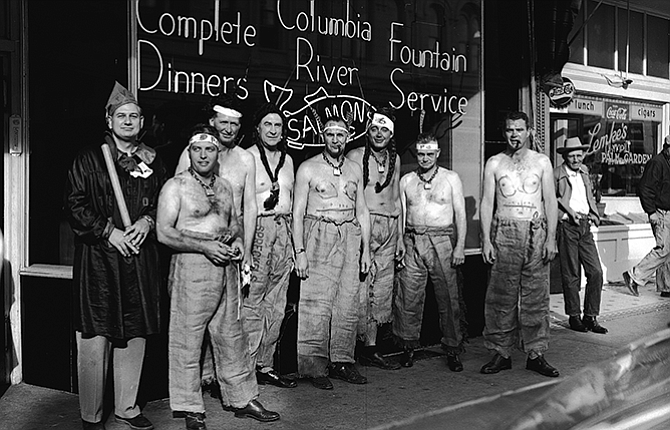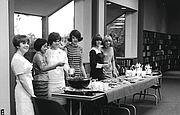 20 years ago – 1997
The Dalles City Council delayed spending $1,400 to hire a temporary parking enforcement officer until the police union issue is more settled.
Local hotel/motel managers today will discuss a 2 percent lodging tax proposed to help pay for a convention center at the new armory. So far, not much support – but a lot of questions – seems to exist for the idea.
Congress has directed the U.S. Army Corps of Engineers to define the extent of a study necessary for lowering the John Day Dam reservoir in order to benefit endangered salmon runs. The $250,000 scoping study – an outline of what should be considered later in a full study – is due 90 days from Oct. 13.
The new hydro plant at McNary Dam may not be able to achieve its designed 10-megawatt capacity, Northern Wasco County PUD commissioners learned Tuesday night.
BERLIN (AP) – Federal judges considering Germany's fight with Scientology signaled today that they would not decide the central question of whether the Los Angeles-based church is a religion or a business. The Church of Scientology claims widespread discrimination against its members in Germany, and had hoped for a ruling that would give it legal grounds to challenge the treatment of followers.
WASHINGTON (AP) – President Clinton's drug czar broke the administration's relative silence on a ballot measure in Washington state Tuesday, urging defeat of what he said is the quasi-legalization of drugs "under the guise of medical compassion." "Initiative 685 is just another in a series of orchestrated attempts to undermine sensible drug-control policies designed to keep dangerous and addictive substances away from the nation's children," said Gen. Barry McCaffrey, Clinton's chief drug policy adviser.
40 years ago – 1977
MOSIER – A search for a lost child near here ended Friday evening when the 2½-year-old boy was found in a field about a mile from his home. Daniel Huskey, son of Delbert Huskey, Rt. 1, Box 96, was reported missing just after 4:30. He was found by a relative about two hours later.
Former Oregon Governor Tom McCall is on the verge of announcing his candidacy for governor.
Amtrak schedules will change slightly Sunday with the end of daylight savings time.
SINGAPORE (UPI) – Four hijackers seized a DC-3 plane in Vietnam today, killed two Communist officials aboard the aircraft, flew to Thailand and then surrendered in Singapore.
60 years ago – 1957
Teachers attending the North Central Oregon Regional Educational conference here yesterday and today are pooling their knowledge and experiences toward the goal of imparting more knowledge to the youngsters they have in their classrooms. The teachers have some real problems, extending from a divergence of theories on how children should be taught to complaints from parents who don't understand the teaching process and the ever-present problem of trying to teach the brightest and "dumbest" youngsters in class along with the greater number of "normal" students.
The Harvey Aluminum plant, if fully developed as planned, will mean a capital investment of over $60,000 per employe, County Assessor C. A. Wood told members of the Wasco County Tax League while reporting on a talk previously given by William Bade of Portland, manager of Oregon Tax Research.
HOLLYWOOD (UP) – Motion picture mogul Louis B. Mayer, immigrant son of an ironmonger who became America's highest paid executive, died early today from the lingering effects of severe anemia.
WASHINGTON (UP) – Secretary of State John Foster Dulles said today that the current power struggle in the kremlin requires the United States to be alert for a possible Russian adventure. Dulles did not say whether this might take the form of a military or diplomatic action.
80 years ago – 1937
Breakfast club members today expressed the belief they would realize a profit in the neighborhood of $1,000 from the amateur boxing championships to be staged in the municipal auditorium tomorrow night for the benefit of the club's city natatorium project. Receipts from ticket sales will be turned over to the city for equipping a natatorium which, club members hope, will be constructed soon. The fund may also be used for plans or any other details necessary to further the natatorium project, they said.
Local delegates to the annual meeting of the Mid-Columbia chamber of commerce at Hood River last night received assurances that all towns, cities, communities and organizations located along the middle river would participate in Bonneville dam dedicatory ceremonies being promoted by The Dalles chamber of commerce and scheduled for Dec. 1.
Pittsburgh, Oct. 29. (UP) – Pittsburgh's rivers passed flood stage today for the first time on record in October but the cessation of rains saved the city's "golden triangle" and other sections of the tri-state area from a disastrous flood.
The new offices of the firm of Drs. Reuter, Thompson, Coberth and Griffith and their associate physicians, Taylor and Vogt, will open Monday morning, November 1, in the building recently constructed south of The Dalles hospital. Each room for patients is approximately 10 by 12 feet and is decorated in a pastel shade. Each contains all metal furniture – a bed, a bedside table, armchair, ottoman, small chair, locker and over-bed table, which can be adjusted for reading or for use as a table.
100 years ago – 1917
"Pledge-Card week" is being observed throughout the nation. A house-to-hose canvass in the furtherance of this food-conservation campaign will be started in The Dalles tomorrow morning. Clyde T. Bonney, county school superintendent, is in charge of the movement in Wasco county.
WASHINGTON, Oct. 29. – Ten million subscribed to the second issue of the Liberty loan, it was stated today.
LONDON, Oct. 29. – Of the 13,000,000 persons who have crossed the Atlantic since the outbreak of the war, only 3500 have been lost, Lloyd George told the house of commons today in praising the work of the navy. The navy has safe-guarded 25,000,000 tons of explosives and 51,000,000 tons of coal, the premier declared.
ZURICH, Oct. 29. – The central powers continue to declare their readiness for peace. "If the enemy persists in war, we will show our power and our force of arms," declared the Austrian premier Von Zidler.