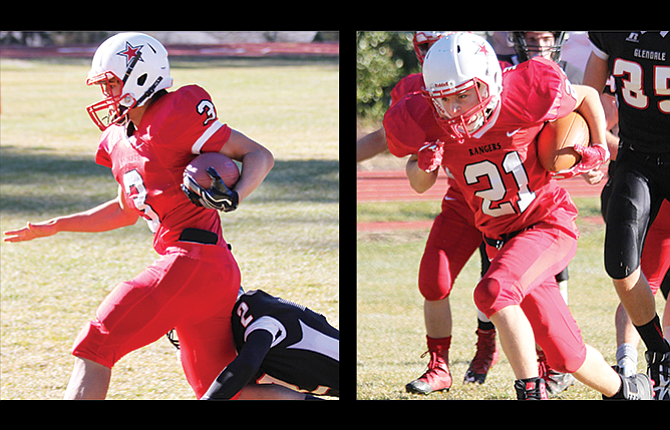 With a chance at an undefeated regular season, the No. 2-ranked Dufur Rangers charged hard and fired off at will in their 54-22 victory over Glendale in a 1A football contest played Friday afternoon at Gilchrist High School.
Dufur head coach Jack Henderson liked the way his team came out focused and started fast on both sides of the ball.
"Derek Frakes threw the ball well and all of our kids were able to gain some good experience," Henderson said. "Offensively, our interior line of Tabor McLaughlin, Russell Peters and Wade Blake did great jobs."
The Rangers (8-0 overall, 3-0 league) scored on their first four possessions of the opening period and hit the end zone twice more in the second quarter to go ahead by a 46-8 margin at the half.
Hagen Pence broke the seal on Dufur's blowout with a 12-yard run at the 10:33 mark of the first quarter.
Derek Frakes added a 10-yard run, and he finished back-to-back drives with touchdown passes of 31 and 45 to Pence, swelling the lead to 32-0.
Cooper Bales then plunged in from a yard out, and following a Glendale score, Parker Wallace found an open lane and coasted five yards to the end zone, his second career varsity touchdown, giving the Rangers their 38-point lead at the break.
Less than one minute into the second half, Anthony Thomas scooped up a Glendale (3-6) fumble and turned it into a 48-yard return to the end zone, making it a 54-8 score, inducing the 45-point running clock rule with 11:01 left.
Frakes completed 5 of 7 passes for 94 yards and two touchdowns, both to Pence, who caught four balls for 83 yards.
Both Curtis Crawford and Tyson Byers had 11 yards on a catch apiece, and Alex Barrett notched eight yards on his only reception.
"Knowing that I have our backers and line blocking for me allows me to step up and throw the ball. I have a lot of trust in these guys," Frakes said.
On the ground, Dufur tallied 195 yards on 29 attempts, with Tanner Masterson leading the way for 109 yards on three totes, including a 64-yard scamper on the game's final play.
Thomas added 22 yards on one rush, Asa Farrell hit for 19 on his lone attempt, and the trio of Pence, Frakes and Wallace tallied 37 yards on six carries with a touchdown each.
The Ranger defense allowed 110 yards on 38 plays, 71 rushing on 23 carries, forced two turnovers, had four sacks and 10 tackles for loss, and held Glendale to 2 of 9 on third downs and 1 of 4 on fourth downs.
Masterson posted a team-high seven tackles, Marcus Brown added six tackles and two sacks, Matthew Sipe had four tackles and a sack, and Thomas tacked on two tackles and a sack to go with his second-half defensive score.
Now fully healthy and with a head of steam, Henderson will move his attention to the postseason and a possible run at a third consecutive state title.
No. 2-ranked and undefeated Dufur hosts No. 15 Lowell (6-3) at 6 p.m. next Friday at Dufur.
"Finishing the season undefeated was a great accomplishment, but we need to use that momentum and carry it on to where it really matters," Frakes said. "The team continues to play great all season, and one of the big keys this year, is just our mentality of wanting to go out there and perform."
Also in the Big Sky Conference, No. 14 Arlington-Condon (5-4) qualified for state, and hits the road to fourth-ranked Crane (7-1) for a first-round contest slated for next Friday.