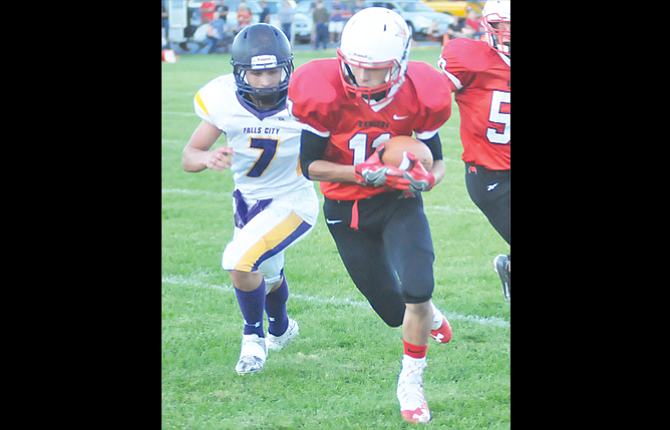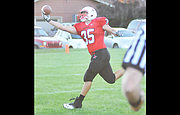 DUFUR – Falls City needed only three minutes to score a touchdown on its opening drive.
Although the Mountaineers would not score again in the opening half, they stayed within contention down 20-6 at halftime, until the Dufur Rangers settled in and dropped the hammer for a 50-12 victory Thursday on opening night of the Dufur Eight-Man Classic.
That first 24 minutes of play is something the Rangers will need to get used to – teams are going to throw their best punches every week.
They better be ready for it.
"I am not really sure that we were ready for it tonight," said Dufur head coach Jack Henderson. "The reality is we just won a football game, 50-12, but that isn't good enough for Dufur High School. We want to play a lot better and be really impressive and maximize our athleticism, but we weren't anywhere close to that tonight. We look forward to seeing the journey of working on that moving forward and I am very confident we will get there."
Ahead by 14 points at the break after two rushing touchdowns by Ian Cleveland and a 15-yard scamper from quarterback Derek Frakes, the Rangers scored three times in a span of 3:09 to take the lead for good.
Frakes and Curtis Crawford connected on a 13-yard touchdown pass and added the conversion, and following a Falls City punt on its ensuing possession, Frakes found an open Cole Kortge for 47 yards.
Frakes then hit Crawford on the conversion pass, giving the Rangers a 36-6 advantage with 7:38 on the clock.
On their next drive, the Mountaineers fumbled the ball away to give the Rangers possession with only 36 yards to gain.
Three plays later, Crawford hauled in a 20-yard pass from Frakes, which moved Dufur ahead by commanding 42-6 margin, at the 6:37 mark.
Falls City inched to within a 42-12 deficit on a 78-yard fumble return by Austin Burgess, but could not get any closer, as Ranger running back Abraham Kilby barreled through the Mountaineer defense to the end zone from 40 yards out to cap the barrage.
"A huge bright spot was Tabor McLaughlin, who weighs 140 pounds or something," Henderson said. "He played left guard for us and did an incredible job. On the play that Abraham Kilby scored in the second half, Tabor had one of the key blocks, where he moved the defensive end off the ball. That was good to see. He played really well on defense too."
All told, the Dufur defense allowed 153 yards of offense, 65 in the second half.
After the 66-yard opening drive, Falls City committed four turnovers, two fumbles, and punted three times and had four drives end in loss of downs.
Mountaineer quarterbacks completed 5 of 18 passes for 42 yards with two interceptions.
Dufur offensive and defensive lineman Russell Peters said the defense flew to the ball a lot more and were able make the sure tackles.
"We knew what we were doing wrong and I felt like we were able to correct it as the game went on," said Peters, who had a fumble recovery. "That is why we progressively improved in that area in the second half of the game."
In his second career start and first as the team's full-time signal caller, Frakes completed 11 of 16 passes for 197 yards and three touchdowns and added 55 yards rushing to his efficient night.
Kortge netted 98 yards on four catches, Crawford added six catches for 81 yards and a pair of scores, and Hagen Pence totaled 18 yards on one catch.
Seven different Dufur players hit for 253 yards rushing on 37 carries, with Anthony Thomas going for a team-leading 48 yards on eight attempts.
Pence had 47 yards, Kilby rushed for 40, and Cleveland chipped in 30 yards on nine carries to go with his two end zone trips.
With time running out in the fourth quarter, Tabor McLaughlin turned his only carry into a 33-yard gain, which allowed Frakes to take two kneel downs to end the game.
"We came out kind of sluggish, but after halftime, we realized that this was just another game and that we had to keep working and that we were going to get better and better," Frakes said. "Once we overcame our jitters, then we started playing Dufur football."
Frakes, Peters and Crawford all agreed that the Rangers are far from a finished product.
A few players are dealing with bumps and bruises, some are playing new positions and will need to further acclimate themselves to their responsibilities, and the team is going to use its practice time to improve on the fundamentals.
"We definitely have much more to look forward to than this. That's the big thing, we know where to start and we know the areas we will need to work on to be a good team," Crawford said. "We will have a lot more to prepare for, and we know that if we want more, we know what we need to get better at. We need to be physical in practice and we need to come in with the right mindset, ready for anybody we face."
As he turns his attention to Monday and film study, Henderson and his coaching staff will take the time to figure out what players will step up to the challenge and jump-start this team.
With a road trip to Crane scheduled for next week, the improvement aspect needs to hit a fast track.
"I think our coaching staff does a pretty good job of putting kids in the right positions and things like that," Henderson said. "We will have some kids in different positions next week, just to make us a stronger, more cohesive football team. Finding those right roles will make us better. The reality is, at Dufur High School, you better perform or you are not going to be on the field."
Action starts at 1 p.m. next Friday in Crane.
Radio station 102.3 FM has the live broadcast.
Fans can also log in to www.gorgecountry.com for the stream.