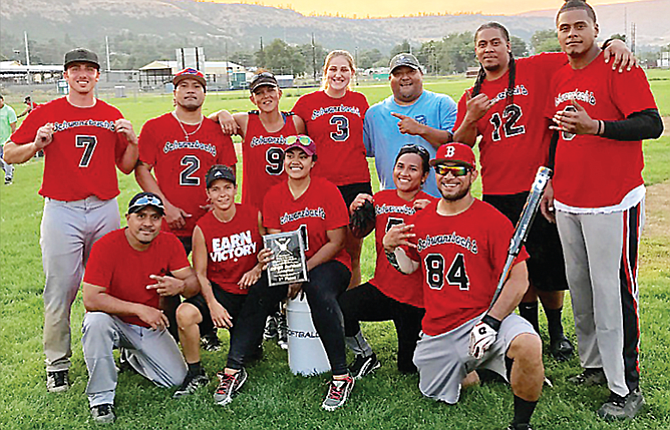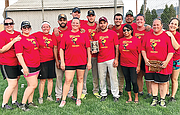 The Northern Wasco County Parks and Recreation District Adult Co-Ed Slow-Pitch Softball League had one of its largest groups this past season, which made for a dramatic playoff race and championship finale last Sunday in front of a large crowd at Kramer Field.
Of the 12 teams in the single elimination bracket, Schwarzbach's Bar, Zim's Brau Haus, AmeriTies and Team McGlovin secured big wins to vault into the semifinals.
In two very close semifinal contests, Zim's beat out AmeriTies and then Schwarzbach's took care of business in their battle with McGlovin to advance to the championship.

Both Zim's and Schwarzbach's came out swinging in the opening frame of the title matchup, with Schwarzbach's jumping out in front by a slim 5-3 margin.
As the game wore on, the talented Schwarzbach's lineup could not be denied on this day, as every hit found a hole or gap in the field, including a 325-foot home run to deep left field off the bat of slugger Eddy Ofisa.

Even down early, Zim's tried its best to storm back, but the Schwarzbach squad had enough in the tank to pull off the 18-8 triumph.
"It was a fun season. The group of players we had were great," said starting pitcher Tavita Seufalemua. "We're all good friends, so chemistry between the players was there. I'm glad we pulled through in playoffs. It feels good to win another championship in this league and I hope this team can win more championships next year and for many years to come."
On the Zim's were Yasmine Fernandez, Mike Cates, Francisco Garcia, Alex Counts, Mark Sandoz, Grayson Wallace, Javier Loera, Crysta Counts, Erin Rue, Viola South, Amy Krol, Stacey Ihrig, Jimmy Perez and Maureen KuKu.
Representing the Schwarzbach club were Raec Schwarzbach, Seufalemua, Pauline Ofisa-Tauala, Elisapeta Tunai, Kim Kiser, Shaun Tauala, Fou Siatigi, Alisa Meyer, Amber Tompkins, Tuai Siatigi, Tamau Tauala, Eddy Ofisa, Rebecca Tobias and Jessica Ball.
"This team fought hard this season for the win," Tobias said. "I've played on the same team with Fou, Tuai, Eddy and Tavita for many years back when we were OVH. They are all a great group of people, definitely like family to me after all these years."
Since they scored more runs than McGlovin in tournament play, AmeriTies was awarded third place.

When he found out his father was sponsoring a co-ed softball team, Raec Schwarzbach was all in, because he wanted to do everything he could to help represent in the best way possible.
"The team was full of different personalities, but when it came down to it, we all wanted to crush the competition, while still exuding sportsmanship and grace," Schwarzbach said. "It was the highlight of my summer to contribute to the team, while representing our family name."
With the surge in popularity, NWPRD league director Stacey Ihrig called the 2017 campaign one of the best yet, given the level of competition and the fact that the teams doubled from six to 12 this summer.
Her goal is to keep building and adding extra elements to the league to make it memorable for men and women across the gorge.
"I hope the league just continues to grow, and more and more adults sign up to participate, because it is just a fun time and is a good opportunity to keep the adult community active, as well as socialize with friends and meet new people," Ihrig said. "I want to extend a thank you to all the players and teams who participated this season and I look forward to next year."
To find out more on the league, how to sponsor or to join, call the NWPRD offices at 541-296-9533.