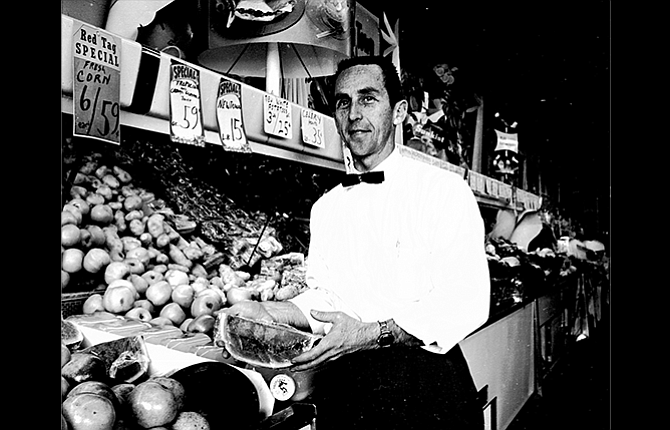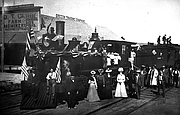 20 years ago – 1997
At last, the three dilapidated structures by the Sixth Street Bridge will be torn down, probably within the month, officials announced. "We're looking forward to certainly enhancing the visibility of that location. They've been an eyesore for a number of years," said Northern Wasco County Parks and Recreation District Executive Director Karl Cozad. For years, various agencies have planned to raze the former motel units.
It was hardly the deal the city was hoping for – in fact it was even called strange – but The Dalles will play ball anyway. The city council agreed Monday to move forward on a loan/grant process for $800,000 to help raze the downtown grain elevators and build new ones on the Port of The Dalles. With the elevators gone, the city could eventually expand its sewer plant westward.
Scattered showers and thunderstorms today. Highs near 80. West wind increasing to 15 to 20 mph. Scattered showers and thunderstorms tonight with lows near 60.
WASHINGTON (AP) – Accepting the argument that teenagers would stay away from health clinics if forced to tell their parents, the House has defeated a measure requiring parental notification before minors can receive contraceptives.
40 years ago – 1977
Work has begun on restoration of The Dalles Art Center building. (Carnegie Library.) Director Mark Hopkins and Mike Higgins were tearing shelves apart this morning as the first stage in what will be a complete remodeling of the interior and refurbishing of the exterior to put it in its original condition. "We're going to take every precaution to maintain the aesthetic values of the building," Hopkins said.
A lineman for Wasco Electric Co-op was electrocuted while on the job near Wamic Friday morning. Edwin E. Fullenwider, 51, 2306 Skyline Road, was apparently killed instantly when he took 7,200 volts of electricity. Wasco Electric Manager Art Thomsen said that Fullenwider was hit in the chest by the energized end of a bypass jumper (a device used to keep power flowing while work is in progress).
MORO – Sherman County's Fair moved into the final activities today with a rodeo performance at 1:30 and activities through Sunday. More 4-H winners at the Sherman County Fair were announced this morning.
Wheat growers will meet next Tuesday in Dufur to discuss what to do about planting the next crop in view of drought conditions.
WASHINGTON (UPI) – No immediate decision on women in combat will be made by the Army because needed studies have not been completed, the general in charge of personnel policy says. "We need that information," Maj. Gen. DeWitt Smith said Friday.
60 years ago – 1957
Following considerable discussion last night, Dalles City councilmen passed an ordinance as another step in the continued closure of most of The Dalles forest watershed to public access. Under closure as proposed by Councilman Dr. John Skirving, some previously closed fringe areas of the watershed would be opened to hunting this season. Skirving said areas within the watershed which do not actually drain into the Mill Creek gravity system used by The Dalles are being opened, along with several pieces of privately owned land over which the city has no jurisdiction.
Volunteer recruiting donors for a Friday's quarterly visit to Wasco county of the Red Cross Bloodmobile are reminding residents of this community that only 71 per cent of the 220-pint quota was produced at the July blood drawing.
The architectural firm of Edmundson & Kochendoerfer, Portland, with R. Evan Kennedy, engineer, has been retained to design the new hospital here.
The State Highway Department has authorized changes at the intersection of old Highway 30 and the new Highway 30 and at W. Sixth street approach to that area as part of a plan to help eliminate traffic hazards, assistant State Highway Engineer G. S. Paxson reported to the city council, in a letter read at a council meeting last night.
80 years ago – 1937
Money comes and money goes, in strange and devious ways, according to C. T. Smith, operator of The Dalles-Northdalles ferry. Not long ago a conscience stricken individual sent Smith 75c, declaring it was to pay for a ferry trip taken 20 years ago, when he assured the operator he would pay "within a few days". Then a few days ago the "reverse English" was applied, when someone stole the wallet of a ferry employe, containing $7, a driver's license and valuable papers and pictures.
Confidence that Inland Empire communities can attain their objective of complete Columbia and Snake river development within a short space of time was expressed today by W. S. Nelson, manager of The Dalles chamber of commerce, who said a drive soon will be undertaken here and elsewhere to finance the necessary promotional program.
PORTLAND, Sept. 10. (UP) – The Davidson Baking company resumed operations today after being shut down for two days when pickets from the Bakers' union and Bakery Drivers' union picketed the plant because E. F. Davidson, president, refused to comply with an order of the Oregon Bakery board to raise the price of bread one cent.
BONNEVILLE, Sept. 10. (UP) – Whether salmon will be able to get over Bonneville dam next year has been a moot question since construction of the huge project was started, but the salmon had the right of way today.
100 years ago – 1917
It won't be so very many days before the dirt will begin to fly, and it won't be so very many months before Wasco county will have some good roads. Bids will be opened by the county court September 25 for the grading, ditching, draining and macadamizing of The Dalles-Dufur section and the Dufur-Kingsley section of The Dalles-California highway.
Canning and exhibiting at the Spokane Interstate fair against 18 teams from all over the northwest, the Wasco county team, which is composed of Exie Morgan, Dora Johnson and Esther Watson, captured most of the honors and won the admiration of the crowds as well. The team won first place in the "demonstration," first place in the canning exhibit and third position in the general contest.
Do Your Feet Ache? See the foot specialist September 12 and 13. Free advice. Edward C. Pease company.
PORTLAND, Sept. 10. – Millers and dealers report a serious flour famine on the entire Pacific coast, due to the fact farmers are holding their wheat. It is predicted that unless the farmers release the crop, President Wilson will commandeer it. A shortage of mill stuffs, which is already serious, is growing worse as a result. Dairymen are hard pressed.