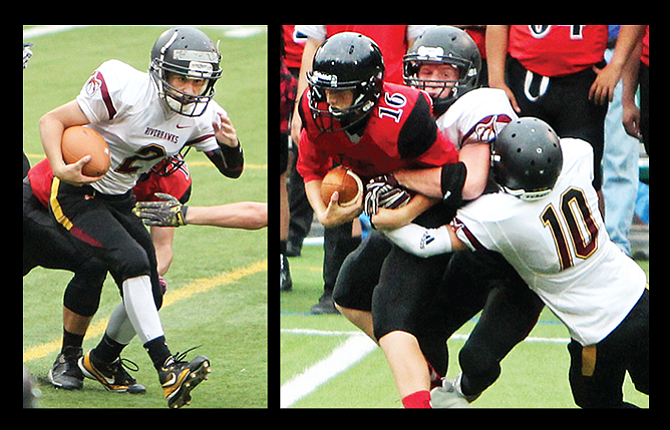 With every snap and every offensive series, The Dalles quarterback Gabe Helseth is showing he belongs.
The sophomore completed 14 of 28 passes for 192 yards and three touchdowns as the Riverhawks moved their record to 2-0 on the season after a 34-0 shutout victory over Fort Vancouver Friday night in Vancouver, Wash.
"Gabe has matured a lot this year," said Mac Abbas, who had a pair of touchdown catches. "He is our engine. He is making all the pistons run and he is doing a good job this year. I think this is only the beginning of what he can show."
Offensively for the Hawks, they totaled 392 yards on 73 plays from scrimmage, had 21 first downs, went 8 of 15 on third down conversions and were a perfect 5 for 5 in the red zone.
While the offense was firing on all cylinders with three scores on their first three possessions, the defense steamrolled a hapless Trapper offense, holding them to negative 22 yards of offense on 41 plays.
TD's defense, coached by Rich Belanger, posted five sacks, two interceptions, two fumble recoveries and 10 tackles for loss.
The Trappers converted just 2 of 11 third downs, punted seven times, turned the ball over four times and had one drive end on a loss of downs.
In two games, spanning eight quarters, the Riverhawk defense has allowed three touchdowns in two of those quarters and surrendered 255 total yards on 102 offensive plays.
Head coach Steve Sugg likes the direction the defensive unit is headed with his staff in the fold.
"It is good to get our defensive coordinator back," Sugg said of Belanger. "I am trying to get my old staff back together, so that will further build on the continuity we are building here. It releases me a little, because I don't have to worry about that side of the ball, I can just focus on offense. That is a big plus. Rich is a great coach. He relates well with the kids and they believe in him. It is good to have that."
TD scored on its first three possessions, doing so with drives that amassed three minutes and 14 seconds.
At the 10:20 mark, Yordi Sanchez hit the end zone on an eight-yard run, and then the Hawks tacked on two more scores just nine seconds apart.
Abbas hauled in an eight-yard touchdown pass at the 5:53 mark of the opening period to cap a seven-play, 71-yard drive, and then following a Fort Vancouver fumble, Helseth connected with senior receiver Glenn Breckterfield on a 19-yard score, swelling the lead to 18-0, which would hold at halftime.
With 7:32 left in the third quarter, Helseth tossed his third touchdown of the game, a 16-yard connection with Abbas to make it 24-0.
Breckterfield added the conversion catch for two points, giving TD a 26-0 advantage.
Out in front by four scores, the Riverhawks put an exclamation point on matters with 3:10 left in regulation, as Jacob Schacht rumbled four yards to paydirt for a 32-0 cushion.
The defense put the final two points on the scoreboard on a safety as time expired.
JR Scott and Denver Neill combined for 12 tackles and four sacks, two apiece, and Dalles Seufalemua added 4.5 tackles, and Ophath Silaphath notched four tackles, three for loss, recovered a fumble and had a sack.
Sanchez and Baily Hajicek chipped in an interception each.
In the ground game, the Riverhawks rushed 45 times for 201 yards, with Seufalemua leading the way with a career-high 104 yards on 16 carries.
Schacht rushed for 37 yards, Helseth tallied 25 and Sanchez finished with 19 yards and a score on his six rushes.
Breckterfield had a team-leading 124 yards on seven grabs, Abbas went for 24 on his two scoring catches, and Michael Armstrong notched 15 yards on two completions.
Entering the season, the biggest question mark was the Hawks' offensive line.
Through two games, that group of four sophomores and a senior has given up one sack.
"I thought our offense really got clicking there. We were running the ball consistently and we were getting the ball to the outside," Sugg said. "Our offensive line is still a work in progress. Those sophomores have to learn to sustain their blocks a little bit longer. They will. Through time and experience, they will get it. I think once we get that, our offense will continue to show some things."
Flying high with a pair of wins under their belts to start the 2017 campaign, the Riverhawks have shown heart and tenacity on the gridiron.
There are still some depth issues, but the underclassmen are stepping up to the challenge and more players are coming out to add reinforcements to both sides of the ball.
Sugg said that he is excited about this team.
Many of the players have stuck it out through some tough years, but are buying into the system in place.
"The junior class and the seniors are combining with that good sophomore group that we have, so I think it shows that the kids are starting to get it," Sugg said. "They are seeing what their potential could be if they stick together and continue to work hard. Their potential is there, and so I think it shows that we are going to have this winning feeling that we have a couple more times in the future."
The Dalles (2-0 overall) heads out to Cottage Grove High School for a non-league tilt at 7 p.m. next Friday against Brookings Harbor (0-2).
For the live broadcast stream, log on to www.kodl.com.
Game stats courtesy of www.sportsstatservice.com.