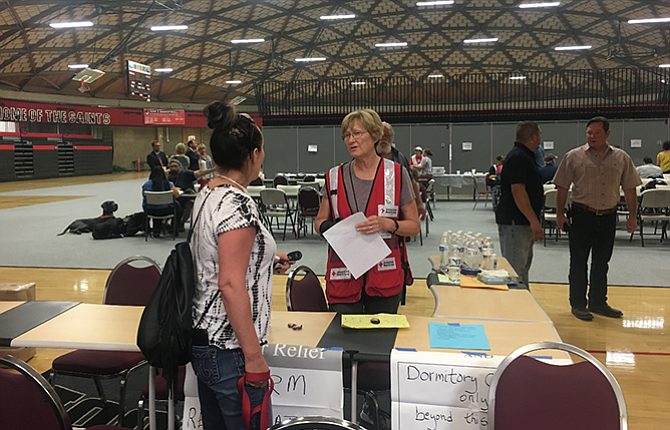 The Eagle Creek fire continues to burn in the Gorge, and containment is now estimated at 11 percent, according to a Tuesday morning update by the Oregon State Fire Marshal.
On Monday night, approximately 8 p.m., skies cleared and burning fuel pockets west of Herman Creek created an impressive plume visible for miles, according to the report.
The plume was caused by active fire, as light winds funneled up the Herman Creek drainage.
With darkness and cooling temperatures, winds were expected to blow the fire back down the drainage across already burned areas.
Tuesday night, fire managers attended community meetings in Troutdale and in Cascade Locks.
Teams shared current operational information and updated the community on evacuations and road closures.
Resource information on the Eagle Creek Fire was shared with both communities and information officers were on hand to answer questions.
Conditions will dry out over Tuesday night along the ridge tops, with humidity dropping as low as 20 percent and will remain dry Tuesday morning. Winds will be light overnight becoming westerly and gusting 25 to 35 mph as a cold front moves through the fire area.
These conditions could result in increased fire behavior, but are not expected to present a threat to Cascade Locks.
A cool, moist trend is predicted to continue Thursday and Friday.
Fire behavior analysts are predicting low to moderate fire behavior.
On the high ridges to the south, away from populated areas, the fire will continue burning at low intensity.
Tuesday's plan includes strengthening and holding the containment lines along the I-84 corridor, improving containment lines toward Shell Rock Mountain, and continuing efforts to secure the eastern and southeastern contingency lines.
The Oregon Department of Transportation is continuing its work along the I-84 corridor to clear hazards. Fallers are working to clear hazard trees along railroad and power corridors.
Helicopter bucket drops are planned Tuesday to cool fire activity in the Herman Creek drainage.
Oregon State Fire Marshal crews will continue to work with wildland firefighters by patrolling and providing support along the I-84 corridor.
Resources assigned to the fire include 25 Crews (5-Type 1, 13-Type 2, 7-Type 2 Initial Attack); 56 Engines; 11 helicopters; 9 dozers; 15 water tenders; 905 personnel.
Red Cross responders are operating two wildfire relief shelters and providing food, water, shelter, health services and emotional support for approximately 170 people evacuated from their homes because of the fire.
Approximately 24 people are at the Red Cross shelter located at Mt. Hood Community College, Yoshida Events Center, 26000 SE Stark St., in Gresham (14 people are sleeping inside the shelter and another 10 are staying in RVs outside the shelter).
The shelter is being operated in partnership with Multnomah County.
Approximately 146 people are seeking refuge at the Red Cross shelter located at the Skamania County Fairgrounds Hedgewald Center, 710 SW Rock Creek Drive, in Stevenson (22 people are sleeping inside the shelter and another 124 are staying in RVs in the parking lot).