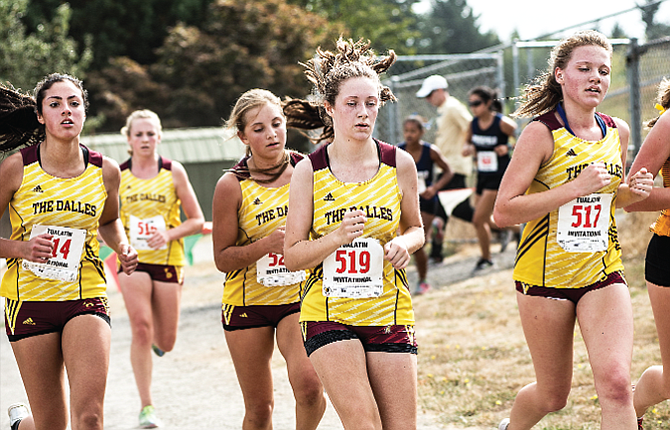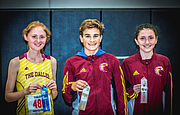 Savannah Strassheim won the junior varsity girls race, Zoe Orion finished in sixth place in the same race, Zack Ziegenhagen placed ninth on the junior varsity boys side for individual honors, as The Dalles cross country team set 26 personal records at the 13th annual Tualatin Invitational Saturday.
"It was nice to be in some fresh air and give the kids an opportunity to compete," said TD head coach Bob Thouvenel. "We still have lots of work to do and things to work on, but overall, some good times, plus six runners who ran faster on the same course compared to last year's times."
Led by Strassheim and Orion, the junior varsity girls had TD's best team finish, second place, both the varsity boys and girls had top-5 outcomes.
Strassheim had a time of 23 minutes, Orion, a freshman, added a 24:18, Aspen Cook went for a 25:23, Bri Webber crossed the finish line in 25:26 and senior Marissa Heemsah ended up fifth with her 25:55.
Darlene House (27:29), Aranza Aviluz (27:58), Marin Alvarez (28:05), Sarah Winters (35:23) and Keisha Oregon (41:47) rounded out TD's top-10 runners.
Ziegenhagen set his solid mark of 19:20 the junior varsity Hawk boys' best finish, Gavin Cates notched a 19:39, Bill Burns came through with a 19:45, Jack Bonham finished with a 20:10, and Evan Despain hit for a 20:15.
Dillon Dorado (20:39), Silas Fields (20:55), Nick Caracciolo (20:56), David Wring (21:05), Zain Hartsook (21:35), Colin Shubert (21:56), Clay McLeod (21:59), and Quinn Strassheim (22:01) were able to open eyes on the course.
Aaron Pyles (23:09), Tyler Heemsah (25:10), Tyler Leigh (25:49), John Cole (26:21), and Ayden Orion (29:57) made up the rest of the junior varsity team that scored 91 points for fourth place, behind Tualatin (59), Central Catholic (61) and Marist (86).
Hanna Ziegenhagen had the best varsity time with her 22:07, and Emma Mullins (22:13), Tressa Wood (22:17), Jenna Miller (22:35), Paulina Finn (22:55), Emily Johnson (23:36), and Elizabeth Tapia (24:04) were the next in line, leading the Lady Riverhawks, who had 134 points to chalk up fifth place.
Tualatin won the girls event with 32 points, ahead of Marist (57), Central Catholic (60), and Springfield (104).
Marist won the varsity boys race with 36 points, Tualatin was second with 46 and Central Catholic tallied third place with 76, for the top-3 squads in front of The Dalles (124).
For the varsity boys, Gabe Lira made his opening statement of 17:31 as the best finish in his group of TD racers.
Rey Aviluz (17:50), Zerin Croover (18:23), Michael Lantz (18:33), and Sam Alvarez (18:41) were right at the top of the individual leaders.
Jonathan Knotts (18:43), Friedrick Stelzer (18:59), and Noah Holloran (19:05) all had solid first races, so now they can put in the extra work in practice to lower their times even more as the season progresses.
"Overall, it was a good meet for us," Thouvenel said. "There was some very good competition here, at all levels. Central Catholic boys, 6A state champs, last year and their girls team that competed at the state. Tualatin has a very good boys and girls teams and at the 5A level, and we got to see the Marist boys and girls, who are always one of the programs in the state and some other very good teams."
TD heads to Oregon City for another big race at 10 a.m. this Saturday.