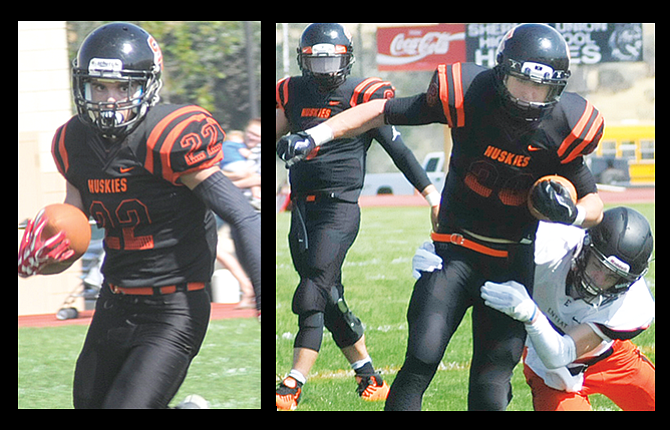 MORO – Pride was on the line when the Sherman Huskies hosted their home opener Saturday against Entiat, Wash.
Reese Blake and Treve Martin combined for 189 yards rushing and three scores, and the defense forced three turnovers and held the Tigers to 162 total yards in a 52-0 shutout win in Moro.
"I think we just came back with a bitter taste in our mouths with a goal in mind that we were not going to lose like that again," said junior linebacker Tyler Jones. "We played more physical and we had a sense of urgency."
In the first half, the Husky defense held Entiat to seven yards on four possessions with two punts, a fumble recovery and a loss of downs.
The Tigers went 0 for 4 on third downs and had one play go for more than 10 yards.
For the game, Blake, Martin and Chris Ballesteros each had fumble recoveries, Caleb Fritts forced a fumble, and Jared Fritts registered a sack to lead Sherman's defensive effort.
Blake posted a team-high nine tackles, Jones followed up with four, and the trio of Caleb Fritts, Bradley Moe and Makoa Whitaker tallied three tackles apiece.
After allowing 429 yards in a 42-26 loss last week against Triad, Whitaker, a senior defensive end, said film work was important in preparing for Entiat and getting over the Triad loss.
"We knew that last game wasn't us," Whitaker said. "It wasn't one guys' problem, it was all of us knowing what we did wrong and doing what we needed to fix it. Everybody took it upon themselves to do their job. Once everybody does their job, everything just clicks. Once everything starts clicking, we are a tough team to beat."
Ahead by an 8-0 score through one quarter, the Huskies put the Tigers away with three touchdowns in a span of seven minutes and 26 seconds.
Jacob Justesen capped a seven-play, 48-yard drive with a six-yard scoring run, and after a fumble recovery by Treve Martin, the Huskies chewed up four minutes and went on an eight-play drive with Martin tumbling into the end zone from two yards out to swell the lead to 24-0.
On the ensuing onside kick off the foot of Whitaker, Jeremy Ballesteros scooped up the loose ball at the Entiat 35-yard line.
Justesen connected with Keenan Coles on a 34-yard pass to get the ball to the one-yard line, putting the Huskies in prime position to add to the lead.
Justesen, the senior quarterback, rolled right on a sweep for a one-yard score, and then Blake made it a 32-0 margin after the conversion run.
Blake tacked on a 28-yard fumble return to start the third quarter, and with 4:22 on the clock, he took a fleaflicker toss from Justesen 60 yards to the end zone to run the Sherman lead to 44-0.
In the first minute of the fourth period, Chris Ballesteros scooted 30 yards for a touchdown for the final score of the contest, and Bradley Moe added the conversion run to invoke the 45-point running clock rule.
In all, the Huskies rushed 46 times for 296 yards, as Blake led the way with 102 yards and two touchdowns in his six carries.
Martin totaled 87 yards on 20 rushes with a scored, Chris Ballesteros went for 51 yards, and Justesen notched 48 yards on 10 attempts with a pair of scores to go with his 64 yards on 3 of 7 passing.
Coles had the one catch go for 34 yards, and Martin hauled in two passes for 30 yards.
"Our line was great. Treve ran the ball phenomenally and was very strong up the middle, which I am really happy about and Jacob did a great job with his reads all game," Head Coach Mike Somnis said. "Bottom line is we did what we wanted to do, which was run north and south, play physical and use our big boys to our advantage."
All facets of the game showed significant improvement, so it was a step in the right direction.
Although forced to practice indoors all week due to bad air quality from recent fires, Somnis felt his team had a productive week to iron out a few offensive and defensive deficiencies.
Sherman has three more non-league matchups before league starts on Oct. 6 .
The focus is on Friday's game against No. 9-ranked Wallowa (1-1 overall) in a game scheduled for 4 p.m. on Friday at Powder Valley High School.
"We got to keep blocking good, get our assignments down and just perfect what we are doing," Jones said. "I think that we can always get better. We know we can get better. I think we are confident that we can play this way and compete with some of the good teams we will play."