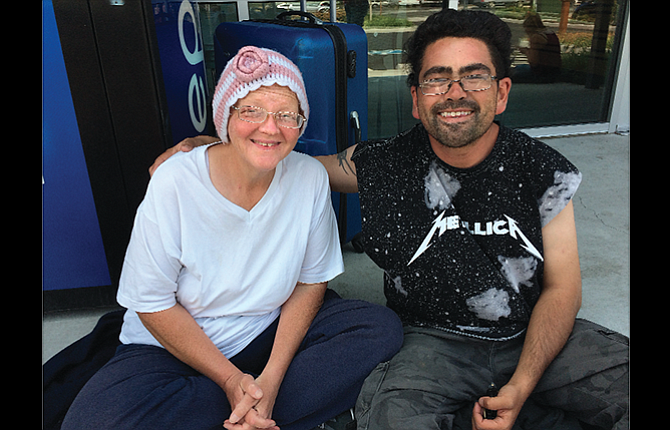 A woman who once helped transients in Portland and Vancouver is now helping them in The Dalles. Last week, she helped a homeless cancer patient who was sleeping behind a dumpster.
Homeless advocate Dorothy Rodriguez learned about Christine Young on a Tuesday night and put the word out via social media asking for help. By Wednesday morning, someone had donated bus tickets to get Young and her husband, Randall, on to Ontario, where they have a connection.
Young has Large B cell lymphoma and spent 41 days in Legacy Emanuel Medical Center in Portland, Randall said. She was discharged to a bedbug-infested flophouse there, and she and Randall decided to leave town.
Randall said they've been homeless for 10 years, both receive disability for mental illness, and they came to Portland from Colorado, which they left because legalized marijuana "drove crime through the ceiling."
But Portland was "too dirty and loud," Randall said, and they'd been shifting between Hood River and The Dalles for a few weeks.
Christine has already had two rounds of chemo and has four rounds to go. As of last Wednesday, she was three days behind on her chemo schedule, he said.
He said she tried to get treatment at the Celilo Cancer Center in The Dalles, but he was told they didn't offer her kind of treatment, which he said requires a five-day stay in the hospital for each round.
So they wanted to get to Ontario, where they have some connections, and that's when Rodriguez put the word out on social media seeking money for bus tickets. Quickly, a local woman paid $198 for the tickets.
The Chronicle caught up with the Youngs as they were waiting at The Dalles Transportation Center for the bus ride out.
"We thought we were going to be stuck here forever," said Randall, who did most of the talking. Christine's voice was weak, and a pink knit hat hid her cancer-fuzz hair.
Randall told his wife, "As soon as we get off the bus, it's straight off to the hospital for you."
She has an inoperable tumor, which measure eight centimeters, in the middle of her chest that is obstructing her esophagus. "They can't remove it," she said. "It's inoperable because of the arteries and veins around it."
But, Randall said, "They told her if she sticks to her chemo she'd be all right."
Asked how she was feeling, she said, "I'm tired." But, she added, "I actually feel better than before I went into the hospital."
In The Dalles, they found peace and quiet in an area behind a restaurant's dumpster. "People leave you alone over there. The cops don't bother you, it's kind of nice," Randall said.
Rodriguez, who was a foster kid and was homeless in her youth, checked the medical discharge papers for Young, and also made a phone call to confirm they had a connection in Ontario.
"I'm no fool and I will always verify someone's story when it comes to using someone else's money to help," Rodriguez said.
Rodriguez and the Chronicle did get different versions of events from the couple. Rodriguez said she was told by Randall that Portland officials put them on a bus for The Dalles, and that Christine's cancer was fatal. Rodriguez said it wasn't surprising that they gave differing accounts to her and the newspaper.
Rodriguez posted the plea for bus tickets on her Facebook page, "Change begins with us," a new open, public page with just 268 members, and got quick results.
She said of the rapid success in helping the Youngs, "It's just a really heartwarming story that really helps raise the awareness of homeless in the community and how important it is for all of us to work together."
Once she had the tickets in hand, with a departure date of Wednesday afternoon, she had to find them and let them know.
She missed a few phone calls from them because her phone was turned down, but because they'd had a regular pattern of where they hung out, they were soon found and given the good news.
"It was really a great example of people all coming together in the community to really find folks and help get them on the road," she said.