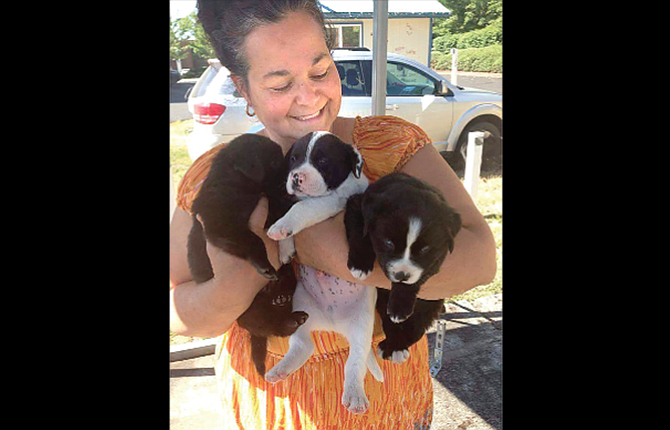 About a year ago, Dorothy Rodriguez Anderson began handing food and clothing out to the homeless people she saw at the laundromat in The Dalles.
She operated out the back door, providing a stream of love, support, acceptance, clothes and food. She knew their pain because she'd been there herself.
"It's easy to sort of become desensitized to people who are dirty and standing around," she said.
"When you're the person that's dirty and standing around, you're kind of not quite sure what to do because you're overwhelmed, you're tired, you're hungry, you're terrified, and you just don't know where to go next," she said.
Growing up in Sacramento, she was a foster child, and then homeless. She was abused by her schizophrenic mother, repeatedly raped by her stepfather, and then raped on the streets. She escaped homelessness, married at 18 and had three kids by 29.
Then she divorced and moved to the Northwest to be by her sister.
She eventually found herself ministering to the homeless in Portland and Vancouver. Her work didn't go unnoticed: In 2015, she was featured on a KATU News "Everyday Heroes" segment.
But working with local governments in Vancouver and Portland became a pain, and she said she was a controversial figure who people either loved or hated. "I just really got sick of them not wanting to help. They really were geared more toward money and waterfront and I was more worried about girls getting killed and dragged behind dumpsters and raped."
Then she moved onto property in Goldendale, and began coming down to The Dalles to use a laundromat.
She started her informal laundromat assistance in May 2016, but it was just in the last couple of months that she became really interested in working with the homeless in The Dalles.
"I started a group and had a good response from a few folks and that's all you need," she said.
Her latest effort has also found quick success. She knows how important socks are, especially in winter, and wanted to get a stockpile going before the cold hits. Burgerville, at 118 W. Third, Dinty's Market at 806 E. 2nd St. and JD Audio, at 2937 E. 2nd, have all agreed to receive donations of socks during a September sock drive.
She's not picky: mismatched, used socks are fine as long as they're basically clean and close to the same length for each matching.
That's hardly her only endeavor. Rodriguez Anderson is a dynamo.
The other day, she got a message from a 71-year-old woman who said she was about to lose her home and wanted Rodriguez Anderson to "teach her how to live outside." Rodriguez Anderson instead lined up some legal help for the woman to keep her in her home. She's now doing a funding campaign at Youcaring.com titled "Love can save a home" to pay for the discounted legal services.
Another woman she found had cancer and needed chemo treatments. Rodriguez Anderson swung into action, put the word out on her Facebook page, and quickly had a donation of bus tickets for the woman and her husband to go to Ontario for treatment.
"Don't think I'm not going to shake down heaven and earth to help," Rodriguez Anderson said of their dire situation.
She also plans to reach out to local churches to form an interfaith group to help the homeless; has reached out to The Dalles City Councilor Tim McGlothlin, who has focused on the homeless; and has offered to help with plans to build a village of tiny homes in The Dalles for the homeless.
She first started working with the metro area homeless by creating a database containing their IDs, in case they lost theirs. It has 6,000 names in it, and each person wears something like a dog tag with a unique number on it that is linked in the database to their information. She formed a non-profit organization, "My Life Directive," to accomplish the work.
She got the idea for the database when her father died suddenly in a hospital in California, and she didn't learn of his death for weeks, because the hospital where he was admitted had locked up his wallet and contact information and, in a cruel irony, couldn't access it without one of his relatives being there to authorize it.
She recounted in a previous article, "How are you supposed to be there if they don't call you?"
She knew the homeless were also especially vulnerable to loss of ID and the problems it brings.
She said she went out into the homeless community to register people for the database "and said, 'Oh my God, look at all these needs, this is insane.'"
In The Dalles, she was surprised to find how much of the homeless population was just passing through. She referenced the famed Depression era book "The Grapes of Wrath," in which people moved from place to place in search of work.
The homeless do the same migration, she said, going from place to place in search of resources. "They're constantly looking for a break."
Of the enthusiastic crew she's working with in The Dalles, she said, "I'm just really thrilled because I think there's some really loving, giving people there and I think the homeless community in The Dalles are some of the nicest people I've ever encountered that are having to face that type of unfortunate circumstance."
While she was on the streets daily in Portland and Vancouver, she is homesteading on raw land in Goldendale, where she is working to install utilities and running water, and that is taking up more of her time than she'd like. She's also got an old car, "and making those trips everyday will be rapidly taxing, but I'm working on it."
She added, "Sometimes people want to help and if someone wants to help me with a reduced rate on a well I won't say no."
She has adopted dogs too, and has over 20. One was a dog hooked on meth. "He belonged to a homeless girl and because crime was so high there and girls were beat up or killed or raped and dumped behind a dumpster" she wanted a dog for protection.
The girl got the dog when it was three weeks old, and when he was three months old "she started shooting him with meth because she wanted him to keep up with her. Getting a dog off meth is quite an interesting process by itself."
A few months ago, she knew she couldn't do her homeless ministry alone, and started a group on a whim. Her Facebook page, "Change begins with us," has 268 members. She has a donations coordinator who hustles to get food and water to the homeless.
Rodriguez Anderson runs a de facto intake and distribution center, and recently posted a picture of a box that contained probably 20 pounds of travel sized soap and shampoo.
She said she was excited to pass it on to others who can use it.
She's been flattered that "people are coming out of the woodwork to help us" with things from food to rides to friendship.
They organized an event a couple weeks ago. "There were three of us, we just hung out, loved on them and checked on folks to see what they needed."
She said, "We like to adhere to the love, listen and learn concept: you love them first; you listen to them; learn what their needs are and then you're better able to figure out what service they need."
She said the homeless have often experienced trauma from some tragedy. "That impacts their whole life and they stay stuck," she said.
She has endless stories of helping others, and the fulfillment and joy it brings her to watch people begin to improve their lives. She has thankyou notes from people who credit her with saving their life.
She is blunt about the horrors she endured. Asked by a reporter if it was okay to say she'd been raped on the streets, she replied, "Honey, you can say, 'On the street a girl gets raped like a carnival ride where everyone gets a turn.'"
She doesn't regret any of the horrors that happened to her – in her home or on the streets. As she said in a post on Facebook about helping a homeless person, "As I drove away I was suddenly overwhelmed with gratitude for every time I'd been abused, every time I'd been raped, and for every single day I spent in foster care or homeless, because to understand life on that scale bridges many gaps that most of you will NEVER understand."