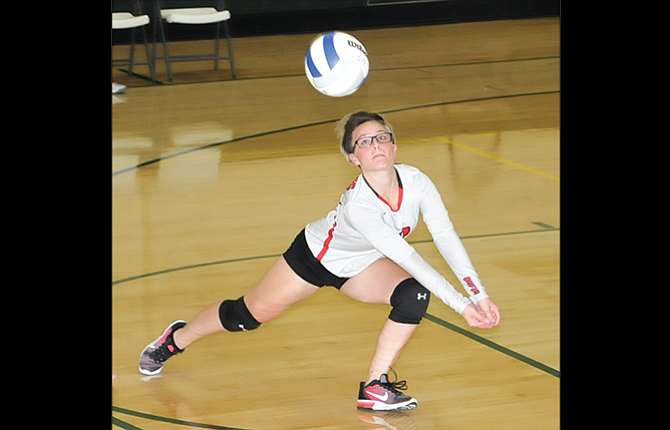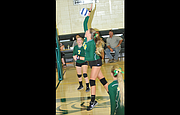 MAUPIN – Through 14 matches entering Tuesday, the South Wasco County volleyball team has squared off against some formidable 3A, 2A and 1A programs ahead of what is expected to be a challenging league slate.
The No. 9-ranked Redsides saw that challenging preseason schedule work in their favor as they picked up a five-set victory over the Dufur Rangers in a Big Sky Conference opener played in Maupin.
"Most of these girls have been starting for the past two or three years, so they are real comfortable with playing in some tough matches against good teams," said SWC head coach Donna Barton. "They have the experience and can handle any situation, so it is more about them, individually, just finding a way to step their game up when they are engaged in a battle."
Both teams traded wins in the first three sets, but in the finale, the Lady Redsides built leads of 4-1, 7-3 and 9-4.
Following a kill by Alexus Outlaw and an ace serve from Chloe Beeson, the Rangers got within a 9-6 deficit, but the Redsides increased their lead with the help of three consecutive errors to jump ahead, 12-6.
Ana Popchock gave SWC a 13-6 advantage with an ace, and after another Outlaw kill cut the score to 13-7, the Rangers had a return volley sail out of bounds and a communication error led to the final point for the 15-7 Redside win.
"It was back-and-forth, but I thought we played much better in the fifth game," said junior hitter Madisen Davis. "I thought Dufur battled really hard. They played a good game. They really got after it, so I think it was a really good game for us to start league."
South Wasco County won the opening set by a 25-16 margin, as four straight Dufur errors turned a 18-15 lead into a 22-15 score.
Ahead 23-16, Kyrsten Sprouse and Jacqueline Noland dropped back-to-back kills to stamp a 25-16 win and a 1-0 lead in the match.
Dufur trailed 14-10 midway through the second set, but an ace serve by Mikayla Kelly capped a 9-3 run, forcing a timeout from coach Barton with her team trailing, 19-17.
Dufur had three set-point advantages in the later parts of the second, with a kill by Kalie Ellis making it a 28-27 Ranger lead.
South Wasco County had a volley attempt sail out of bounds on the next serve, moving Dufur to a 29-27 win and a 1-1 tie entering the third set.
"In that second game when we lost to them, I think it was due to our serve-receive," Davis said. "That is one of our weak points that we are working on improving."
In the third set, the Redsides jumped ahead by a 6-1 score, but a kill apiece by Haili Wolf-DePriest and Beeson and an ace from Wolf-DePriest brought the Rangers even at 10-10.
A kill from Popchock gave SWC a 15-10 cushion, and she added back-to-back aces to run her team's lead to 19-14.
Out in front, 23-17, the Redsides hit the final two points on a Jada Myers kill and an ace serve by Davis for a 25-17 winner.
"It was an adjustment thing more tonight. Our coverage has improved greatly in the past week or so, but it was just small mistakes mainly due to communication," said Dufur coach Kristin Whitley. "I think if our communication would have been better, we would not have made the same mistakes, like passing errors, and it could have made the difference of a few points in a couple of those games."
Needing a fourth-set rally, the Rangers fell behind, 10-7, until a kill each from Outlaw and Beeson, then three straight Beeson aces, followed by a Redside hitting error increased the lead to 13-10.
Kelly had a kill to tie things up at 15-15, Ellis slammed down a kill to make it an 18-15 Dufur advantage, and then Sydnee Byers made it a 20-16 lead with a kill.
SWC got to within a 20-18 margin, but then four straight errors increased the Ranger lead to 24-18.
Beeson moved the match a fifth set with a kill giving Dufur a 25-18 victory.
With a roster of four sophomores, a freshman, three juniors and three seniors, Whitley was encouraged by what she saw from her group in a match that had a playoff feel to it.
"These underclassmen are playing with a lot of drive and hustle. They all have a really solid mindset, especially for being sophomores," Whitley said. "They could have been in their heads in this game knowing how high South Wasco is ranked, but they didn't let it get to them. They just concentrated on playing their game, which is difficult when you are 15- or 16-years old. It is a mental game, but they are doing pretty good."
With the home win, SWC improved to 8-7 overall and 1-0 in league action.
The Redsides still have two tournaments, a non-league match and six Big Sky matches left on their schedule ahead of the district tournament in October.
After last season's early postseason departure, Davis said the team is motivated to play Redside volleyball from here on out.
"I think all of our skills are there," Davis said. "Our skillset is high, but I think it is just the fact that our mindset needs to be at the same level as our skillset. We have the skills and girls that can play the game at a high level, so the plan is to stick together, stay positive, keep our heads up through the tough games and just give it our all."
SWC travels to Spray for a match at 5 p.m. Thursday against Mitchell-Spray, while Dufur (3-7, 0-1) heads out to Condon with a start time of 5 p.m. on Thursday.