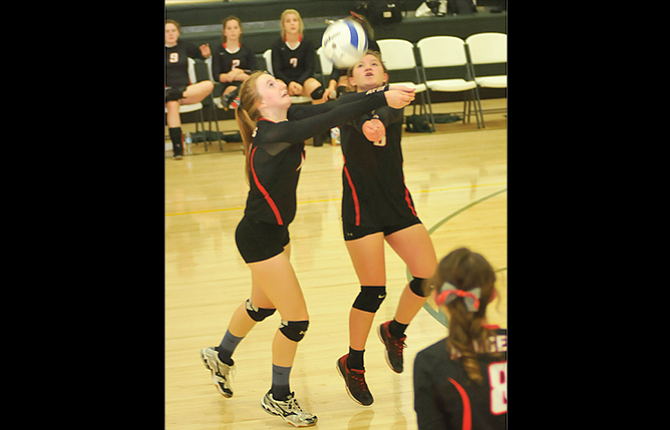 The Dufur Rangers had a chance for additional court time at the Helix Tournament and had a bracket round win to their credit in varsity volleyball action this past Saturday in Griswold.
Following a winless three-match pool play round, the Rangers had to face off against top-seeded 2A Imbler, a team Dufur lost in four sets to earlier this season.
After dropping the opening set, 25-21, the Lady Rangers rebounded for two straight wins to move into the semifinals.
In the second set, Alexus Outlaw and Mikayla Kelly each totaled five kills, Sydnee Byers added four kills and eight digs, and Chloe Beeson chipped in three kills, six digs and two blocks in Dufur's 25-14 win.
Given a second wind, the Rangers moved on in tournament play with a 15-13 triumph, as Beeson and Byers combined for three aces, nine kills, six digs and two blocks.
Kelly had two kills and two digs, Kalie Ellis went for three digs and a kill, and Outlaw notched a pair of kills and an ace.
Dufur head coach Kristin Whitley said the bracket round win was amazing to watch.
"We made some changes to our offense, and Trinity Blake really stepped up to shine in the setting position," Whitley said. "She assisted on a collective 19 kills for a win in the second set. In the third set, Chloe had five kills and four digs, Sydnee added four kills and Kalie also assisted defensively with three tough digs. The win of the third set was monumental to us, as it redeemed our first loss of the season to Imbler on Aug. 24."
With a semifinal match against Griswold, both teams matched each other kill-for-kill, but it was the Grizzlies winning in two sets, 25-23 and 25-22.
Kelly paced the Rangers with 11 kills, 10 digs and three blocks, Outlaw added 12 kills, nine digs and five aces, and Byers went for nine kills and nine digs.
Aleksei Uhalde totaled six digs, Beeson had nine kills, 10 digs and four blocks, and Ellis tallied five kills, four digs and three aces.
"I was impressed with Mikayla's defense in the first set, and her offense in the second set," Whitley said. "Sydnee also stepped up in the outside hitter position coming off her injury."
Earlier in pool play, Dufur lost to Griswold (25-21, 25-12) in its first match.
The Rangers manged to earn a split with Cove, losing the opener, 25-21, and winning the second set by a close 25-24 score.
Against Heppner, Dufur lost in two, 24-8 and 25-23.
In those three pool play matches, Beeson led the Rangers with 30 kills and eight digs, Outlaw rattled off 26 kills and seven digs, and Kelly had 25 kills and seven aces.
Byers had 12 kills and seven digs, and Ellis netted 12 kills and two digs, and Maddy Smith dropped three kills.
"We were dealing with some injuries, and I did not want to play some athletes in non-league play, so that they could rest up for a heavy week of league games," Whitley said. "This led to issues with coverage and transitioning; some of the younger players are still learning rotations and defensive transitioning, and this was a struggle with the high speed of tournament pool play with capped games."
Dufur heads to the Sherman Tournament on Saturday, Sept. 23, in Moro.