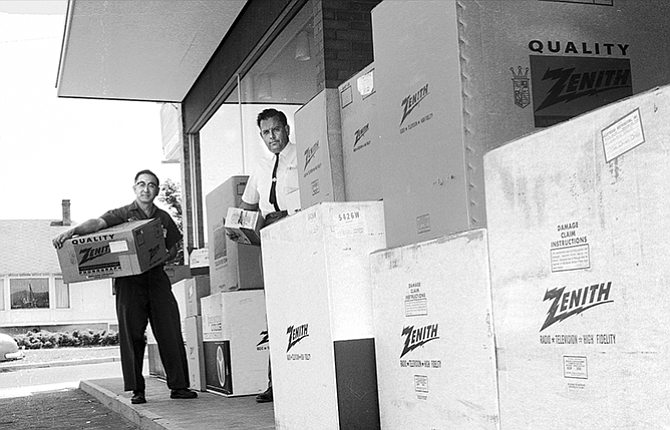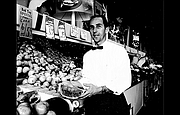 20 years ago – 1997
Safety problems found by federal investigators on the Union Pacific railroad include violations in the Columbia River Gorge and other Pacific Northwest locations, according to a regional rail safety official.
State military officials downplayed state interest in building a two-story armory at the existing location, an idea unpopular locally. It was "just an option that was being fleshed out, there was nothing that was being pushed one way or another," said Capt. Dan McCabe, with the Oregon National Guard's public affairs office. Local reaction to the two-story idea resulted in an economic development committee strongly reaffirming its earlier stance, that it would offer only one property for a new armory: the county-owned parcel at West 10th and Walnut streets.
Two college students from The Dalles returned home from a six-week mission to Romania with a greater appreciation of how good life in this country is. Susan Cole and Julie Tumilson, both juniors at Seattle Pacific University, were part of that school's SPRINT (Seattle Pacific Reach Out Internationally) program. They were in Romania from July 23 to Aug. 7.
WASHINGTON (AP) – Republican senators are delaying confirmations of President Clinton's judicial nominees in an unprecedented attempt to intimidate judges, Democratic senators charge. Senate Majority Leader Trent Lott, R-Miss., denied Tuesday that such plotting was under way, while defending the idea. "I don't know of anything of that nature, but it sounds like a good idea to me," he said with a smile.
40 years ago – 1977
Pilots participating in the training exercise for Civil Air Patrol members from Oregon and Washington were getting their instructions this morning at The Dalles airport. More than 200 CAP members from Oregon and Washington are taking part in the search and rescue exercise based at the airport through Sunday.
TALLAHASSEE, Fla. (UPI) – Before he allows the execution of condemned murderer John Spenkelink, U.S. District Judge William Stafford wants to know whether killers get off easier in Florida if their victims are black. Stafford stayed Spenkelink's scheduled Monday execution indefinitely Friday in order to consider defense charges the death penalty is "discriminatorily imposed upon those slayers of white persons" in the state and is applied "in an arbitrary, capricious and irrational manner."
WASHINGTON (UPI) – The National Security Agency eavesdropped on Panamanian Chief Omar Torrijos in 1974, learning intimate details including his sexual activities, Scripps-Howard News Service reported today. When Torrijos learned about the surveillance he threatened U.S. Panama Canal treaty negotiators with making it an international incident, Scripps-Howard said.
60 years ago – 1957
Telephone service in The Dalles has been restored to almost normal proportions, C. P. Horn, manager of the local Pacific Telephone and Telegraph office reported today.
Columbia river navigation and hydroelectric development were viewed first hand and won approval yesterday from congressional visitors escorted downstream from Arlington to The Dalles by ranking Corps of Engineers officials from both Portland and Walla Walla districts.
A fruitless search of The Dalles dam reservoir from the Brown's Island area upstream to the Oregon Trunk railroad bridge was made yesterday after authorities were told that a man had been seen clinging to an overturned boat. The report, received in early afternoon, was relayed from state police to city police who in turn notified Klickitat county authorities by radio.
Leadership and interest in nationwide conservation and development of national resources of Congressman Michael J. Kirwan of Ohio was given formal recognition in The Dalles last night at the banquet in his honor arranged by Columbia River Development association.
PORTLAND (UP) – The last remaining grand jury vice indictment against Mayor Terry Schrunk was dismissed here today in circuit court. Mayor Schrunk said "I am very happy that the entire situation has been resolved through the judicial system after it was looked at objectively by impartial deputies of the attorney general's office and the duly constituted court of law."
80 years ago – 1937
Dr. R. R. Martin of the department of sociology, University of Oregon, will conduct extension classes in The Dalles during the current school year, beginning Wednesday, September 29, it was announced today. The course to be given during the first term will be governed by the desires of the majority of those who sign up for the instruction.
Don Cresswell and Ben Klundt of Portland today took charge of the service station and Nash-Lafayette agency, formerly known as the Wagner Motor company, which they recently purchased from B. H. Wagner, according to an announcement by Cresswell.
WALLACE, Ida., Sept. 17. (UP) – The government charged the Sunshine Mining company today with "blacklisting" employes. Paul F. Nachtman, Washington, D. C. counsel for the National Labor Relations board, hearing charges of unfair labor practices against the company, said many witnesses had failed to appear to testify because they feared they would lose their jobs with the company, largest producer of silver in the world.
This week the regular forest guards at Flag point, Bonney butte and Badger lake terminated their protection work and closed their stations. All equipment was hauled to Dufur for winter storage. Guard Wilson will go to Portland, Ben Werner will attend college and Harry McConnell will continue with fall maintenance work.
100 years ago – 1917
Nine drafted men will leave The Dalles at 1:55 o'clock Wednesday afternoon for the national army cantonment at American Lake, representing 40 percent of the Wasco county draft quota. The Chamber of Commerce has taken it upon itself to see to it that the nine start for war service with a good meal under their belts, so will entertain them at luncheon at Hotel Dalles at 11 o'clock.
AN ATLANTIC PORT, Sept. 17. – Submarines with silver-plated periscopes are now at work, passengers on an American liner in port here today declared. They asserted this plating mirrored the sea so perfectly that the periscopes were invisible. Off the Irish coast a torpedo was fired at this American liner, but missed by 50 feet. Gunners fired one shot at random, as no submarine was visible.
PORTLAND, Sept. 17. – One thousand engineers, pattern makers and other unionists in wooden shipyards struck this morning in sympathy with the striking carpenters and calkers. Shipyards did not attempt to resume work today.