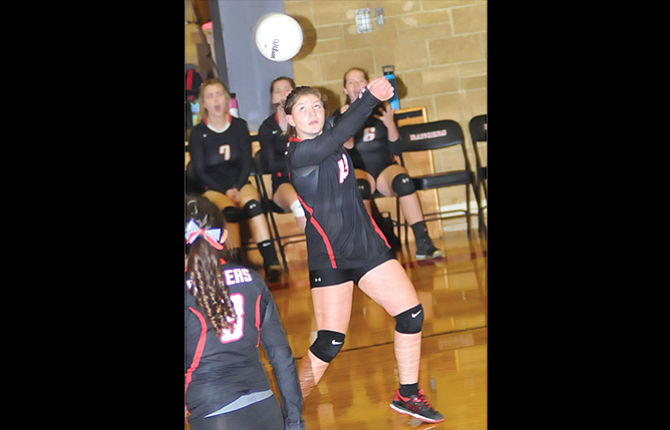 Chloe Beeson and Alexus Outlaw combined for 15 kills, 21 digs and five service aces, and the Dufur rangers came away with a three-set sweep over Klickitat, Wash. Tuesday in a non-league volleyball contest played Tuesday in Dufur.
In those three sets, Dufur had an average margin of victory of 11.6 points, starting off in the opening set with a 25-17 win to take an early lead.
Powered by that first set, the Lady Rangers tacked on a lopsided 25-8 decision, and completed the sweep with a 25-15 margin.
In that clinching set, Outlaw had three kills and five digs, Beeson went for a kill, an ace, two blocks and three digs, and Kayla Bailey added three digs.
For the match, Dufur tallied 15 aces, had eight blocks and racked up 24 kills from five different players.
Beeson finished with nine kills, 10 digs, three aces and five blocks, Outlaw added six kills, 11 digs and two aces, and Mikayla Kelly dropped five kills, and had two digs and two aces.
Sydnee Byers led the Rangers with four aces and chipped in three kills, Bailey finished with an ace, four digs, a block and a kill, and Haili Wolf-DePriest was good for two aces, a block and four digs.
"As the game progressed, our serving got cleaner," said Dufur head coach Kristin Whitley. "I saw improvement in our coverage, both on the net and off. Many of the younger players stepped up to play tonight, which was exciting to watch."
Dufur (5-9 overall, 2-1 league) hosts second-place Ione at 5 p.m. Thursday. After that match, the Rangers make a trip to Moro for the Husky Invitational Tournament on Saturday.