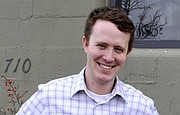 In a unanimous vote, The Dalles City Council approved changes to the way the city's "Vertical Housing Zones" are processed and named Matthew Klebes, who serves as The Dalles' assistant to the city manager, as Vertical Housing Zone manager.
Mayor Steve Lawrence said the designated zones are geared toward encouraging property owners to develop housing units on the upper floors of their commercial or mixed-use buildings.
"The Vertical Housing Zone is a tax break to give them an incentive," he said.
Klebes said encouraging this type of housing project offers several benefits to the city.
"The Vertical Housing Zone can be a critical tool in the development of upstairs housing in our downtown," he said.
"Our vision action plan specifically calls out upstairs residential living as a key component of a revitalized downtown district. In brief, the tool helps such projects become a reality by allowing a 20 percent tax exemption per floor, to a maximum of 80 percent, on qualifying residential floors."
Lawrence believes Klebes is a natural fit for the management role.
"Matthew Klebes is the perfect appointment to be the Vertical Housing Zone manager because he promoted and worked with building owners on just such issues when he was the manager of Main Street," said Lawrence. "We believe it is part of his economic development/ assistant to the city manager role."
Vertical housing zones were adopted into Oregon law in 2001 to "encourage the construction or rehabilitation of properties in targeted areas of communities in order to augment the availability of appropriate housing and to revitalize such communities."
"Most of the downtown's buildings have un-utilized or under-utilized upper floors," Lawrence said.
The law allows cities and counties to sponsor a zone, which the city of The Dalles did in 2014. The designation allows an exemption in accordance with the number of residential floors on a mixed-use project, with a partial property tax exemption of up to 80 percent over 10 years.
In June, an alteration to the law was approved by the Legislature.
The changes allow a city or county, rather than the state's Oregon Housing and Community Services Department, to review and manage all applications to their sponsored zone.
"This tool has been in existence in The Dalles since 2014," Klebes said. "The major change to the program throughout Oregon is management of the zone will be transferred from the state to the city, the entity that sponsors the zone."
Building owners interested in gaining the tax break in exchange for creating upper-floor housing in their mixed-use buildings can fill out a Vertical Housing Zone application form and submit it to Klebes.
He will be responsible for conducting a preliminary review of applications and determining whether a specific vertical housing project is eligible for tax breaks under the program.