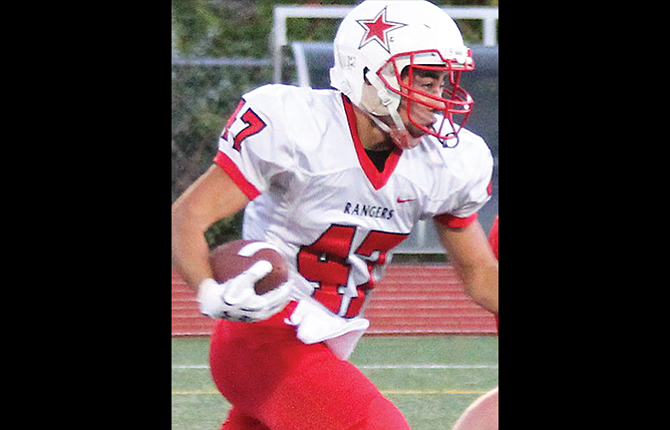 Big Sky Conference play is starting up for the No. 3-ranked and undefeated Dufur Rangers, and the first test is at 7 p.m. this Friday against No. 24 Perrydale in a road contest at Perrydale High School.
The Pirates snapped a two-game losing streak with a lopsided 76-14 romp over McKenzie last week, as David Domes threw for 121 yards and two touchdowns and the running back duo of Copper Butler and Josh Crawford combined for 395 yards rushing and eight touchdowns.
Butler had 250 of those yards and five trips to paydirt, and teammate Dustin Silver had an offensive and defensive score.
Perrydale (2-2 overall, 0-1 league) looks to exact a little revenge on the Rangers, who won last year's contest, 56-14, but the last time Dufur visited Perrydale in 2015, it was the Pirates taking a 36-34 win on their way to a league title.
The two-time defending champion Rangers (3-0) have been an absolute force in the first three games of the year with blowout wins over Falls City, Horizon Christian and Tacoma Baptist, by a 158-39 average.
In last week's win in Tacoma, Dufur scored six touchdowns in the first quarter, as Hagen Pence and Cole Kortge hit for a pair of scores each, and Anthony Thomas and Abraham Kilby had scoring runs to make it 46-6 through 12 minutes of play enroute to a 52-19 win.
Starting quarterback Derek Frakes threw a 21-yard touchdown pass to Kortge, and the running game gashed Tacoma for 389 yards on 21 attempts.
Pence led with 126 yards and two touchdowns on five rushes, Thomas added 95 yards and a score, and Kilby had two touchdowns and 77 yards on two totes.
Local radio station www.gorgecountry.com will stream the game at 7 p.m.