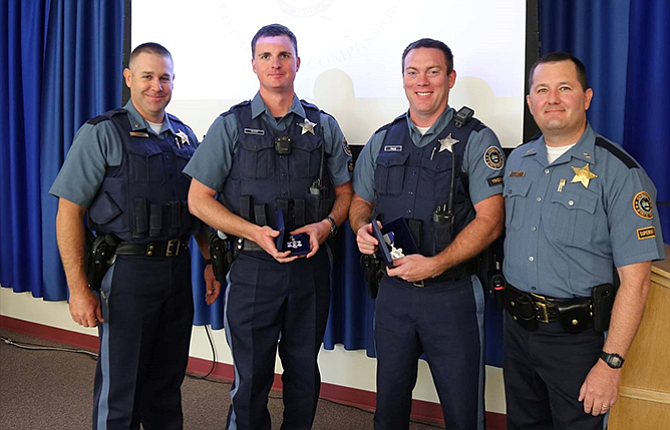 Six troopers recently received the first ever Medal of Valor issued by the Oregon State Police.
Two of them, Ryan Sharp and Zach Bohince, have local ties.
Sharp, from Grass Valley, is stationed in the Pendleton Area Command. Bohince, who grew up in Hood River, is stationed with The Dalles Area Command.
Both troopers were shot at by fleeing suspects in vehicle pursuits. Today's story recounts Sharp's incident, and Friday will feature Bohince's story.
On Jan. 2, 2016, Sharp was on patrol north of Pendleton, and had a trooper recruit, Mitch Pace, in the car with him. It was about 1 or 1:30 in the morning, when he saw a car turn off the main highway onto a country road.
"People that want to avoid law enforcement contact take those kinds of roads in the middle of the night," Sharp said. He decided to follow the car. "We were immediately up to speeds of about 100 mph," he said.
The chase went on for some time across back roads, and they made it onto the Umatilla Indian Reservation, and "at one point, the driver starts shooting out the back window and that's when my car started getting hit by bullets."
His vehicle was hit at least three times, and one hit the windshield. "I started swerving and trying to avoid getting hit anymore.
Initially I backed off just a little bit but I knew in my mind we needed to end the pursuit," Sharp said.
"He started to shoot again, so I continued to swerve around a bit until eventually I decided to implement a tactical vehicle intervention, or the pit maneuver. That's just pretty much getting up there and making contact with the car and causing it to spin out. My plan was to do it at a really high speed just to get it done."
He said, "It's one of those moments where you have to make a very quick decision and my decision was to just end the pursuit rather than backing off and making another plan."
So he sped up, made contact with the suspect car, causing it to spin.
"There was gravel and dust and all kinds of things flying around. While the car was rotating, he got out of the car."
He said, "I just drove past his car a little bit and jumped out, fully expecting to be in a gunfight at that point."
Another trooper in the pursuit had hit the suspect with his car. When Sharp looked, he saw the patrol car upside down and the suspect lying in a field.
"I didn't know it at the time, when the suspect got out of the car, Trooper [James] Elsinger, when the suspect started fleeing, that's when he decided to take the suspect out with his car."
Elsinger was also given the OSP Medal of Valor for his actions that night.
Sharp said, "I ran out in the field, got the suspect handcuffed and eventually figured out he was hit with a car."
The suspect, Bryan Alberto Corona, was airlifted to a Portland hospital with serious injuries. He was later sentenced to 15 years in prison for two counts of attempted aggravated murder, among other charges.
As for his reaction to the situation, Sharp said, "I can't explain it. Your pulse rate jumps up, but I'm still very calm. If you go back and review the video or talk to my lieutenant, there's no curse words, there's no anything. I just became very focused and knew what I had to do." As he was swerving around, "I went off and hit the shoulder a few times and almost lost control of the car."
When Eslinger heard the gunshot and saw Sharp start to swerve, "He really thought there was a chance I got shot just because of the way I was swerving around and stuff."
He never did learn why the suspect decided to flee that night.
Sharp said, "Unfortunately, it's not the first real incident I've had. I've had another incident that was involved in a lethal force situation."
In 2011, he and a deputy responded to a crash, and learned the driver was wanted on a federal parole violation warrant related to a weapons offense.
They found footprints in the snow leading from the vehicle. They found the suspect crouched behind a snowbank with a rifle. He was ordered to drop the weapon, but didn't. Sharp and the deputy both fired. The suspect was shot three times, but not killed.
As for the medal Sharp received in August, he said he didn't expect it.
"It's an honor to get it, it absolutely is, and doing our job, you never expect, and there's no expectation of ever receiving any type of award or anything like that for what you do.
"You go out and do your job and sometimes we have really extraordinary things that can happen and we just have to deal with them."
He added, "I don't like a lot of attention. I'm just who I am. And especially because I know so many troopers, I know on a daily basis guys and ladies are doing all kinds of courageous things and I'm by no means any different. But I'll accept the award for what I did and it was one of those situations. The biggest thing is, I'm just glad that we were all OK, it could've turned out really bad."
When the shots were fired, he said, "You can just hear it hit the car."
As he watched the suspect's car up ahead, "You saw the back window explode as rounds are coming through it."
Sharp, 31, the son of Joe and Sheri Sharp of Grass Valley, has been a trooper for nine years. He's spent his entire career at the Pendleton office, and recently switched from working patrol to becoming a Fish and Wildlife officer.