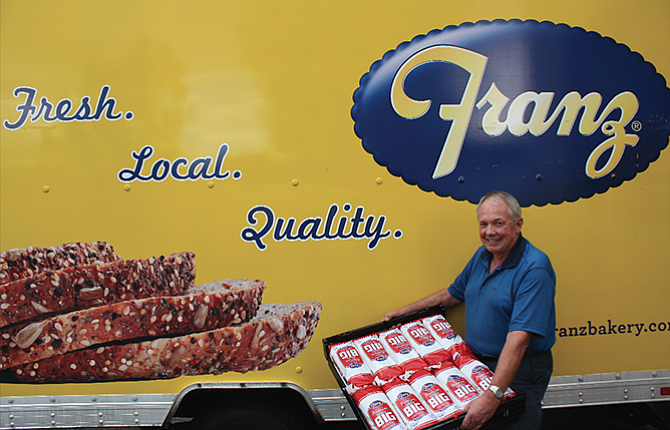 Dave Long, a longtime sales supervisor in The Dalles — first for Wonder Bread and then for Franz Bakery — enjoyed his final day on the job on Sept. 22.
Long delivered bread to a variety of customers around the Columbia River Gorge region for 34 years, beginning in 1983.
To put that date in some perspective, in 1983 Ronald Reagan was still in his first term as president. Republican Vic Atiyeh was governor of Oregon, and John Lundell was mayor of The Dalles.
Long got his start as a Wonder Bread distributor in Bend in 1980, but he stayed there for a relatively brief time.
"I was struggling as a distributor," Long said. "In October 1983, I came over (to The Dalles) on the rainiest day you could ever expect, and one of the managers at Continental Baking Company —the maker of Wonder Bread — offered me a job on a company route in The Dalles, and I took it."
That launched a career that would stretch for more than three decades.
"I started on a route in Hood River for three years, and was promoted to supervisor in 1986," Long recalled. "Franz was the competition then."
According to Long, in the late 1990s, Wonder Bread was going through some financial and management problems, and he was concerned about the stability of his job.
"Several of the managers I had worked with had already gone to Franz," Long explained. "In July of 1999, I got a call from Franz to come to work for them, and I did, bringing three sales reps with me. Less than two years later, Wonder Bread was out of business."
One of those sales reps was Rob Garrett, who will be Franz Bread's new supervisor in The Dalles now that Long is departing.
"He's been my boss since 1986," said Garrett, who praised Long as truly dedicated.
Garrett pointed out that Long won Franz Bakery's "Supervisor of the Year" honors four times during his career.
"To win Supervisor of the Year means a lot," Garrett said.
"They don't just give it to anybody. He's worked his heart out. There is no one more committed to his community and job than he has been. He's totally professional. It's pretty impressive."
Long has seen dramatic changes in the business since he started in the 1980s.
For example, he and the other employees used to do all their record-keeping and financial tallies by hand in a notebook, as there were no laptops to keep track of sales or deliveries.
"You had to balance to the penny every evening, or pay it yourself," he recalled.
The variety of items being distributed has also grown exponentially.
"When we first started in the 1980s, we had a white bread, a wheat, two or three kinds of muffins and donuts," he said. "The product mix has really changed."
Long, who will turn 65 later this year, said working for Franz has been a very rewarding and satisfying career, with good benefits and pay.
But the physical demands of the job have been taxing.
According to Long, a typical day in his five-day work week would have him starting at 2:30 a.m. and working until 4, 5, or 6 in the evening.
"Then you go home, go to sleep, get up and do it again," he said.
Each morning, Long and other Franz drivers have loaded their trucks at the Franz warehouse at 3030 W. Sixth Street and prepared to make deliveries around the region.
He pointed out that loading the trucks with various breads and other products customers have requested is no easy task.
"Just loading the trucks, we walk about three and a half miles before we ever go out. An average sales rep walks five or six miles a day," he explained. "The volume and the lifting; it's physical. Twelve trays stacked up with bread can weigh about 250-300 pounds.
"You have to push them up the ramp into the truck, and when you come down the ramp (with deliveries) you have to hold them back."
Long said he is very grateful he has not been injured on the job.
"I'm just thankful I made it without falling or breaking anything," Long said. "I'm not as agile as I used to be. When you get to my age, enough is enough."
Despite his lengthy days delivering fresh bread, Long also carved out time to serve the community in a variety of roles over the years.
For instance, from 1988 to 1991, he was director of the Fort Dalles Rodeo Association, and was the rodeo's vice president in 1992. In recognition of his work in the community, Long was named The Dalles Area Chamber of Commerce's "Businessman of the Year" in the early 1990s.
He has been a member of the United Church of Christ for more than 30 years, and stayed busy with youth sports, too.
"I coached Little League girls' softball for eight years and boys' soccer for six years," he said.
Long said he feels very fortunate to have been able to serve as supervisor in The Dalles for more than 30 years, and he appreciates the sense of camaraderie with those he has worked with.
"That's what I'll miss the most, the people who work here," he said.
"For all of my career, we've worked together as a team, a wonderful team. I cannot say enough good about the sales reps and all the people I've been fortunate to work with and the customers.
"I can't say enough about that. But I won't miss getting up at 1 in the morning."
Now that he's retired, Long said he has some simple plans for the next phase of his life.
"I am looking forward to spending more time with my wife Bonnie, and our family," he said.