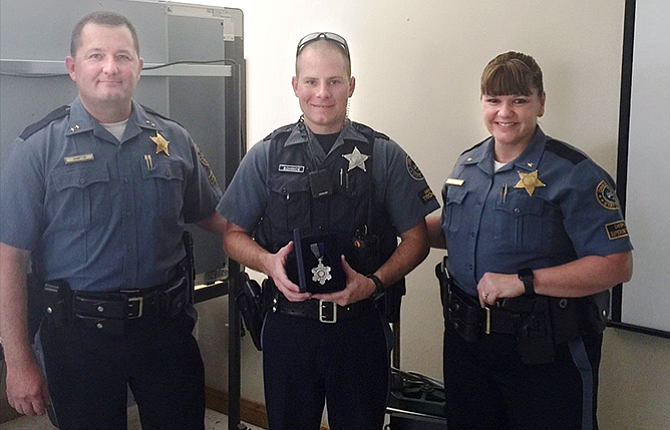 Six troopers recently received the first ever Medal of Valor issued by the Oregon State Police. Two of them, Ryan Sharp and Zach Bohince, have local ties. Sharp, from Grass Valley, is stationed in the Pendleton Area Command. His story was featured in Thursday's Chronicle. Bohince, who grew up in Hood River, is stationed with The Dalles Area Command. His story is featured below:
On Oct. 28, 2015, Senior Trooper Zach Bohince was near Seaside with the fugitive apprehension task force, which was trying to arrest a man with warrants for kidnapping and attempted murder.
It was dark and rainy, but Bohince spotted the suspect's truck just east of Camp 18 on Highway 26. Bohince was the lead marked car, and when he attempted to pull the man over, he immediately fled.
"About four minutes into the pursuit I heard four or five gunshots and they weren't very loud at the time," Bohince recounted. "Come to find out he had a 9mm pistol that had jammed so he switched to an AR-15 and a couple minutes after the first volley, the gunshots got obviously louder."
Bohince was shot at for some 22 miles of driving, he recounted. The suspect was shooting through his back window at him and other pursuing officers.
Bohince didn't return fire because there was still westbound traffic. "But I got shot at for 20 minutes."
Later, investigators found 99 spent shell casings in the suspect's car. He had the 9mm, and a .45 Magnum and the AR, both of which were stolen out of Oregon City.
Asked how he reacted to the situation, Bohince said, "I signed up to do a job and sometimes that job involves getting shot at." He said, "It was a weird feeling. I thought for sure I was going to get shot. I thought I just didn't want to get shot in the face, maybe if I take one in the vest. At the time, I thought, 'I have a job to do' and that was kind of that."
He said he wasn't afraid, but his heart rate was sky high.
Bohince, 30, is a 2005 graduate of Hood River Valley High School and has been a trooper for nine years, all of them at The Dalles Area Command.
The incident was almost two years ago, and he thinks about it still from time to time. "It's just one of those things. I signed up to do a sometimes sketchy job."
As he chased the suspect, "I could see the rounds skipping off the road in front of me, where I would try to swerve and slow down while he was shooting."
He said the pursuit reached speeds of maybe 70 to 75 mph. "That's the weird thing. He wasn't driving to get away, he was driving to be able to shoot effectively."
Bohince couldn't see the muzzle flash of the gun except when the suspect shot at troopers who were stopped by the side of the road and had trained spotlights on the road.
"About halfway through my low pressure tire sensors came on in the car because pieces of bullet jacket were hitting my tires and they were all going flat except one," he recounted.
Troopers decided deadly physical force was necessary, and officers were set up at a corner. They put their cars on one side of the road, but positioned themselves on the opposite side, since they knew he'd fired at other patrol cars that were stopped on the side of the road earlier.
Before reaching that point, Bohince's car took a direct hit. "At the time I didn't know where it was and I had like six pounds of air in the tires so it was getting pretty soft to begin with," he said.
"So I pull over and there were four other cars behind me and they took over in the pursuit. I got out and took a walkaround to make sure I wasn't leaking any fluid or anything and I got back on the road with basically three flat tires."
While he was stopped the troopers who had set up a short way ahead "engaged the driver, and about a half a mile later the vehicle starts to slow down and stops in the road," he said. "I get caught back up and I help take the driver into custody. The later autopsy showed he died of a self-inflicted gunshot wound to the head."
As he drove his nearly disabled car, he said, "It's like driving a boat at that point. The fact that my car was running, you know, I'm gonna get back involved, because I'd gone that long, I'm not just gonna sit here in the dark while it's raining, I'm gonna try to catch back up."
He said he was able to go about 60 mph.
After it was over, he had to call his eight-months-pregnant wife and "tell her I just got shot at for awhile."
He received a medal from the Oregon Peace Officers Association the following month. He said it was a surprise to get the new Medal of Valor from the Oregon State Police, since the incident was awhile ago.
"It's cool to be recognized for something obviously, that was a big deal," he said. "Again, I feel like it's just part of the job sometimes. An unfortunate part, but who else is going to do it?"
His patrol car had scratches along the hood and it was the passenger wheel that got hit directly. That was the shot he heard that he wasn't sure whether it had hit his motor.
But the car was fine. They put new tires and a wheel on it, and he drove it 147,000 miles. "That same car I had the light bar fall off when it was new," he said. He was pursuing a suspect and the light bar came off and "It landed in the back window and broke the window out. It was pretty awesome."
Then, "two years later, it gets shot. The car was in such bad shape when I mileaged it out, we shot it up for training."