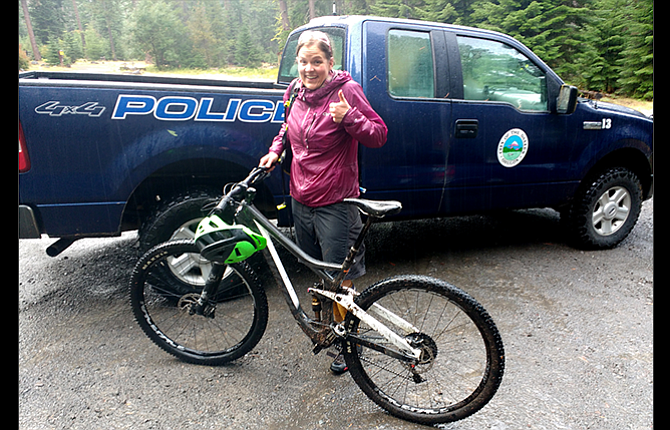 Usually, when The Dalles Police Officer Brent Larson patrols the city watershed on the Mt. Hood National Forest, he goes in one way and out another, to cover more ground.
But, in a very lucky turn of events for mountain biker Cori Bucherl, on Tuesday, Sept. 19, Larson decided to go out the way he came in.
As he was trundling down the 1720 Road right by where it intersects with the 44 Road, he came upon a drenched Bucherl, who had cut short a planned 25-mile bike ride due to unseasonably wet and cold weather.
Bucherl said their chance meeting was even more striking, because she was only pedaling on the road for about a half mile, as she left one single track, or bike path, to head to another.
She was hoping someone would come by during that half-mile, but wasn't really expecting it.
As she heard Larson's vehicle approaching, she thought, "'Oh thank God.' Actually, when I heard a vehicle behind me I was like, 'Please be a truck.' And then it was."
Bucherl, 31, of Hood River, tries to take long bike rides daily. She initially hesitated to do the story, saying she didn't want it to seem like she was caught unprepared, "because I wasn't unprepared."
She said, "I had like a first aid kit, emergency shelter building stuff, my boss knew where I was, so I wouldn't be lost out there forever, just uncomfortable for a longer time. And I had my raincoat and stuff."
After Larson stopped to ask if she was OK, she gratefully accepted his offer of a ride back to her car, which Bucherl estimated was about five more bike miles away.
The city patrols the watershed looking for trespassers, poachers, signs of criminal mischief, or fires. They also check on the reservoir up there, as well as some cabins. And they do the occasional citizen assist.
"Officer Larson totally saved me from a half an hour of really cold single track," she said.
He offered her some raisins, which she declined because she had her own food, a towel to dry off, and cranked the heat. It was just seven or 10 minutes until she was back to her car.
Her hands and feet were extremely cold, and the warming up process is painful. "We were chatting and I said, 'Pardon me while I do some deep breathing while the feeling in my feet comes back,'" she recounted.
The weather was variable, with periods of drenching rain and then sun. When she was dropped off at her car, the sun came out. "I was like, 'g---dammit sun, now you do this?'"
She reached elevations of 5,800 feet at the height of her 15-mile ride, and was even snowed on at one point. She doesn't think she was at risk of hypothermia, but said, "when my fingers started getting cold and stiff I thought, 'Oh, maybe I should turn around. This is bad.'"
Her decision to turn around was, in fact, "a point of pride for me," she said. "To actually say, 'Alright, I don't need to go for this.' Because I like to do long, involved physical things, but I didn't think the challenge was worth the potential of getting stranded in the woods."
A few years ago, though, she might've thought, "I can do it."
To keep herself as warm as possible, she kept moving and ate a bunch of food. She said she has advanced first aid training to deal with medical emergencies in the back country.
She was wearing plenty of layers: "I had a base layer, a mid-layer and a raincoat and a backpack, and I was wearing long socks and knee pads and shammies, or padded biking shorts, and mounting biking shorts on top of that." She was wearing full-fingered gloves, but it wasn't enough to ward off the cold.
"It was the most exciting ride I've done in the unexpected conditions sense," she said, "and that is definitely the coldest my hands and feet have been riding single track. Stupid girl-circulation. My hands are always cold anyway."
It's the coldest she's been on a bike, but not the coldest she's ever been: "I spend like 180 days a year in snow."
She had Larson take a picture of her with her phone, giving a thumbs-up pose by his police truck. "I actually posted it to social media later that day because it was kind of funny, kind of freaky. Learned my lesson in not going out when it's that cold."
Bucherl said Larson's assistance was "very welcome because I got to be warm sooner.
"Officer Larson was super gracious and kind and he offered me snacks and a towel and turned on the heat full blast and he told me stories about other cyclists out doing silly things."
Larson said, "All I know is she seemed awfully glad to see me." He suggested carry hand warmers and she agreed that was a great idea.
Larson usually pats down people who gets in his car, but he skipped that step. "I wasn't concerned about her being felonious." But as a matter of standard officer safety protocol, he did have to check if she had any warrants, which she didn't.
He recounted helping other people out in the watershed, like one guy who got in a fight with his girlfriend and decided to walk 20 miles home. "I gave him a drink of water and gave him a ride back to The Dalles – after I patted him down and he was cleared through dispatch."
He also helped out a man from New York who realized he couldn't keep up with a mountain biking group and was heading back alone to the "meet-at location."
His favorite, though, was an experienced mountain biker he helped after he got a flat tire, but didn't have a tire repair kit. "He told me some interesting stories," Larson recounted. On one ride in Washington, as the man was catching some air on a jump, "he literally t-boned a black bear with his front tire while he was in mid-air. He said he didn't know who was more scared, the bear or him. They both crashed, the bear ran one way, he went the other.
"It's been two or three years since I had contact with him and I still laugh about that story," Larson said, laughing heartily. "Can you imagine?"