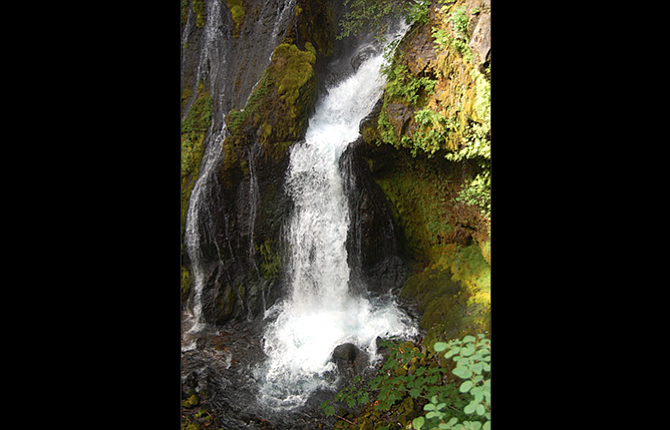 Are you as tired of triple-digit weather and insane numbers of wildfires as I am?
A 600-mile road trip to Pocatello, Idaho, was the straw that broke the camel's back. It was smoky all the way.
I guess the only way to have any fun outside is to go on another road trip. If you are tired of not being able to enjoy the great out-of-doors, I may have found an adventure for you.
It is great way to see some fine northwest fall scenery coupled with a treasure hunt. Sound interesting?
Here's what you will need: A full tank of gasoline, a camera, and a picnic basket full of cheese, bread and your favorite beverages.
A map of Washington's Gifford Pinchot National Forest would be an added benefit.
And don't forget your ten essentials just in case something goes amiss.

One more thing you will need: A healthy sense of adventure.
Our quest is to find a waterfall that has no trailhead, no parking lot and an access trail that is all but deliberately camouflaged.
We are going on a search for Panther Creek Falls, one of the most unique waterfalls in our country.
We start our adventure by driving to Carson on Washington's Highway 14. From Carson, follow the Wind River Highway north for about five miles. Turn right on Old State Road and follow that route for another 5-6 miles to Panther Creek Road.
This road is a nice paved, one-lane forest service road with turnouts. It winds its way through a lush Douglas fir forest that sports an understory of both vine and bigleaf maples.
If you have timed your adventure just right the fall colors should be outstanding.
Follow Panther Creek Road for about 7.5 miles to a small gravel pit that has a dirt parking area. On the way, you will encounter an unsigned fork in the road; take the right fork.
This is the only wide spot in the road, so don't miss it.
I should also mention that they haven't wasted a lot of money on signs in this area.
Park at the gravel pit and walk back along the right-hand side of the road for about 100 feet to a small but well-worn trail that drops into the forest.
This trail does three nice and easy switchbacks down to a sturdy viewing platform. And there it is, Panther Creek Falls.
So outstanding they will take your breath away. It's a symphony in water that is almost too complex to describe; you just have to see it.
130 feet high and 100 feet wide with the same water flow as Multnomah Falls!
These falls are so big that you can't get them all in one picture.
In fact there are two waterfalls going on at the same time. From the north, powerful Panther Creek slams into a basalt trough.
A tiny tongue finds a crack in the basalt, but the main flow does a hard right-hand turn and then a sideways horsetail to the creek bed below. Facing the wall across the creek you will see an 80-foot-wide band of springs that complete this amazing show.
All in all, this is about the nicest water show I have ever seen. Best of all, there are no crowds and no tourists jostling for the best camera angles. Just my wife Janet, myself and the creek.
Okay, are you ready to continue your trek?
Continue following Panther Creek Road through a zone of second- and third-growth forest to an intersection named "Four Corners." Take a right-hand turn here and you will be headed towards Goose Lake and the town of Trout Lake on forest service road No. 60.
The forest service has a system for numbering their roads: A two-digit road is fairly well maintained and will take you to a county or state road. A four-digit road will take you to a two-digit road and a three-digit road is not well maintained and will take you to a dead-end.
Continue following forest service road No. 60 to Goose Lake. Here is our picnic spot.

Goose Lake is a hidden gem in the fall, a rollicking madhouse in the heat of the summer.

There are lots of picture postcard photo opportunities here.
Thank goodness for digital cameras — I don't have to worry about whether or not I brought enough film.
After lunch you can continue to Trout Lake with two or three more short hiking opportunities. Natural Bridge and Ice Cave Trail are both nice, short and lots of fun.
Trout Lake is not far away at this point. If you do the entire loop the total distance is 125 miles, but keep in mind much of this is on 30-mile-an-hour roads.
Have fun, keep safe and take lots of pictures.