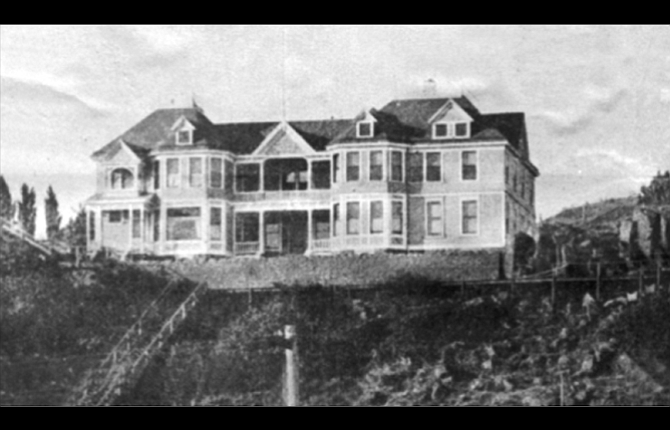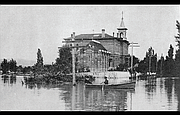 20 years ago – 1997
The shooting of a 20-year-old man by a Wasco County deputy on Sept. 13 was justified, ruled Wasco County's district attorney. District Attorney Bernie Smith said the finding by his office was based on an investigation of the shooting made by Oregon State Police.
With future funding uncertain, North Central Oregon regional Strategies Board is planning to distribute its 1997-98 project money as evenly as possible among the region's six counties.
WSU-Klickitat County extension will offer the popular Master Gardener series of classes in White Salmon starting Oct. 4.
An old name made new again accompanies other changes at the Umatilla House Inn, formerly the Tapadera Inn and Restaurant. The Umatilla House is taking on something of a historical theme to match the mural that graces the eastern wall of its main building on West Second street.
Cloudy with a chance of light rain by afternoon today with highs in the upper 60s.
Congress Gets Generous, Gives Itself a Raise: WASHINGTON (AP) – Lawmakers embraced a $3,000 cost-of-living increase in their own pay today, sending President Clinton legislation that paves the way for a boost in the current salary of $133,600.
40 years ago – 1977
Can a Minnesota timber wolf find happiness in The Dalles? Darell Churchill, a city fireman, thinks so. He bought a five-week-old wolf three months ago and brought it here. He described the dog as a "friendly, extremely gentle animal," which will shy away if a person approaches him too quickly. It is not illegal to keep such wolves, Churchill said.
A 12-year-old boy from The Dalles died early today during a hunting trip to the Heppner area, and doctors suspect he may have been asphyxiated while riding in a pickup camper.
Mushroom fanciers who like to search the woods and fields for their own favorite varieties are reporting good luck in finding meadow mushrooms since the recent rains.
KALAPANA, Hawaii (UPI) – A 20-foot-high wall of molten lava from the awakened Kilauea Volcano was slowed in its downward sweep early today by two gullies just a mile from this evacuated seaside village. Scientists at the Hawaiian Volcano Observatory said there were so many factors involved that they could not predict when the lava will spill over and ooze the last mile to Kalapana. The black and orange colored lava flowed 60 feet per hour from a fissure in the East Rift Zone of the volcano, which began erupting on Sept. 13 after two years of dormancy.
60 years ago – 1957
VIENNA (UP) – President Eisenhower delivered a new atoms-for-peace call today coupled with a prayer "that the splitting of the atom may some day unify a divided world." In a message read to the opening session here of the 55-nation International Atomic Energy Conference, the President urged a worldwide nucelar development program "whereby the fissioned atom will be transformed into the means of providing richer, healthier and happier lives."
A membership drive is being organized by the Wasco County Tax League. Organizational officials at a regular meeting last night said they wanted to include in their membership "All persons interested in taxation."
Friday of this week is the final day for signups by farmers who intend to participate in the 1958 winter wheat Acreage Reserve program.
State, county and city authorities have started a "crackdown" on motorists who fail to stop while a school bus is taking on or letting off youngsters. "No warning tickets are being given out," Sgt. C. A. U'Ren, head of the local state police, said this morning.
PARIS (UP) – France was plunged today into its most difficult political crisis since World War II. There was speculation Gen. Charles De Gaulle might be called from political retirement to save the Fourth Republic. The government of Premier Marucie Bourges-Maunoury fell on a vote of confidence shortly before midnight. The issue was his proposed law to give more home rule to rebellious Algeria, and the fight against it was led by fiery Conservative Jacques Soustelle. Never since the war has France been split so deeply on an issue as on Algeria.
80 years ago – 1937
At the behest of the executive council representing the chamber of commerce, Port of The Dalles, the city council, Wasco county and other civic and governmental agencies, a special meeting of the city planning commission has been called for tomorrow night by Dr. Thompson Coberth, chairman, for the reported purpose of discussing development of rail trackage to serve the city's waterfront and industrial area.
PORTLAND, Oct. 1. (UP) – Talmadge J. Staley's troubles began with his first glimpse of President Roosevelt, who passed through Portland on his western tour. The sight of the president excited Staley to such enthusiasm that he tossed his new $10 hat into the air. The hat came to rest on Mr. Roosevelt's lap. The president looked at it, grinned, doffed his own hat, and kept Staley's.
GENEVA, Oct. 1. (UP) – China submitted to a league of nations advisory committee today a resolution citing Japan as an aggressor under the nine-power treaty, the Kellogg-Briand pact and Article X of the league covenant.
100 years ago – 1917
Trunks and huge boxes of "amusements" began arriving in The Dalles this morning for the Honor Guard street fair and carnival, which will open here tomorrow night. The Northwestern Amusement company, with 10 sideshows, Ferris wheel, merry-go-round and other carnival features, will remain until Saturday night, October 6.
NEW OLREANS, Oct. 1. – Friday's hurricane destroyed 32 houses on Dauphne island, Alabama, and two dozen small craft were sunk off the Alabama coast. Scores of boats are ashore, bottom side up.
PARIS, Oct. 1. – The French repulsed German attacks on both banks of the Meuse, following a violent bombardment today.
SAN FRANCISCO, Oct. 1. – Boilermakers returned to work this morning. Work has been resumed in all shipyards, iron works and other plants, with full crews. The Boilermakers' union, which held out when 16 other unions voted to return to work, accepted the agreement which Federal Mediator Gavin McNab offered, after a stormy meeting.