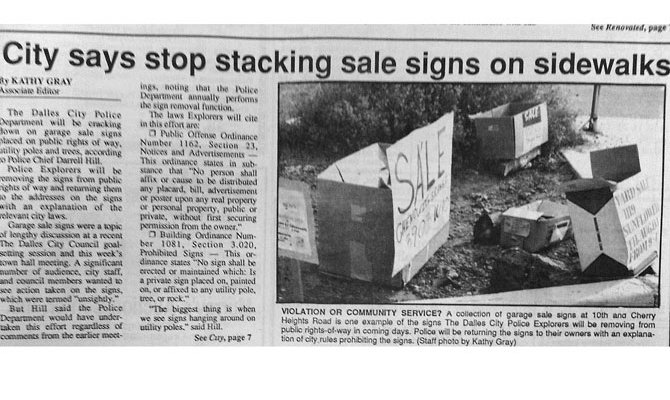 Nonprofit events calendar from Sept. 20, 2014.
"Garden of TOPS Friends" was the theme used for the annual awards and installation of officers of TOPS OR0443 in The Dalles.
Nonprofit events calendar from Sept. 19, 2014.
Moro's antique store Now and Then, together with the Sherman County Historical Museum, will be hosting a special book signing with two authors on Saturday, Oct. 18.
THE DALLES High School Class of 1959 held a reunion in mid-September that was attended by:

A GUIDED float down the lower White Salmon River on Sunday, Sept. 21, provides participants with education about the breaching of Condit Dam in 2011 and the transformation that's occurring after a century's worth of silt, gravel, organic matter and water-drenched logs were unleashed through the drain hole.
Arts and entertainment calendar from Sept. 19
Klindt's Booksellers will kick-off the holiday season Oct. 18 by bringing books, beer and brats together during the Northwest Author's Festival.
The film "Disruption: Climate. Change," will be shown Sunday, Sept. 21, at Riverside Community Church, Fourth and State streets, in Hood River.
Moro — Donna Birtwistle of Moro has brought South Africa to the Sherman County Historical Museum with a display sharing her travels, adventures and select hand-painted art work that she collected.

Food, family activities, giveaways offered at Sept. 20

Police give fans an oinker of a show to help families
Missing troops honored Friday at Kelly Viewpoint

MOSIER MUSEUM: By popular demand, Mosier museum at the former legion hall just north of the post office will be open 9 a.m. to 4 p.m. Wednesday through Sept. 20. Please contact Marilynn Gholston Shaw at shaw.marilynn@gmail.com if you have questions or wish to volunteer.
Nonprofit events from Sept. 13, 2014.