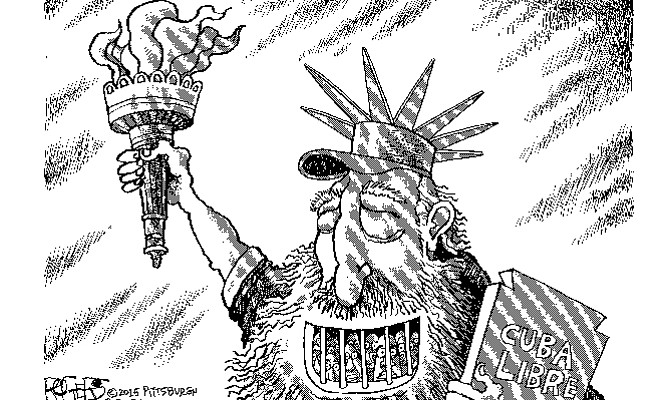 Editorial cartoons from July 28, 2015.
To the editor: As I hear about national cop abuse of power the more proud I am our Police Department. Over the 4th of July weekend they and the Sheriff's Office handled 78 calls, most involving excessive drinking. Angry drunks are so unpredictable and prone to excessive violence that I cannot imagine stepping in to stop it. They didn't choke hold anyone, shoot a minority, use excessive force or haul people in on trumped up charges.
Crosstalk: Are fetal tissue 'sales' right or wrong? Two views:
To the editor: I would like to thank The Chronicle for the awesome article about Travis Fritz. He is a wonderful young man who, in his young life, has overcome many obstacles. It is great to know that he has finally gotten the recognition that he so richly deserves.
Letters make a difference
The Dalles men extremely helpful
Front page of Chronicle all positive
Chronicle editors debate Iran nuclear deal
To the editor: I just received my new Century Link phone book for the Columbia Gorge. It proclaims that it has larger print. That made me happy since I could not read the last phone book without a magnifying glass.
Is Christian stance on gay marriage tolerable?
To the editor: I was pleased to see the city is taking a look at the water rates. I think it is probably good to look at other cities but, as the mayor says, it is hard to make comparisons — every city is different. The way the water rates are currently calculated in The Dalles is not fair.

Editorial cartoons from July 9
To the editor: While I agree with Mr. Summer's 'Hats off to ODFW (Oregon Department of Fish and Wildlife)' for purchasing the land on Tygh Ridge/breaks of the Deschutes, I feel differently about what it should mean.
To the editor: This past week I followed a semi down Highway 97 from Wasco about 11 a.m. No vehicles ahead of us. I arrived at Biggs Junction with all of the new wide turning lanes and double lanes on both access ramps off of I-84.
To the editor: Linda Brown, Wasco County Clerk retired on June 30. I want to express my appreciation for Linda Brown's loyal service to the people of Wasco County. She served over three and one-half decades and always had the interests of the people first in her mind.
Previous Next