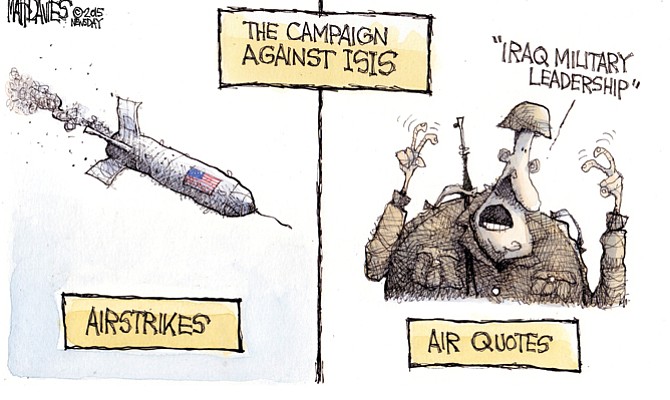 Supportive. Hardworking. Disciplined. And reaching for academic success. This is Chenowith Elementary and its fantastic staff and students that are led by Principal Anne Evans.
As per Ms. Ricarte's assumption, "If we don't sign the agreement with Pacific Rim nations, they will undoubtedly gravitate to China…government ownership over private enterprise." How naïve, RaeLynn, as we look at the next paragraph.
Do trade agreements benefit the US?

The Dalles Area Chamber of Commerce was closing in on its goal to have 1,000 people participate in the May 16 Color Dash as of Friday afternoon. How's that for a measurable outcome?

Editorial cartoons from May 12, 2015.
To the editor: There are three open Hood River positions on the May ballot for community college board members in the Columbia Gorge Community College district. After serving for 15 years, I'll be stepping down to possibly apply for part-time teaching positions at the college when they arise.
To the editor: Today, I visited the Columbia Gorge Discovery Center with my wife, daughter and two grandchildren for the Mother's Day Brunch and open admission. I must admit that it has been years since I visited the exhibits.
To the editor: I recently had the privilege of chairing the Columbia Gorge Community College budget committee. The committee spent 10 1/2 hours over three evenings carefully studying the proposed budget. They engaged in a spirited debate which did credit to the public budget process. While the committee only has legal authority in approving a budget, we took the additional step of making two recommendations to the college board:
To the editor: I am writing to share our appreciation to those in our community who supported The Dalles High School Band Parents in our two fundraising events this Spring.
To the editor: In order for the Republican Presidential Candidate to actually win the 2016 election, he or she must stress and overemphasize a new "David and Goliath" approach. In this day and age the Republican nominee has to not only go up against the Democrat candidate, but also the large as a barge mainstream media who were impressively instrumental in reserving Obama an oval office position in 2008 and 2012.
Previous Next