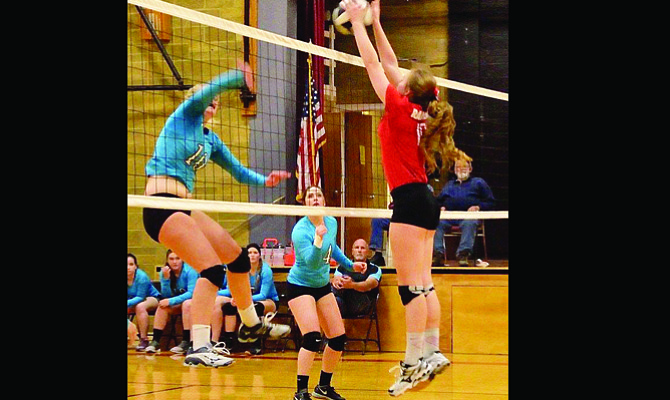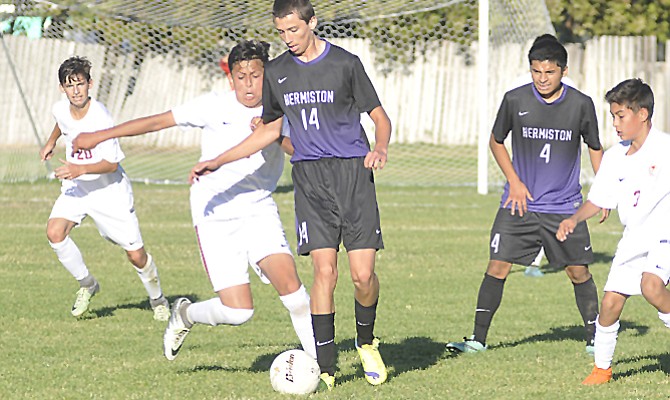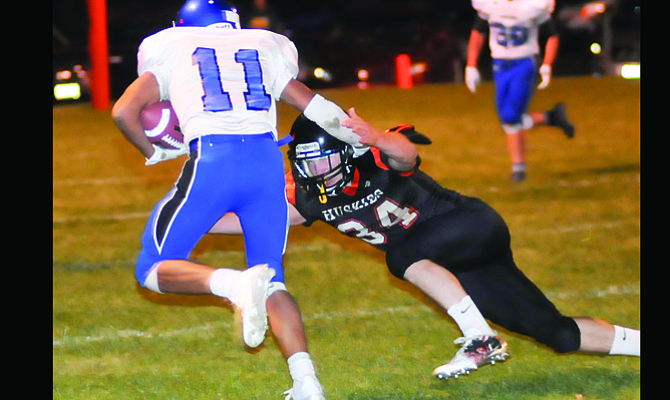 The Dalles football team scored a late first-quarter touchdown, but the 4A La Grande Tigers scored 49 unanswered points to seal a 63-6 victory Friday.
SWC claims eighth sweep of the season at home Friday
The South Wasco County Redsides were able to get some contributions from everyone on the team against Mitchell-Spray, as Laurynn Davis, Reese Millis and Caitlyn Stebbins had a kill each, and the team added nine aces and 13 total kills in Friday's three-game Big Sky Conference sweep at home in Maupin.

MORO – Sherman built an early lead, but the defending champion Dufur Rangers never threw in the towel. In this big-game showdown, there were plenty of twists and turns throughout, with each team having an opportunity to seize the momentum.

Cross Country star shines at Sorosis Park
Emma Mullins picked up first-place honors in Friday's Nelson Invitational Cross Country Meet in The Dalles

The Dalles Riverhawks are going to need a top-flight effort in all three phases of the game in order to come out on top in Friday's contest versus quarterback Andrew Peasley, running back is Isaac Chamberlain, receiver Zack Jacobs and the La Grande Tigers.

TD takes first in JV, varsity cross country
The Riverhawks claimed first place in the boys' and girls' junior varsity and varsity divisions, and Emma Mullins and Zerin Croover each picked up wins in their respective races at the Bridgette Nelson Invitational held at Sorosis Park in The Dalles.
September Wednesday, September 28 GORGE CHAPTER: Coastal Conservation Association Oregon is seeking to form a gorge chapter and invites people interested in keeping fishing licenses affordable and hatcheries open to come to a meeting starting at 6 p.m. at the Charburger Country in Hood River, 4100 Westcliff Drive. For more information call Chris Cone at 541-213-1464.

White Salmon scores 27 points in fourth for 44-20 win
Dominique Seufalemua tallied 96 yards rushing with two scores, and the receiving combination of Dakota Murr and Glenn Breckterfield combined for five catches for 95 yards, but White Salmon erased a 20-17 fourth-quarter deficit with 27 unanswered points in a 44-20 victory Friday in a non-league football game.

Sherman, South Wasco and The Dalles also in action Tuesday night
Chloe Beeson dropped seven kills, five digs and a block, Haili Wolf-DePriest added a season-high 10 service aces and the No. 15 Dufur Rangers scored a three-game sweep over Mitchell-Spray Tuesday in a league match in Spray.

Three second-half goals, just five minutes apart, lead to 6-0 setback
Freddy Rodriguez scored three goals and added an assist, and Anthony Carillo scored twice to lead the Hermiston Bulldogs to a 6-0 shutout victory at Discovery Field in The Dalles.

Sherman takes 66-0 triumph over South Wasco County
The Sherman Huskies racked up 267 yards rushing, and senior quarterback Kyle Fields completed 6 of 8 passes for 119 yards in a 66-0 shutout victory over South Wasco County Friday in a Big Sky conference tilt played in Moro.

Pence, Farrell combine for 291 yards rushing to lead Rangers
DUFUR – Make it 4-0 for the Dufur Rangers. In a dominating performance on Friday evening, the Rangers scored first and never looked back, rolling to a solid win in their league opener against the Perrydale Pirates. The final score was 56-14.
Previous Next