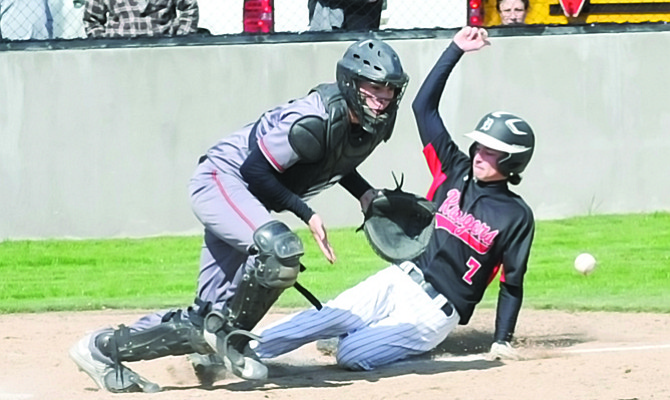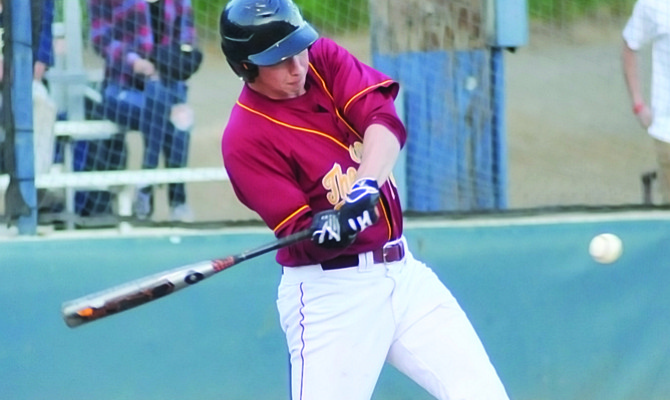 The Memaloose Hills have become one of Janet's and my favorite places to enjoy nature's wonderful wildflower shows. The hiking trails are user friendly, never too crowded and the variety of flowers almost endless. And to add another plumb to the pudding the forest service has mapped out a 6.5 miles loop hike that starts at Memaloose rest stop on the east bound lane of I-84; just three miles east of Mosier, Oregon.
Athlete of the Week Profile Name: Avery Cardosi Sport: Track and Field Grade: 12 Favorite Class: AP Language Favorite Athlete: Steve Prefontaine Favorite Food: Pad Thai Favorite Movie or Television Show: Gilmore Girls This Past Week: Cardosi, a senior, helped lead The Dalles girls with three wins Tuesday at home against Hood River Valley. Coming off a second-place finish in the 400-meter race at the Kiwanis Invitational in Hermiston on April 23, Cardosi set a new career-best at home on Tuesday against Hood River Valley with a 400 time of one minute and 2.54 seconds. She added a personal record of 16-feet-10.5 inches for first place in the long jump at the same meet, and was a key cog in the 4x400-meter relay team that had a time of 4:43.90 for first place. On the year, she has seven wins overall. Coach Quote from Garth Miller: "Avery is a hard worker and displays a positive attitude and leadership skills among her teammates," Miller said. "She leads by example and she is a great asset to our team."
Casper and Ambriz, Busler lead boys to win
The Sherman boys' tennis team enjoyed success Monday in a road match against The Dalles and continued their solid recent run with a 2-1 pro-set win over Stanfield Tuesday in a varsity match played in Stanfield.

Martin and Lopez win at No. 3 doubles in a 5-3 loss
While names like Will Coy, Alex Lopez, Ethan Martin and Pedro Lopez highlighted the varsity action in Wednesday's 5-3 league match loss on the road against Hood River Valley, The Dalles boys' tennis coach Shea MacNab was most impressed with one of his up-and-coming standouts, Sanjay Ramanathan. Ramanathan, who has not had the chance to play much this season, put on a dazzling display in his junior varsity match, taking a close 9-7 pro-set loss for his efforts.

More than 200 sign up for TD XC fundraiser run
A record total of 206 runners made the trip to Dry Hollow Elementary School for the Cherry Festival 3k, 5k and 10k run/walk, putting top times and performances out for bragging rights and prize ribbons. "It was a very good turnout," said event coordinator Bob Thouvenel. "We had great weather for running and everyone finished in time to go to the parade. This event was probably our best turnout in about three to four years."

Veterans and youngsters set solid marks against HRV
A mix of The Dalles upperclassmen and underclassmen were on full display Tuesday on senior night for a Columbia River Conference track and field dual at Sid White Field, and more than 25 picked up personal records. TD head coach Garth Miller likes to see his older and young kids stepping it up, establishing depth and putting themselves in position to be legitimate contenders when the districts roll around on May 11-12 in Hermiston.

Top doubles, No. 1 singles win, but HRV gets 5-3 win
Still fielding a short-handed roster, The Dalles girls' tennis team had Robin Pashek come out strong on the singles' circuit, and the two doubles teams of Johanna Wilson and Kiana Pielli and Rebekah Kohltfarber and Ellie Trujillo added big wins, but Hood River Valley came out on top by a 5-3 margin in a varsity league matchup played at The Dalles High School.

With a final chance to finish ahead of Pendleton in the standings, The Dalles notched seven hits and received four walks, but stranded eight runners on base, including the bases loaded in the seventh inning of a 4-2 loss to the Bucks Tuesday at Robert L. White Field in Pendleton. Down by two runs, the Hawks had the bottom of the order facing Pendleton reliever Kai Quinn. Ortega led off with a single to right field, and one out later, Johnny Miller hit a single to left field to put two runners on base. After a flyout to right made it two outs in the inning, Colin Noonan reached on a walk to load the bases for Kellen Mathisen. Mathisen and Quinn battled for six pitches. On the seventh pitch of the at-bat, the Buckaroo righty got the called third strike for the final out to end the threat. TD led 1-0 through one inning, but Pendleton tied it at 1-apiece in the second, and then used a two-run fourth to jump ahead, 3-1. TD added a run in the fifth on an RBI single by Dawson Hoffman to score Cash Mathewson. With Miller on third base and Hoffman at first, Noonan bounced into a double play to end the inning. Ortega had two hits in three at-bats, and Colton Walker went 1 for 2 with a double, a walk and an RBI. Noonan went 1 for 3 with a walk and a run, and Daniel Peters added a hit and a walk. Bate tossed five innings of seven-hit ball with two strikeouts and five walks. He allowed four runs, two were earned. TD (8-10 overall, 2-4 league) heads to No. 4 Hood River Valley (15-4, 5-1) for a doubleheader at 5 p.m. Friday. The Eagles lost 9-1 Tuesday to Hermiston.

The pressure was on Iliana Telles on the back-nine, as Pendleton's Shelby and Haley Greb were hot on her trail down the stretch. Telles hit her shots and carded a 77 to claim her second medalist award of the year, besting the Greb sisters by one stroke at Tuesday's Pendleton Invitational held at Pendleton Country Club. Under blue skies with minimal winds on slow greens and a deep rough, the Riverhawk junior shot a 41 on the front-nine and was tied with Shelby Greb at the top of the standings, and two strokes ahead of Haley. Haley Greb rebounded with a 35 on the final nine holes, Telles tallied a 36 and Shelby Greb had a 37. La Grande's Trinity McCarthy finished fourth with an 82, five shots behind Telles. TD player Abby Walker had the second-best score with a 55-52 for a season-best 107. Telles and the Riverhawks hit Quail Valley Golf Course for a tournament on Monday, May 2.

Felderman, Snodgrass and Patel lead in a 10-stroke win
The trio of Mark Felderman, Chase Snodgrass and Darsh Patel finished in the top-6 overall and The Dalles boys' golf team captured championship status by 10 strokes over Seaside High School at the Seaside Invitational Golf Tournament played Monday at Astoria Golf and Country Club. Felderman carded a 78 on the day, six shots off the top pace, and added an eagle chip from 80 yards out on the par-5 12th hole to secure fourth place individually. Snodgrass totaled a 79, Patel added an 82 and Jacob Ford finished with an 89 for the top-4 TD scores. Freshman Tyler Vassar rounded out the team with his 93. "I am very pleased with how the boys played," said TD head coach Kent Smith. "They continue to show improvements in some of the areas we have been working on. Our drives are hitting fairways, our chips are getting there and we cutting down on those extra putts that had been hurting us. It is a very nice way to end our final tournament before regionals." Seaside's Aaron Richardson and Ilwaco's Blake Kukula wound up tied for first place with even-par 72s, but Richardson claimed medalist honors in a playoff. Carter Lee, of Tillamook, had a 77 for third place, and Felderman, Snodgrass and Patel capped the individual standings. As a team, The Dalles had a 328, a margin of 10 strokes better than Seaside, who had a 338 for second place. Jack Eggars had a hole-in-one on the 17th hole and helped Scappoose to a 351 for third place. Taft (380), Tillamook (384), North valley (397), Astoria (403), Cottage Grove (407), Banks (413), Ilwaco (417) and Kennedy (462) made up the team rankings. The Dalles has 10 calendar days to prepare for regionals on May 6-7 in Bend. "I am excited and I know the boys are too. We have had a pretty good season up to this point and I know they want to keep their season going," Smith said. "We will keep working on things and hope for the best in Bend. It is going to be tough, but I know these guys will be up for the challenge."

Quick start, Troutman's pitching lead Husky charge
MORO – When the stakes are raised, the Sherman Huskies can always rely on ace pitcher Brett Troutman. The sophomore right-hander retired the first 11 batters in a row, and finished five innings of one-hit ball with four strikeouts, as the No. 5-ranked Huskies rode a six-run first-inning barrage to a 10-0 mercy-ruled win over the Dufur Rangers Tuesday in a Blue Mountain Conference baseball game played in Moro.

The Dalles boys golf team captured its second tournament title in the past three events, as Mark Felderman and Chase Snodgrass shot less than 80 and senior Darsh Patel scored an 82 to lead the hawks to a 328, 10 strokes ahead of Seaside at the Seaside Invitational Monday afternoon at Astoria Golf and Country Club. Jacob Ford added an 89 for the fourth total on the Riverhawks scoring list, and Tyler Vassar totaled a 93 for the day. Seaside's Aaron Richardson won medalist honors in a playoff. as both he and Ilwaco's Blake Kukula ended up deadlocked with an even-par 72 for the day. Felderman, who eagled the par-5 12th hole with a chip from 80 yards out, led TD with a 78. Snodgrass had a 79. Scappoose golfer Jack Eggars hit a hole-in-one on the 17th hole. After The Dalles, Seaside (338), Scappoose (351), Taft (380), Tillamook (384), North Valley (397), Astoria (403), Cottage Grove (407), Banks (413), Ilwaco (417) and Kennedy (462) rounded out the team standings. TD has some time off until heading to Bend for regional action starting on May 6.
Previous Next