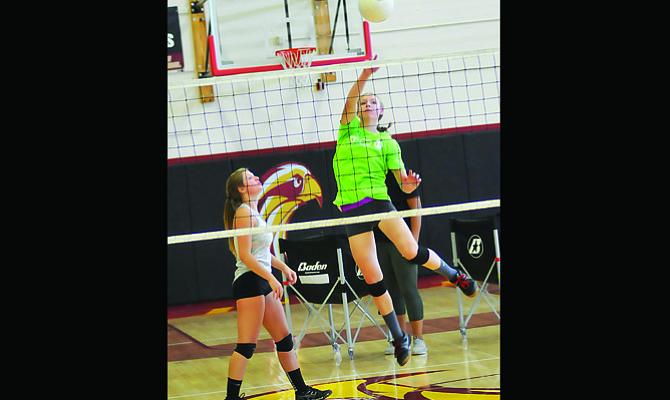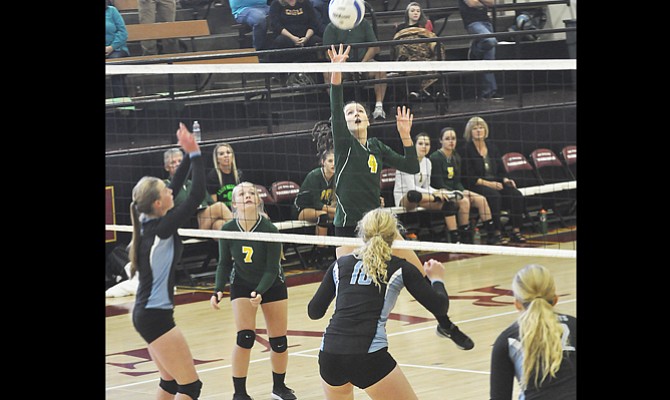 Co-ed softball team caps year with 28-5 romp in finale
As a sponsor for nearly two decades, Nelson Tire Factory has had teams post top-3 and runner-up finishes in the past, but never a championship. Wednesday night at Kramer Field, this group finally climbed over the mountaintop as the champions of the North Wasco County Parks and Recreation Department Co-Ed Softball League after a 28-5 triumph over Domino's Pizza sponsored, "McGlovin."

Team is revamped and ready for 2016 season
DUFUR – Through rigorous daily double practices over the past two weeks, Dufur volleyball senior Emily Grande-DePriest grows more and more impressed by the nine underclassmen, including seven freshmen, that will see added minutes on the hardwood this fall. They have an unrelenting drive to get back to Redmond for state, a good omen so early in camp.

For The Dalles girls' soccer team, it is all about fresh starts. Under the new offensive and defensive schemes implemented by new head coach Oscar Nunez, varsity assistant Cheri McCall and new junior varsity coach Amy Krol, the rebuilt roster has its focus squarely on early success and a berth into the postseason.

With new coach, soccer team is on an upward swing
With a new head coach in Matthew Dallman and a starting roster of five freshmen, four sophomores and five upperclassmen, The Dalles boys' soccer team is not worried about a lack of experience, but will rely on teamwork and progression through the regular season

The Dalles High School cheer team members, pictured from left to right, Kendyl Kumm, Abbey Helseth, Meara Crawford, Jessika Nanez, Keagan Rice and others give themselves a round of applause after practice Wednesday at Sid White Field.

Football team starts daily doubles with 50 on roster
Over the next two years, The Dalles football team will play an independent schedule, so head coach Steve Sugg is looking forward to the opportunity to teach, mold and shape an up-and-coming roster of 30 underclassmen to build for the future.

The Dalles head football coach Steve Sugg (middle) offers words of encouragement for his 40 players who were in attendance at Wednesday's practice on Sid White Field.

TD hoops player wraps up summer AAU schedule
Dakota Murr has high expectations for himself and The Dalles boys' basketball program over the next few years. In order to meet or surpass those goals and aspirations, he was on the hardwood this spring and summer playing on an Elite level team and in AAU Tournaments across the West region.

The Dalles athlete J.R. Scott successfully deadlifts upwards of 400 pounds, while Dalles Seufalemua (back) and Dufur's Abraham Kilby cheer him on during Saturday's Gorge Gauntlet Competition at Amaton Field.

Baseball coach led the Eagles to their first state title in 1980
Long-time The Dalles coach and hitting instructor, Doug Sawyer, will be inducted into the Hood River Valley High School Hall of Fame in a ceremony set to take place on Sept. 23 and 24.
TD's softball duo savors experience on travel squad
Through the summer, Kathryn Bradford and Jodi Thomasian traveled 6,200 miles across the United States in softball tournament games and also logged 214 miles, twice-a-week, to Hillsboro for practices – all for the love of the game. They enjoyed great moments, shared life experiences and improved their game to the level where they can take hold of prominent leadership roles for The Dalles softball team next spring. The long road trips are tiring, but it is all worth it in the end.

Group of 65 harriers show up for fundraiser
In his first year as race coordinator of the Dufur Valley 5k and 10k event, Ty Wyman was happy with the turnout and final results put up by the 65 running participants. With the Wasco County Fair coming up Saturday morning, Wyman has high hopes for another high turnout.
Previous Next