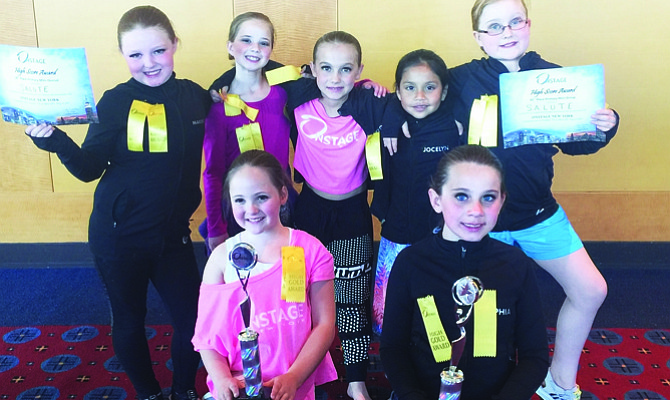 Even with setbacks, teams have chances for postseason berths
Maddy Bradford threw another complete-game gem, but Hood River Valley pitcher Hannah McNerney made the right pitches and the defense stood strong with several highlight-reel plays to help the Eagles hold on for a 2-1 Columbia River Conference softball victory Tuesday at 16th Street Ballpark.
Junior hits the 12-foot-7 inch mark to lead boys to third
Sherman junior Maverick Winslow set a school record of 12-feet-7 inches in the pole vault and the rest of the boys' team racked up nine top-5 outputs at the Condon-Wheeler Invitational Saturday in Condon. Added to that, Sherman had a triple jump win by Keenan Coles and a career-best of 55.42 seconds in the 400-meters by Treve Martin to lead the Sherman boys' track team to third place .

Boys net 13 career-bests Friday at meet in Gresham
Facing six other 5A programs and six 6A schools, The Dalles track and field team racked up 20 personal records at the Dean Nice Invitational Friday in Gresham. Emily Morin, Paige McLeod and Ivorie Taylor set their high marks, as did Ethan Shubert, Gabe Lira, Glenn Breckterfield and Orion Smith.

Bradford gets two wins, hits home run to lead the Hawks
HOOD RIVER – Facing a turning point to the season, The Dalles senior Maddy Bradford put the team on her back and willed them to a doubleheader sweep Saturday by scores of 2-0 and 9-5 in a Columbia River Conference softball matchup played on the road against Hood River Valley. In 17 innings pitched, Bradford struck out 16, allowed 13 hits and three earned runs, and also chipped in three hits, including a home run and two RBIs. From the opening pitch, head coach Steve Garrett knew Bradford was dialed in.

Baseball team still alive for a shot at the 5A playoffs
HOOD RIVER – This is it – A four-game season. After losing two games Friday night by scores of 4-1 and 9-0, The Dalles baseball team is mired in a streak of six losses in the past seven contests to fall into last place in the Columbia River Conference. With some rebound performances, some help and continued togetherness, there is still a chance to climb back into the postseason mix.

No. 3 Sherman has won five in a row; still chasing Irrigon
DUFUR – The Sherman Huskies rattled off 23 runs and 24 hits Friday in wins of 7-6 and 16-6 over the Dufur Rangers to run their winning streak to five game in a pair of Blue Mountain Conference games played at Dufur City Park.

The Memaloose Hills have become one of Janet's and my favorite places to enjoy nature's wonderful wildflower shows. The hiking trails are user friendly, never too crowded and the variety of flowers almost endless. And to add another plumb to the pudding the forest service has mapped out a 6.5 miles loop hike that starts at Memaloose rest stop on the east bound lane of I-84; just three miles east of Mosier, Oregon.
Athlete of the Week Profile Name: Avery Cardosi Sport: Track and Field Grade: 12 Favorite Class: AP Language Favorite Athlete: Steve Prefontaine Favorite Food: Pad Thai Favorite Movie or Television Show: Gilmore Girls This Past Week: Cardosi, a senior, helped lead The Dalles girls with three wins Tuesday at home against Hood River Valley. Coming off a second-place finish in the 400-meter race at the Kiwanis Invitational in Hermiston on April 23, Cardosi set a new career-best at home on Tuesday against Hood River Valley with a 400 time of one minute and 2.54 seconds. She added a personal record of 16-feet-10.5 inches for first place in the long jump at the same meet, and was a key cog in the 4x400-meter relay team that had a time of 4:43.90 for first place. On the year, she has seven wins overall. Coach Quote from Garth Miller: "Avery is a hard worker and displays a positive attitude and leadership skills among her teammates," Miller said. "She leads by example and she is a great asset to our team."
The clock is ticking for the start of a new season of hope for The Dalles Cheer team. From 6:30-8:30 p.m. on Tuesday, Wednesday and Thursday of next week, TD head coach Kelsey Sugg and assistant Andrea Pena are conducting three days of tryouts at Kurtz Gym on 1201 Washington St. in The Dalles. "Andrea and I are super excited for a new year and have lots of fun and exciting new things planned for the 2016-2017 school year," Sugg said. All prospective cheerleaders need to pick up and complete their tryout packets in the main office of The Dalles High School, The Dalles Middle School and St. Mary's Academy. There will also be a mascot tryout during these days for male or female students wishing to show off school spirit, energy and enthusiasm for football and basketball games next season. No dance or prior cheer experience is needed to participate or join. At tryouts, individuals will be learning a tryout dance, a cheer, and doing some stunting. The first two nights consists of just learning and the final night is performance night where they will get to perform everything they have learned. "We are really hoping the girls are getting excited for a new year, and we are trying our best to get the word spread how fun this program is going to be this year," Sugg added. Also, anyone who brings a friend to the opening tryout day on Tuesday will be entered in a Dutch Bros gift card. For additional information on the program or tryout dates, email coach Sugg at kelseyesugg@live.com.
Casper and Ambriz, Busler lead boys to win
The Sherman boys' tennis team enjoyed success Monday in a road match against The Dalles and continued their solid recent run with a 2-1 pro-set win over Stanfield Tuesday in a varsity match played in Stanfield.

Martin and Lopez win at No. 3 doubles in a 5-3 loss
While names like Will Coy, Alex Lopez, Ethan Martin and Pedro Lopez highlighted the varsity action in Wednesday's 5-3 league match loss on the road against Hood River Valley, The Dalles boys' tennis coach Shea MacNab was most impressed with one of his up-and-coming standouts, Sanjay Ramanathan. Ramanathan, who has not had the chance to play much this season, put on a dazzling display in his junior varsity match, taking a close 9-7 pro-set loss for his efforts.

More than 200 sign up for TD XC fundraiser run
A record total of 206 runners made the trip to Dry Hollow Elementary School for the Cherry Festival 3k, 5k and 10k run/walk, putting top times and performances out for bragging rights and prize ribbons. "It was a very good turnout," said event coordinator Bob Thouvenel. "We had great weather for running and everyone finished in time to go to the parade. This event was probably our best turnout in about three to four years."

Veterans and youngsters set solid marks against HRV
A mix of The Dalles upperclassmen and underclassmen were on full display Tuesday on senior night for a Columbia River Conference track and field dual at Sid White Field, and more than 25 picked up personal records. TD head coach Garth Miller likes to see his older and young kids stepping it up, establishing depth and putting themselves in position to be legitimate contenders when the districts roll around on May 11-12 in Hermiston.
Previous Next