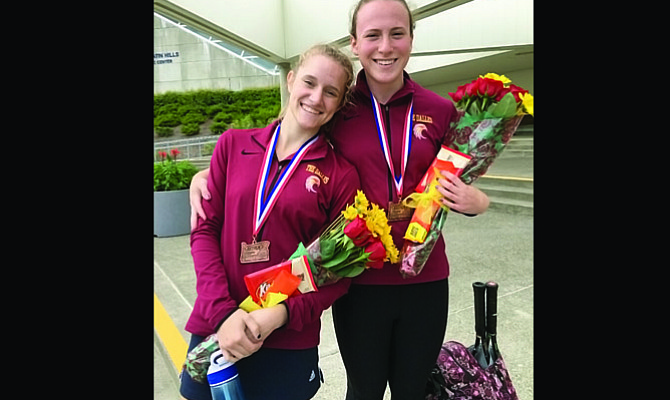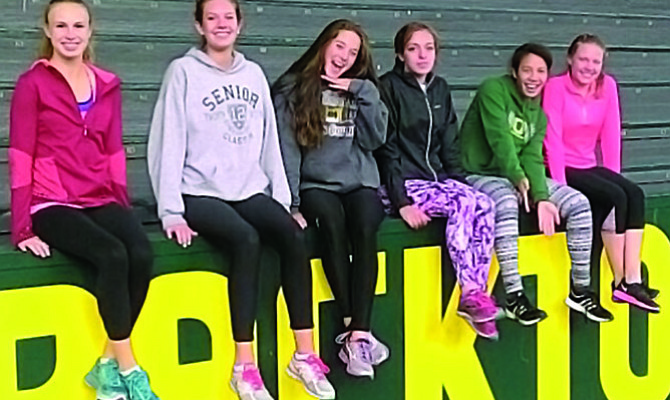 Teams hit PRs on the big stage of Hayward Field
Hayward Field had plenty of highlights on opening day Thursday in Eugene. The Sherman boys' team and the South Wasco County girls' team added to those top performances with fourth-place finishes at the 1A OSAA/U.S. Bank/Les Schwab Tires Track and Field State Championships at Hayward Field in Eugene.

No. 9 TD totals 14 hits to beat St. Helens, 9-7
Earlier in the week, The Dalles outfielder Lori Cimmiyotti received news that she was an honorable mention pick in the Columbia River Conference voting. Cimmiyotti felt slighted. So she took her frustrations out on St. Helens. Cimmiyotti went 3 for 4 with two doubles, a home run, two runs scored and four RBIs, as the No. 9-ranked Riverhawks pounded out 14 hits to defeat St. Helens by a 9-7 margin in state softball play-in action Friday at 16th Street Ballpark.
Booster Club golf, Cherry Crush and Dance recital all planned
Booster Club to host Golf Classic The Dalles Booster Club is holding its inaugural TD Booster Club Golf Classic at 2 p.m. Sunday at The Dalles Country Club. This a shotgun start and all community members are welcome to attend this fundraiser. Each team consists of four players in a scramble format. There will be side games, contests and prizes available. Dinner will be served at the conclusion of the event. Costs are $500 for a team and $125 for an individual. For more information, call, Daniel Bonham at 541-506-9185 or send an email to daniel @thedallesboosterclub .com. Jumpstart Track Meet on tap The 15th annual Jumpstart Elementary School Track Meet is open for all boys and girls from kindergarten through fifth grade at the Wahtonka Track from 6-8:30 p.m. on Tuesday, May 24. There is no entry fee and if kids stop by before 6 p.m., registration is not necessary. Ribbons are offered for the top five boys and girls in each event. For information or to volunteer, go to jumpstartyouthactivities@ gmail.com. Dance Academy holding recital The Dalles Dance Academy will be involved in its year-end recital open to the public starting at 7 p.m. on Saturday, May 21 at The Dalles High School Auditorium. Cost is $4 per person and the money raised goes towards the Riverhawk cheerleading program.
The Dalles girls' tennis tandem of Kiana Pielli and Johanna Wilson defeated Marist Catholic's Ellie Cross and Nithya Vaikuntam, 6-2, 6-3 in their opening state match Thursday to advance into the quarterfinal rounds in Portland. They played against the No. 2 seed, Lia VanSteeter and Remy Noble, of Crescent Valley, earlier today.
The Cherry City Crush 10U Traveling Softball team is hosting its annual tournament this weekend at Sorosis Park in The Dalles. The Crush, coached by Ryan LeBreton, David Jones and Joe Abbas, hit the field for their first game at 9 a.m. against Vancouver, Wash., and then play at 1 p.m. against cross-town rivals, Hood River Valley. For more information on the program go to www.facebook.com.

Dufur senior places third at state event in Redmond
Dufur senior Zach Christiansen qualified for regionals after picking up third-place honors in the Steer Daubing event at the OHSET State Championships in Redmond at the Deschutes County Fair & Expo in Bank of the Cascades Event Center in Redmond last weekend. Christiansen had a first-go time of 1.413 seconds, and then had a second-go time of 2.511 for his 3.924 total with two caught cows for his high placing. The senior also placed 16th overall in Individual Flags, where he posted a 10.026, less than two seconds off the state-record time of 8.291 set by Roseburg's Emily Spence. Christiansen sets his sights on the regional event on Sunday, June 19 at Moses Lake, Wash. where he competes against the top-5 athletes from Oregon and Washington. Dufur equestrian head coach Siri Olson had Christiansen and fellow senior Kaylee Martilla on her roster this season, but both participated in all three OHSET events in Redmond, and had some solid runs, scores and times. "It has been a pleasure work to with these two outstanding seniors this year," Olson said. "They have shown nothing but dedication and hard work at every practice. Their continued improvement throughout the season in their individual events and in their team events is representative of how a team works together. These two seniors will be sorely missed." Olson said the program would not have had the amount of success it did without the generosity of local businesses such as Morrow County Grain Growers, Mid-Columbia Producers, C.H. Urness Motors, J.W Underground Inc., Ultimizers Inc., and Optimist Printers.

Two doubles, one singles make run to second day
The Dalles boys' tennis team had two doubles teams and a singles player move in to second-day action at the 5A Special District 1 Tournament ending Saturday in Hermiston. Jesus Barajas and Brandon Bustamante defeated their Hood River Valley opponents in three sets, by scores of 7-5, 2-6, 10-8 to advance into the quarterfinals. After a second-round bye, they lost 2-6, 3-6 to a Hermiston team, but moved onto play for Day 2.

SWC senior has 47-feet-3 inch final throw at state
As a freshman, Ellis Rager's first shotput attempt sailed 30-feet-6.5 inches. In his first two years, his best district finish was sixth place. As an upperclassman, the South Wasco County senior has been on top of the 1A world. Thursday, Rager put an exclamation point on a stellar career with a personal-record shotput toss of 47-3 to capture his second consecutive state title at the 1A OSAA/U.S. Bank/Les Schwab Tires Track and Field State Championships at Hayward Field in Eugene. It was amazing how far he had come. "It goes to show hard work and a weight program can get you almost anywhere in life," Rager said. Rager and Dufur senior Keith Blake were embroiled in a shot-for-shot battle through the first two rounds.
Athletes of the Week Profiles Name: Kiana Pielli Sport: Tennis Grade: 11 Favorite Class: AP English Favorite Athlete: Johanna Wilson and Richard Sherman Favorite Food: Lasagna Favorite Movie and/or TV Show: Dr. Who/Gaurdians of the Galaxy ------ Name: Johanna Wilson Sport: Tennis Grade: 12 Favorite Class: AP U.S. History Favorite Athlete: Damian Lillard Favorite Food: Egg Nog Favorite Movie and/or TV Show: Gone Girl/Parks and Recreation Last Week: At the 5A Special District 1 Tennis Championships at Sunriver, Pielli and Wilson won three consecutive matches in straight sets to move into the championship round. They lost 6-1, 6-2 in the finals for second-place honors at the tournament, but qualified for the state tournament this week in Portland. They finished the regular season with a 21-2 record with their only losses to the defending state champions, from Bend. Coach Quote from Debby Jones: "A dream come true for Kiana. She has really developed poise and confidence," Jones said of the junior earning a state qualification. "Johanna is the heart and soul of our team. It is so exciting when you see hard work and dedication pay off for such a great kid."

2016 Columbia River Softball Conference All-League List 1ST TEAM - PITCHER Lauren Richards (10) Pendleton Hannah McNerney (10) HRV Maddy Bradford (12) The Dalles CATCHER Zoe Munn (10) HRV Jamie Hinkley (12) Hermiston INFIELD Ruthie Ford (12) The Dalles Ellie Richards (12) Pendleton Kiersten Murphy (12) Pendleton Kalan McGlothan (10) Pendleton Ellery Jones (11) Hermiston

Belshe, Moe, Rubio and Ambriz are key returners
Coming off four straight wins at the 4A/3A/2A/1A Special District 4 Sub-District Tennis Tournament at Tri-Cities Court Club in Kennewick, Wash., Sherman junior Meghan Belshe had her season cut short in the consolation round of the District Tournament at Treasure Valley Community College in Ontario. Belshe, who defeated Umatilla's Sidney Webb in straight sets in their sub-district final, did not have the same luck this time around. Webb scored a three-set marathon win over Belshe, coming back from a 3-6 loss in the opener, with wins of 6-1 and 6-2 in the last two sets. Two weeks ago in Kennewick, Wash., Belshe, a No. 3 seed, defeated Amanda Carrillo, of Stanfield, in straight sets by scores of 6-1 and 6-4, and then she dominated Gema Juarez, of Riverside, 6-4, 6-2 to vault into the semifinals. In that match, Belshe hit the court against the No. 2 seed, Mac-Hi's Elise Griffith, in a three-set showdown. Griffith won the opening set by a 6-3 margin, but Belshe quickly turned the tables in the second set with a 6-3 win of her own to send the match into a decisive third set. Belshe was in cruise control from there, picking up a 6-2 third-set victory to move into a final match against Webb. Against Webb, Belshe won 6-3 and 6-2. Another Sherman highlight came off the rackets of Hollee Kaseberg and Elvia Rubio, who placed fourth overall in the sub-district tournament as a No. 4 seed. Kaseberg and Rubio dropped their Riverside opponents by scores of 6-0 and 6-3 to move into the quarterfinals where they squared off with the No. 5 seeded team, out of Weston-McEwen. Kaseberg and Rubio won the opening set by a 7-5 margin, and then moved into the semifinals after a 6-3 second-set win. They were defeated by the No. 1-seeded Chavez sisters, from Stanfield. Then they lost to the Mac-Hi team of Rodriguez and Cuellar. C.J. Johnson and Savannah Moe won their first match of the tournament in their first-ever sub-district trip, by scores of 6-3 and 6-4 over their Ione opponents, but then fell to the No. 2 seeds, Rodriguez and Cuellar, in three tough sets. Rodriguez and Cuellar won the first set 7-6 on a tiebreaker, but then Johnson and Moe rebounded for a 6-1 win to send the match into a third-set tiebreaker round. The Mac-Hi duo was finally able to outlast Johnson and Moe by a 6-2 margin in the third set. "I'm so proud of these girls, they battled hard and this result should not take away from their season," Rolfe said. "These three made it further than any other 1A school in our region." For the boys players, Hunter Kaseberg and Senior Carlos Ambriz came out on top in their first match against their Weston-McEwen opponent in two sets, 6-2 and 6-1. They wound up on the losing end against their Ione opponents in a second-round contest. First-year player, Luke Lawrence, a senior, won his first singles match against an Ione player by a 6-3, 6-2 edge to move on. He could not keep the momentum going, however, as he lost 3-6, 6-7, the second set on a tiebreaker. "I'm so thankful for what I was able to achieve in my first tennis season and so glad that Carlos and I came out," Lawrence said. "I'm excited to see how Gabby (Rubio), Amy (Dabulskis), C.J. and Savannah do next year after they all improved so much this year. I think it shows that you can achieve anything you want through hard work." Seniors Garak Casper and Colten Busler played strong against their Mac-Hi opponents in the opening round, but wound up losing 5-7, 1-6 to end their season. Rubio, a freshman, lost in the first round of her girls' match 4-8 in a close pro-set match, and Dabulskis lost her first-round match by a 3-8 tally.

Pielli and Wilson score state bid after finals berth
During the regular season, The Dalles girls' tennis team accomplished a lot of firsts and built on a solid foundation with a group of more than 30 tennis players on the roster. This past weekend at Sunriver, the Riverhawks added even more highlights to a stellar campaign. The doubles duo of Kiana Pielli and Johanna Wilson vaulted into the championship rounds, the team had seven athletes competing on the second day, a school record, and the team placed third overall behind Bend and perennial district champion, Summit.
Previous Next