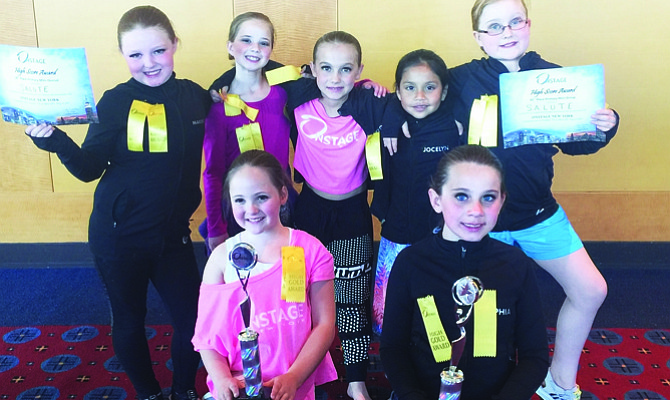 Top doubles, No. 1 singles win, but HRV gets 5-3 win
Still fielding a short-handed roster, The Dalles girls' tennis team had Robin Pashek come out strong on the singles' circuit, and the two doubles teams of Johanna Wilson and Kiana Pielli and Rebekah Kohltfarber and Ellie Trujillo added big wins, but Hood River Valley came out on top by a 5-3 margin in a varsity league matchup played at The Dalles High School.

With a final chance to finish ahead of Pendleton in the standings, The Dalles notched seven hits and received four walks, but stranded eight runners on base, including the bases loaded in the seventh inning of a 4-2 loss to the Bucks Tuesday at Robert L. White Field in Pendleton. Down by two runs, the Hawks had the bottom of the order facing Pendleton reliever Kai Quinn. Ortega led off with a single to right field, and one out later, Johnny Miller hit a single to left field to put two runners on base. After a flyout to right made it two outs in the inning, Colin Noonan reached on a walk to load the bases for Kellen Mathisen. Mathisen and Quinn battled for six pitches. On the seventh pitch of the at-bat, the Buckaroo righty got the called third strike for the final out to end the threat. TD led 1-0 through one inning, but Pendleton tied it at 1-apiece in the second, and then used a two-run fourth to jump ahead, 3-1. TD added a run in the fifth on an RBI single by Dawson Hoffman to score Cash Mathewson. With Miller on third base and Hoffman at first, Noonan bounced into a double play to end the inning. Ortega had two hits in three at-bats, and Colton Walker went 1 for 2 with a double, a walk and an RBI. Noonan went 1 for 3 with a walk and a run, and Daniel Peters added a hit and a walk. Bate tossed five innings of seven-hit ball with two strikeouts and five walks. He allowed four runs, two were earned. TD (8-10 overall, 2-4 league) heads to No. 4 Hood River Valley (15-4, 5-1) for a doubleheader at 5 p.m. Friday. The Eagles lost 9-1 Tuesday to Hermiston.

The pressure was on Iliana Telles on the back-nine, as Pendleton's Shelby and Haley Greb were hot on her trail down the stretch. Telles hit her shots and carded a 77 to claim her second medalist award of the year, besting the Greb sisters by one stroke at Tuesday's Pendleton Invitational held at Pendleton Country Club. Under blue skies with minimal winds on slow greens and a deep rough, the Riverhawk junior shot a 41 on the front-nine and was tied with Shelby Greb at the top of the standings, and two strokes ahead of Haley. Haley Greb rebounded with a 35 on the final nine holes, Telles tallied a 36 and Shelby Greb had a 37. La Grande's Trinity McCarthy finished fourth with an 82, five shots behind Telles. TD player Abby Walker had the second-best score with a 55-52 for a season-best 107. Telles and the Riverhawks hit Quail Valley Golf Course for a tournament on Monday, May 2.

Felderman, Snodgrass and Patel lead in a 10-stroke win
The trio of Mark Felderman, Chase Snodgrass and Darsh Patel finished in the top-6 overall and The Dalles boys' golf team captured championship status by 10 strokes over Seaside High School at the Seaside Invitational Golf Tournament played Monday at Astoria Golf and Country Club. Felderman carded a 78 on the day, six shots off the top pace, and added an eagle chip from 80 yards out on the par-5 12th hole to secure fourth place individually. Snodgrass totaled a 79, Patel added an 82 and Jacob Ford finished with an 89 for the top-4 TD scores. Freshman Tyler Vassar rounded out the team with his 93. "I am very pleased with how the boys played," said TD head coach Kent Smith. "They continue to show improvements in some of the areas we have been working on. Our drives are hitting fairways, our chips are getting there and we cutting down on those extra putts that had been hurting us. It is a very nice way to end our final tournament before regionals." Seaside's Aaron Richardson and Ilwaco's Blake Kukula wound up tied for first place with even-par 72s, but Richardson claimed medalist honors in a playoff. Carter Lee, of Tillamook, had a 77 for third place, and Felderman, Snodgrass and Patel capped the individual standings. As a team, The Dalles had a 328, a margin of 10 strokes better than Seaside, who had a 338 for second place. Jack Eggars had a hole-in-one on the 17th hole and helped Scappoose to a 351 for third place. Taft (380), Tillamook (384), North valley (397), Astoria (403), Cottage Grove (407), Banks (413), Ilwaco (417) and Kennedy (462) made up the team rankings. The Dalles has 10 calendar days to prepare for regionals on May 6-7 in Bend. "I am excited and I know the boys are too. We have had a pretty good season up to this point and I know they want to keep their season going," Smith said. "We will keep working on things and hope for the best in Bend. It is going to be tough, but I know these guys will be up for the challenge."

Quick start, Troutman's pitching lead Husky charge
MORO – When the stakes are raised, the Sherman Huskies can always rely on ace pitcher Brett Troutman. The sophomore right-hander retired the first 11 batters in a row, and finished five innings of one-hit ball with four strikeouts, as the No. 5-ranked Huskies rode a six-run first-inning barrage to a 10-0 mercy-ruled win over the Dufur Rangers Tuesday in a Blue Mountain Conference baseball game played in Moro.

The Dalles boys golf team captured its second tournament title in the past three events, as Mark Felderman and Chase Snodgrass shot less than 80 and senior Darsh Patel scored an 82 to lead the hawks to a 328, 10 strokes ahead of Seaside at the Seaside Invitational Monday afternoon at Astoria Golf and Country Club. Jacob Ford added an 89 for the fourth total on the Riverhawks scoring list, and Tyler Vassar totaled a 93 for the day. Seaside's Aaron Richardson won medalist honors in a playoff. as both he and Ilwaco's Blake Kukula ended up deadlocked with an even-par 72 for the day. Felderman, who eagled the par-5 12th hole with a chip from 80 yards out, led TD with a 78. Snodgrass had a 79. Scappoose golfer Jack Eggars hit a hole-in-one on the 17th hole. After The Dalles, Seaside (338), Scappoose (351), Taft (380), Tillamook (384), North Valley (397), Astoria (403), Cottage Grove (407), Banks (413), Ilwaco (417) and Kennedy (462) rounded out the team standings. TD has some time off until heading to Bend for regional action starting on May 6.
Kolbe Bales slugged a three-run home run in the top of the seventh inning and shut down Heppner in the home half to help lead the Dufur Rangers to an 11-10 comeback win Saturday in a Blue Mountain Conference doubleheader played in Heppner.

Sherman nets big sweep by scores of 9-6 and 10-4
The sixth-ranked Sherman Huskies trailed early in two games Saturday against Weston-McEwen, but made the plays when it mattered most in picking up a two-game sweep by scores of 9-6 and 10-4 in a non-league baseball matchup in Athena. In the second game, the Sherman defense made top plays to keep the TigerScots at bay.

Senior fans 7 in TD's first-game triumph over Pendleton
The Dalles baseball team salvaged a split Saturday at home against Pendleton, winning the opener 4-2 and losing the nightcap by a 15-8 margin in a Columbia River Conference doubleheader at Bob Williams Field. Bailey Ortega continued his torrid pitching in the opening game, as he allowed two runs in the first inning, but shut down the Buckaroos the rest of the way.

Softball team snaps 10-game streak in 9-8 comeback win
Coming into Saturday's doubleheader with a 10-game losing streak against Pendleton, The Dalles Riverhawks stormed back from a 7-0 first-inning deficit with three runs apiece in the first, third and fifth innings to complete a 9-8 comeback victory in the opening game at 16th Street Ballpark.
The Dalles Chronicle news reporter Derek Wiley outlasted a large group of local runners to capture first place in Saturday's Cherry Festival 10k race in The Dalles. Wiley had a final time of 45 minutes and 29 seconds to grab his top spot in the order of finish. Close to 100 runners from across the Columbia River Gorge and beyond signed up for this TDHS Cross Country fundraiser event at Dry Hollow Elementary School. Under top conditions, the runners were able to put up solid marks in the 3k, 5k and 10k races.

State champ gains an edge against 50 participants
The senior and former all-state recipient and state champion, now will get her chance to shine at Oregon State University as a dance team member on the cheerleading team.

TD senior plans to play volleyball at Div. III school
There were times where she felt like cashing in her chips and moving on, but she has always been taught to fight to achieve a goal. That mentality has paved the way for a future at Linfield College, where The Dalles senior signed on to play volleyball and major in business.
Led by Chase Snodgrass' 70, The Dalles boys' golf team scored a season-best 310 to finish in second place at the Hermiston Invite Thursday at Big River Golf Course in Umatilla. Mark Felderman had a 75, Tyler Vassar totaled 79 and Jacob Ford hit 85 on his card. Darsh Patel had a final tally of 87 to round out the team. Read Sunday's Chronicle for the story.

The Dalles Middle School track athlete Jaden Campanella (left in the yellow) hands the baton off to Jesse Larson during their 4x100-meter relay practice run this week at Thompson Track in The Dalles.The middle school sixth, seventh and eighth graders are set to host Dufur and Sherman for a meet starting at 3:30 p.m. today at Sid White Field on the Wahtonka campus. RaeLynn Ricarte photo