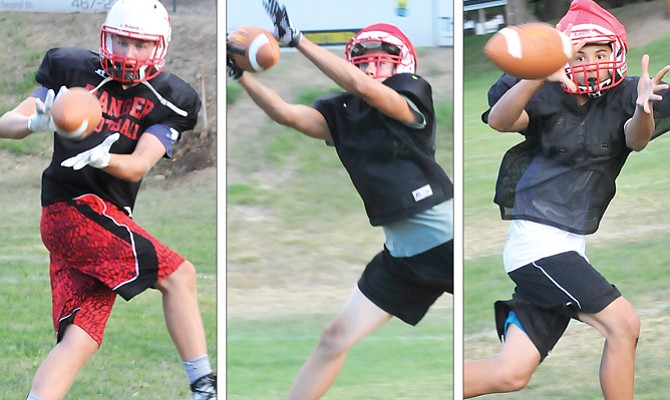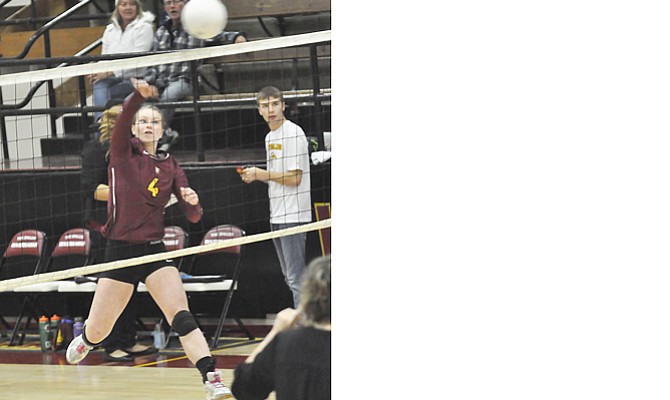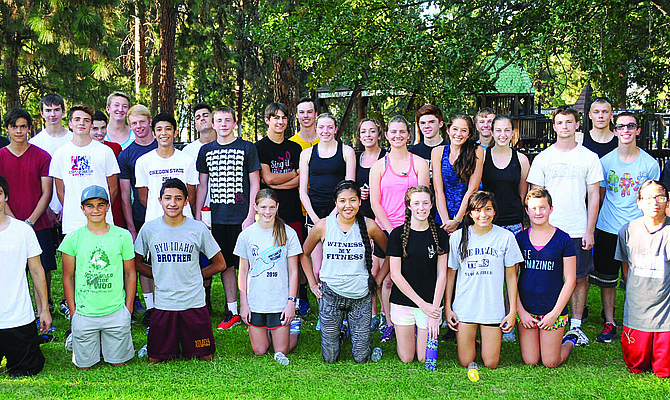 The Dalles head football coach Steve Sugg (middle) offers words of encouragement for his 40 players who were in attendance at Wednesday's practice on Sid White Field.

TD hoops player wraps up summer AAU schedule
Dakota Murr has high expectations for himself and The Dalles boys' basketball program over the next few years. In order to meet or surpass those goals and aspirations, he was on the hardwood this spring and summer playing on an Elite level team and in AAU Tournaments across the West region.

The Dalles athlete J.R. Scott successfully deadlifts upwards of 400 pounds, while Dalles Seufalemua (back) and Dufur's Abraham Kilby cheer him on during Saturday's Gorge Gauntlet Competition at Amaton Field.

Baseball coach led the Eagles to their first state title in 1980
Long-time The Dalles coach and hitting instructor, Doug Sawyer, will be inducted into the Hood River Valley High School Hall of Fame in a ceremony set to take place on Sept. 23 and 24.
TD's softball duo savors experience on travel squad
Through the summer, Kathryn Bradford and Jodi Thomasian traveled 6,200 miles across the United States in softball tournament games and also logged 214 miles, twice-a-week, to Hillsboro for practices – all for the love of the game. They enjoyed great moments, shared life experiences and improved their game to the level where they can take hold of prominent leadership roles for The Dalles softball team next spring. The long road trips are tiring, but it is all worth it in the end.

Group of 65 harriers show up for fundraiser
In his first year as race coordinator of the Dufur Valley 5k and 10k event, Ty Wyman was happy with the turnout and final results put up by the 65 running participants. With the Wasco County Fair coming up Saturday morning, Wyman has high hopes for another high turnout.

TD athlete scores 151 points for first place honors
The Dalles golfer Tyler Vassar is not one to put his clubs away for the summer. He has been on the links, playing in tournaments and working on his craft at The Dalles Country Club in an effort to sharpen up his game. All of that work paid off in spades at the 14-15-year old Drive, Chip and Putt Sub-Regional Championships ending Aug. 9 at Meriwether National Golf Club in Hillsboro.
Local timberland companies have closed throughout the region due to high fire danger. All company-owned lands in Klickitat, Skamania, Yakima, Hood River and Wasco Counties are closed until further notice. The closure affects all lands owned or managed by: Brought Lumber Company, Hancock Forest Management, Western Pacific Timber, Stevenson Land Company (SDS), Kreps Ranch, and Kreps Family LLC.

Bob McFadden welcomes men and women to join association
Since the 2010 sports season, there has been a steady decline in referees and officials across all sports. Mid-Columbia Football Officials president Bob McFadden is calling on men and women from across the gorge to be contributing to the community and get involved in interscholastic sports.

Sherman graduate eyes success as new Husky volleyball coach
MORO – In their first three seasons as varsity volleyball players, incoming seniors Brittney Orendorff and Emily Hill have been part of a Sherman volleyball program that has won 15 of 62 matches. With new head coach Amy Huffman back at the helm, the standout duo is looking forward to finishing their high school careers with a playoff berth and possibly more.
Community members and motorcyclists are invited to provide residents of the Oregon Veterans' Home with a social outings Saturday and provide some of their "wish list" items.

Through the summer, Ranger athletes volunteered their time to help different businesses and organizations around town. If local busineeses or townspeople would like extra work done, they can call Jack Henderson at 541-993-1443.

Oregon is first state to make Heads Up program mandatory
PORTLAND – The Oregon School Activities Association recommended its 249 football-playing high schools enroll into USA Football's Heads Up Football program last year. This year, the OSAA will become the first state high school activities association in the country to require it. USA Football, the sport's national governing body, trains more high school and youth football coaches combined than any organization in the country. Nearly 1,000 high schools spanning 44 states signed up for USA Football's Heads Up Football program in 2014.

Coach Fanene impressed with skills displayed at camp
Just looking at all the fresh faces reminded Sierra Watson of the good old days when she was a young pup learning the ropes on the volleyball court. This past week, at Riverhawk Volleyball camp at The Dalles Middle School, the incoming senior was the wily veteran lending tidbits of wisdom to her fledgling brethren.
The Dalles Country Club is throwing a party for the community in a little more than two weeks that includes music by three different groups on the lush front lawn. "This is our way of reaching out to be part of the community," said Jason Miller, a club member and one of the organizers.