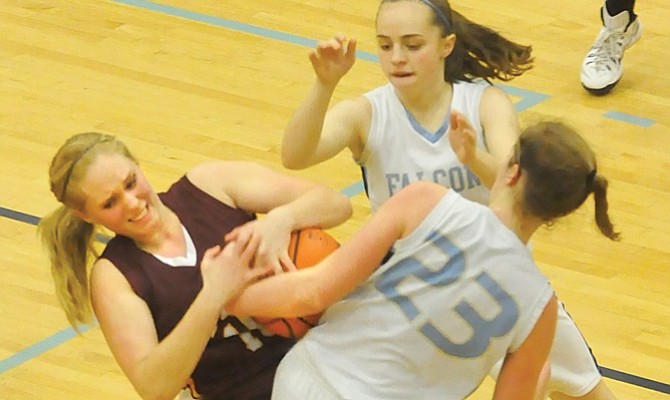 Sherman girls lose in Big Sky finale by a 60-45 score

HERMISTON – Still irked by a 48-47 loss to No. 1-ranked Horizon Christian in Saturday's Big Sky conference district championship, the Sherman Huskies are poised to win two state sub-round games to make it back to Baker City in March.
Agency wants to add to existing wildlife habitat

Call it global warming. Call it climate change. Call it a whim of Mother Nature. But whatever name you give it this winter has been a disaster for the winter sports industries, wheat farmers and orchardists.
THE DALLES (AP) — Once the Buckaroos started sticking to their game plan, things fell into place and Pendleton secured the Columbia River Conference title with a 48-25 win over The Dalles on Friday night.
Pendleton girls drops TD 47-39 PENDLETON (AP)— The Pendleton Buckaroos surged past The Dalles in a wild fourth quarter to secure second place in the Columbia River Conference on Friday with a 47-39 win at Warberg Court.
HERMISTON — Austin Kaseberg scored 11 of his game-high 17 points in the fourth quarter, as the Sherman Huskies out scored Dufur 17-9 in the final period to secure a 53-44 victory over Dufur in Big Sky Conference boys' basketball district play Friday night at Hermiston High School.

HERMISTON — Earlier in the year, the South Wasco County Redsides played a nip-and-tuck first half against top-ranked Horizon Christian only to lose by double digits in the end.

Sherman girls knock off Dufur 42-31, advance to title game

The work is meticulous and requires precision placement of the cork handle, reel seat, end cap and guides, but Lane Magill finds building fishing rods to be a source of relaxation.

A winning legacy is in place for SWC's future success
In two Saturday meets at Meadows, Riverhawks secure eight top-13 outputs
Mayor moves ahead with 'bike-friendly' focus
Nonprofit events calendar from Feb. 20, 2015.
HOOD RIVER – In his final season as The Dalles head swim coach, Scott McKay was beaming with excitement. He called this past Saturday's exploits the most successful district meet he has been a part of.