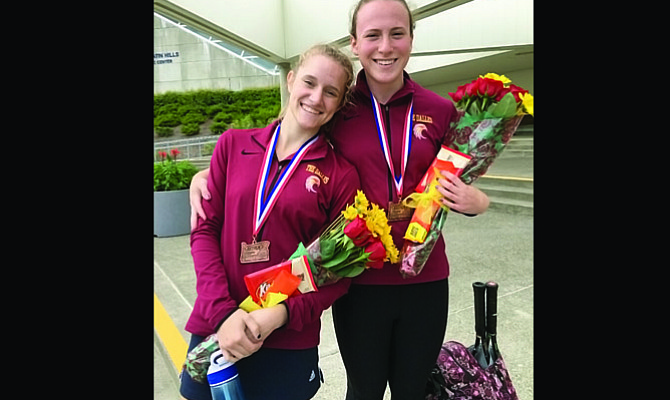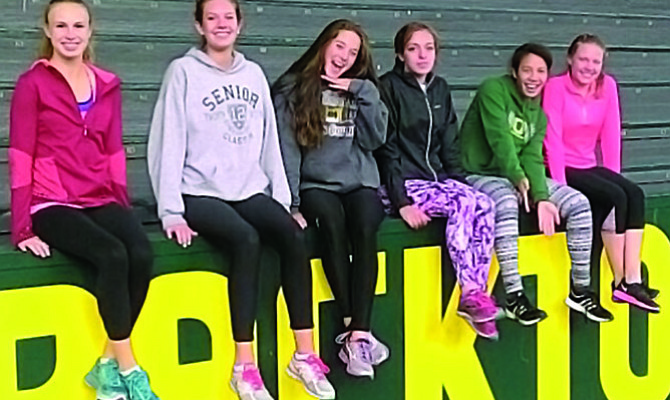 Jumpstart Track Meet on tap
Booster Club to host Golf Classic The Dalles Booster Club is holding its inaugural TD Booster Club Golf Classic at 2 p.m. Sunday at The Dalles Country Club. This a shotgun start and all community members are welcome to attend this fundraiser. Each team consists of four players in a scramble format. There will be side games, contests and prizes available. Dinner will be served at the conclusion of the event. Costs are $500 for a team and $125 for an individual. For more information, call, Daniel Bonham at 541-506-9185 or send an email to daniel@thedallesboosterclub.com. Jumpstart Track Meet on tap The 15th annual Jumpstart Elementary School Track Meet is open for all boys and girls from kindergarten through fifth grade at the Wahtonka Track from 6-8:30 p.m. on Tuesday, May 24. There is no entry fee and if kids stop by before 6 p.m., registration is not necessary. Ribbons are offered for the top five boys and girls in each event. For information or to volunteer, go to jumpstartyouthactivities@gmail.com.

Rangers rack up 27 runs on 23 hits in wins over Union
With Blue Mountain Conference action coming up this Saturday, the Dufur Ranger baseball team added on to its season-high winning streak with a 13-3 and 14-4 doubleheader sweep over Union Saturday in a non-league matchup played at Armand Larive Middle School in Hermiston.

Riverhawks return all but one player to varsity roster
Chase Snodgrass ended up tied for 11th place with a 153 and The Dalles boys' golf team totaled 656 for a sixth place tie with Sandy at the two-day OSAA/U.S. Bank/Les Schwab 5A State Golf Tournament at Trysting Tree Golf Club in Corvallis. In his 36-hole effort, Snodgrass, a junior, had 26 pars, eight bogeys, one double bogey and a birdie on the seventh hole on the second day. Freshman Tyler Vassar wound up 26th out of 53 golfers, and added 19 pars, and two birdies in his 36 holes of golf for a total of 161, and Mark Felderman, another junior, went for 16 pars and a birdie and had a total score of 166 to secure 36th place.

TD junior cards a 73 on second day at Quail Valley
Already behind the eight-ball through the opening day of state golf action, The Dalles golfer Iliana Telles started off second-day play with two straight bogeys. Over the next 16 holes, however, the junior rebounded with nine pars and four birdies to tally the lowest total amongst the field for a 73 and a two-day total of 150 to end up tied for second place at the OSAA/U.S. Bank/Les Schwab 5A State Golf Tournament ending Tuesday at Quail Valley Golf Course.

SWC girls, Sherman boys each get 2nd place finishes
Nine teams and nearly 100 track and field athletes made the journey to Moro on Saturday looking to extend their seasons for another week. On the local front, Sherman captured five district championships, four on the boys' side to rack up 131 points and finish in second place, just two points behind Horizon Christian. Dufur is sending three athletes to state in five different events, as Ezekiel Stelzer and Cole Kortge are making their first trips to Eugene and senior Keith Blake is making one final run after qualifying in the Shotput and Discus. The South Wasco County boys' team had Brody Myers and Ellis Rager claim district crowns, and Ana Popchock led the girls' team with two titles in the 200 and Triple Jump. The girls' team had two relay championships and also had good enough times and marks in four other events to pick up wild card berths. In all, the Lady Redsides scored 116 points for second place, 49 points in back of district champs, Griswold (165). "This was such a competitive meet," said Dufur junior Ezekiel Stelzer. "When you have so many good athletes here giving it their all, it makes it so much more fun and exciting. You want to challenge yourself against the best and I think we saw that from everyone here today." SWC girls score four titles A dislocated knee cap and patella tendinitis injuries this season was not going to stop South Wasco County's Jacqueline Noland from her drive to excellence and a state trip. Finally cleared this week for action, the freshman placed second in the 400 and 800, and was also a key component to district titles in the 4x100-meter and 4x400-meter relay races to help lead the Redsides to second place as a team. "I am really glad I got to do track this year, but it has been unfortunate with my knee," Noland said. "I did not think I was going to be able to compete, but through physical therapy and hard work and doing all of the right things, I was able to compete. I am glad I got to do it. I am very thankful to get this opportunity to come to districts and make it to state in my freshman year." Noland placed second in the 400 with her time of one minute and 5.38 seconds and she added another second in the 800 at 2:42.29. The 4x100-meter relay team of Bailey Hahn, Chloe Huot, Jada Myers and Noland picked up first place in 54.51, and in the 4x400-meter relay, Tatum Hahn, Huot, Myers and Noland went for first place with a time of 4:33.14. "We have been having really hard practices and we are all going really hard all the time. Because of that, we have had a very competitive relay team," Noland said. "All of us are really fast and the team is really young. It is good to have competition, so I think we have put together a really good team and we followed through with it and got a win." Huot cleared 4-9 for fourth in the high jump to earn her wild card berth. Kyrsten Sprouse made it to state on the wild card side with her mark of 54.04 for third place in the 300-meter hurdles. Bailey Hahn is a wild card pick in the 100-meter hurdles, where she was in fourth place with a 17.85. Popchock won her first district championship in the 200 meters, where she had a time of 27.36, and she added another first-place outcome in the triple jump with a distance of 33-10. Popchock was a wild card pick in the long jump with her third-place finish of 15-6.5. Earlier this season at the Condon Invitational on April 30, the sophomore set a new record in the 200-meters with a time of 26.92. Since this is her second state trip, Popchock is hoping to get better results. She feels the best is yet to come. "I really love being able to push myself further than I have before," Popchock said. "I am really impressed that I have been able to compete at such a high level this year because I didn't really expect to go this far. I do put a lot of pressure on myself with expectations, but I really just want to do my best. I want to have a really good experience and fun, but also, I want to win. It would be nice to go out there and be successful." Brody Myers notched a district title in the 800-meter race with a time of 2:05.41, and fellow senior, Ellis Rager, hoisted gold for his efforts in the shotput with a distance of 44-9.25. Coming up on the one-year anniversary of the death of long-time coach John Howey, Rager was able to set a personal record earlier this season at 46-1, but he has been dealing with a finger issue that has lowered his average throw to around the mid-44s. Saturday, he had his best throw in nearly a month, capturing his seventh first-place win of the year. "It means a lot to me," Rager said. "It has been hard not really having a coach this year. Howey was a big part of my success. It is all now coming to the realization that it has been one year since I lost my coach. It is a lot different, but I am glad I was able to win shot, so this goes to him. It is a great honor." The 4x400-meter relay team of Michael Cuevas, Mathew Gragg, Travis Hayes and Brody Myers grabbed second place and a state berth with final marker of 3:44.86 to give SWC 60 points and fifth place.

Huskies pick up five district titles
Noticeably favoring her heavily-braced right leg, Sherman junior Brittney Orendorff still managed to score a district championship in the pole vault with a height of 8-6. Orendorff has damage to her LCL ligament and has had constant tendonitis flare-ups through volleyball and basketball and track. Her knee pops out of socket every time she puts any weight on the right side of her body. "There has been some setbacks as far as the injury goes," Orendorff said. "I have not been able to compete fully and do my absolute best, but I am thankful enough to have a fantastic set of coaches that have done anything and everything to help find ways to tape my knee, support it, and create ways for me to not push myself over the limit, but still allow me to practice and compete." Sherman freshman Desiree Winslow placed second overall in the 100 meter dash where she posted a time of 13.61 and she was also a wild card selection in the pole vault with her top height of 7-0 to give Sherman 70 points for fifth place in the standings. Winslow is headed to state in two events, and while she is still new to the track and field game, she is using next week's meet as a business trip.

Firstyear athletes punch state tickets: Keith Blake makes two events in final season
Coming in as a No. 4 seed and an underdog in the 110-meter hurdle event, Dufur freshman Cole Kortge was not sure how his day would end. In the hurdles, Kortge had a personal record time of 18.63 for second place, a shade more than a second behind Horizon's Luke Holste, who had a 17.33. After he crossed the finish line in second place, Kortge jumped high in the air in celebration. "I didn't think I would be that close, but I was able to fight through everything and finish well. After that third hurdle, I got that rush of excitement that let me believe that I could get first or second," Kortge said. "It is always a goal to go to state with the mindset of winning my event. At the same time, I am still a freshman and I still have more goals to accomplish. Hopefully, this is a four-year deal and I can get better and better." Blake picked up second place in discus with a throw of 122-6, and the senior got a wild card in the shotput, where he had a third-place toss of 42-3.5. Stelzer, a junior and first-year track athlete, earned a district championship in the 1,500 in a time of 4:24.35, and he qualified in 300-meter intermediate hurdles where he had a mark of 46.25. "I am really excited about going to state. I really wanted to make it and I have been pushing really hard for this spot and I am really stoked that I made it," Stelzer said. "I was surprised that I could run long distances. I have been getting PRs in every meet except for one, so it has been encouraging. I cut 10 seconds today and that has me excited because I know I hope to get another PR at state."

The northern pikeminnow bounty fishery got underway in a big way this year, with 7,523 fish caught in The Dalles area during the first full week of fishing, according to data provided by the Bonneville Power Administration. In the John Day Dam area, 823 fish were caught in the same time period.

With a chance to pick up a Blue Mountain Conference title and a No. 1 seed heading into district play, the No. 8 Sherman Huskies salvaged a split with Irrigon Friday, a 5-0 loss and a 15-4 victory, in two games. With the opening-game setback, the Huskies square off against Dufur at 10 a.m. next Saturday at Quinton Street Ballpark for a chance to extend their season. "It is not the situation we wanted to be in, but it is what it is," said Sherman coach Joe Justesen. "We have a chance to go to state, so we will need to battle tough against one of the best pitchers in the state and hope we can get some runs on him and get a win." In Friday's opener, Irrigon lefty Austin Rice tossed a no-hitter with three walks with eight strikeouts, as the Knights clinched league, 5-0. Sherman rebounded in the second game, using a seven-run seventh inning to grab a 15-4 win. Brett Troutman went 3 for 3 with three runs and three RBIs, Kyle Fields had three hits and four RBIs, and Jacob Justesen went 3 for 5 with three runs scored. Bradley Moe had one hit, a three-run double, as part of the seven-run seventh inning. Maverick Winslow lasted 5 1/3 innings and allowed four runs, one earned, on four hits with a strikeout and a walk.
TD takes 6-3 win Friday on senior night
The Dalles seniors Grace Helyer and Ruthie Ford combined for five hits and two RBIs, as No. 9 The Dalles broke open a 1-1 tie with four runs in the bottom of the fifth inning enroute to a 6-3 win Friday over Hood River Valley on senior night in The Dalles. TD's win, coupled by Hermiston's 12-2 loss Friday to Pendleton, gave the Riverhawks second place in league and a home state play-in matchup at home next Friday against St. Helens.

Hawks miss playoffs, but end year with win over HR
In back-to-back years, The Dalles baseball team had its playoff hopes riding on outside elements. Last season, a coin flip determined the Riverhawks' postseason fate. On Friday the 13th, the Hawks had solid pitching performances by seniors Colton Walker and Bailey Ortega and scored a 6-3 triumph over the defending state champions and the state's No. 2-ranked baseball program.
Coach Kelsey Sugg excited to have 36 in the program
Entering her second year as The Dalles' head cheerleading coach, Kelsey Sugg has seen the numbers shoot through the roof, with previous and future state success as the launching ground for the signup barrage. Sugg, along with assistant coach Andrea Pena, announced the new batch of recruits primed to take center stage at sporting events and other venues throughout the 2016-2017 season. There were 42 participants, more than double the number from last year, who tried out for the team over a three-day span, so the choices were hard for the Riverhawk coaches, but 36 were selected to represent the crimson and gold.
SALEM — Controlled hunts or one of Oregon's new Premium Hunts have a deadline set by Sunday, May 15. Apply online, at a license sales agent or ODFW office that sells licenses, or by mail/fax order. The cost is $8 per application and hunters need a 2016 annual hunting license to apply. Last year, more than half of the 407,402 applications were submitted in the last week before the deadline, including nearly 66,000 on deadline day. "The deadline falls on a Sunday this year, which is a good reason to get your application in early," said Deanna Erickson, ODFW license sales manager. ' ODFW offices will be closed on May 15 and license sale agents may also be open fewer hours or closed on a Sunday." Hunters can also apply online until 11:59 p.m. PT on Sunday, May 15. Erickson also urged hunters to avoid common mistakes on applications on other aspects of hunting certifications "Double check your hunt number against the 2016 Big Game Regulations, and make sure your party leader number is correct," she said. "And before you walk out of the store or ODFW office, check your application to be sure it's correct." ODFW limits the number of tags for some hunts (all rifle deer and most rifle elk hunting in eastern Oregon, plus all pronghorn, Rocky Mtn goat and bighorn sheep hunting) to fairly distribute tags and control hunting pressure. Hunters who apply for a deer, elk or pronghorn tag and don't draw their first choice receive a preference point for that hunt series, which increases chances the next year. Call Michelle Dennehy at 503-947-6022 for info.

Seibel, Nearing, Mullins and Thomas making first-ever trips
Avery Cardosi already had one event in the bag on opening day, and she added state qualifications in two events Thursday at the Columbia River Conference District Championships at Hermiston High School. The Riverhawk senior placed second in the 400-meters with a final time just a shade over a minute, and just a second behind Hood River Valley's Kassidy Davidson (59.22). Cardosi was also one of the key cogs in the 4x400-meter relay team along with Bailey Nearing, Emma Mullins and Athena Thomas that hit a mark of 4:17.49 for second place behind Hermiston (4:12.02). The 4:17.49 put up by Cardosi, Nearing and company was a season-best by nearly eight seconds. "It took a lot of dedication and a lot of extra practice to work on 4x400 techniques," said Nearing, a sophomore making her first trip to state. "We definitely knew deep down we could do it and we got it." Joining Cardosi and the relay team is junior Kayla Seibel.

Cheer Fundraiser Events The Dalles Cheer team is currently holding its cookie dough fundraiser. To find out about a selection and prices, reach out to one of the cheerleaders or email head coach Kelsey Sugg at kelseyesugg@live.com. ------ The cheer team is hosting a car wash from 11 a.m. to 3 p.m. on Saturday, June 4 in the Urness Motors lot on W. 2nd Street across from Montira's Thai Cuisine. ------ From 6 a.m. to 4 p.m. on Friday June 17 and Saturday June 18, the cheer team will have its yard sale on the front lawn of The Dalles High School. Coach Kelsey Sugg said the program will take any and all donations from anyone willing to bring items to sell. All donations will go toward helping the cheerleaders make it to cheer camp on July 11-14 at Oregon State University.