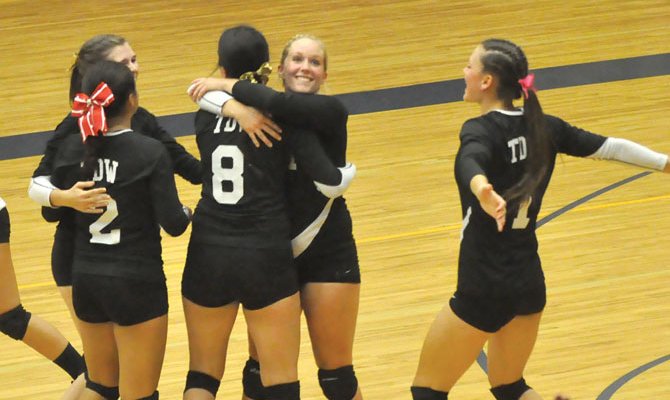 No. 4 Dufur ruins Ione's homecoming festivities with a lopsided 66-14 drubbing
VFW invites youth to compete for scholarships
Dufur, Sherman, TD have tests before Oct. 17 tussle

The Dalles volleyball moves within playoff cusp after home sweep of Hood River Valley

Keith Howe gets once in a lifetime tag
The No. 1 Dufur Rangers converted on 96 of 105 attempts for 35 kills in taking a three-game sweep over South Wasco County Tuesday evening in a Big Sky Conference volleyball match at Dufur High.

Riverside bolsters numbers, starts fall with 1, 2, 3 finish

The Dalles soccer team scores six goals in second half as part of 6-2 route
Nonprofit events calendar from Oct. 8, 2014.
The second annual Harvest Octoberfest at St. Peter's Catholic Church is set for this Sunday, Oct. 12, from 1 p.m. to 5 p.m. The menu features authentic Germany food, including brats, kraut, goulash, red cabbage and German chocolate cake. A meal costs $15 for adults and $5 for children.
The duo of Brett and Blake Evans combined for 19 carries and 260 yards and five touchdowns, as the No. 3-ranked Sherman Huskies scored 32 points in the opening quarter for a 68-18 victory Friday in a Big Sky Conference battle at Ione High School.
Mere hours after going through Homecoming dance events, the South Wasco County Redsides hit the road for a Big Sky Conference match on the road in Mitchell and worked a four-game win over the Loggers Saturday in volleyball play.

Junior picks up the pace for time of 21 minutes at Oxford

No. 1 Dufur rattles off home sweeps of Condon-Wheeler, St. Paul
Nonprofit events calendar from Oct. 7, 2104.