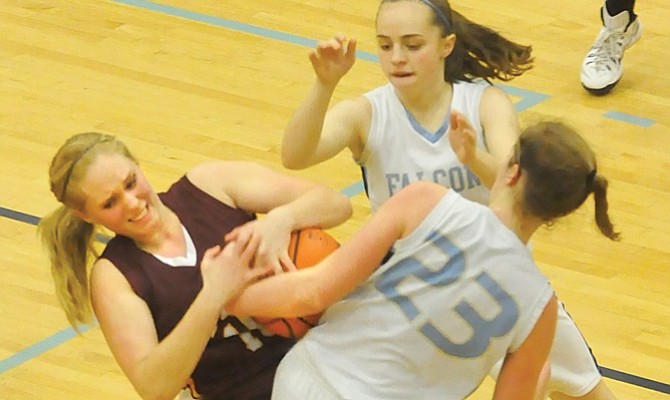 Sherman earmarks Hermiston trip after a 30-22 play-in victory over South Wasco
New 2015-2016 rules focused on safety of athletes

TD's junior wrestler loses in 5A finals by a 9-4 decision to Hermiston's Rodelo

WASHINGTON — The federal government on Monday pledged $3.2 million to help save the monarch butterfly, the iconic orange-and-black butterfly that can migrate thousands of miles between the U.S. and Mexico each year. In recent years, the species has experienced a 90 percent decline in population, with the lowest recorded population occurring in 2013-2014. About $2 million will restore more than 200,000 acres of habitat from California to the Corn Belt, including more than 750 schoolyard habitats and pollinator gardens. The rest will be used to start a conservation fund — the first dedicated solely to monarchs — that will provide grants to farmers and other landowners to conserve habitat.
Janet Guzman hit the eventual game-winning free throw with 18 seconds left in regulation and the Sherman Huskies made one final defensive stand to secure a 31-30 win Friday over Arlington in a girls' hoops tilt in Arlington.
Even on a tough shooting night, the No. 9-ranked Sherman Huskies won their way to a ninth win of the past 10 contests, scoring a 56-37 triumph over Arlington Friday night in a Big Sky boys' basketball tussle at Arlington High School.
Looks like the South Wasco County Redsides are finding their stride right in a nick of time. The senior trio of Peggy Espeland, Roxanne O'Neal and Molly Foreaker combined for 12 of the team's 16 fourth-quarter points, as the Lady Redsides erased a 20-11 halftime deficit by outscoring Ione 30-15 in the final 16 minutes for a 41-35 comeback win on senior night Friday in Maupin.

Redside boys shoot at 57 percent in a 81-37 romp over Ione

No. 10-ranked The Dalles uses fast start to topple Hood River Valley, 55-44
Nonprofit events calendar from Feb. 15, 2015,

Hart a first-team member on both sides of the ball; five others on second team

The 5A Special District 4 wrestling division is one of the toughest in the state, with Hermiston, Pendleton, Hood River Valley, Bend, Mountain View, Redmond, Ridgeview and Summit as just some of the heavy hitters.
Ashlie Dunn and Nate Mathews score gold in 3k event
Caleb Morris dropped 20 points and the No. 13-ranked Dufur Rangers hit Arlington strong in the opening 16 minutes for gains of 16-9 and 26-2 and rode that 42-11 halftime cushion all the way to a lopsided 59-29 tally Tuesday in Big Sky Conference boys' basketball play at Arlington High School.
Lady Rangers now riding a four-game road winning streak