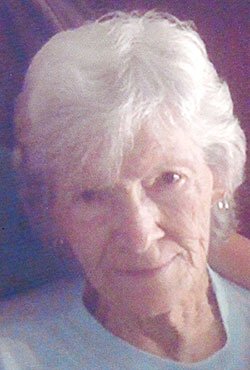 Elsie Webb
The Dalles
September 23, 1929 - March 19, 2013
Elsie Webb, 83, a longtime resident of The Dalles, Ore., died March 19, 2013, from lung cancer.
She was born Sep 23, 1929, one of 11 children, to Emil and Gladys Huxel in Quinemo, Kan. Her family moved to Oregon where she attended school and graduated from Arlington High School in 1947.
She married Jim Christensen in 1949 and they had two children, Jim and Donna. She remarried in November 1959 to Buddy Webb and they had a daughter, Wendy.
She loved being a homemaker, traveling and spending time with her family and friends. Her greatest passion was fishing and the outdoors, hunting for arrowheads, planting and tending to her garden with her grandsons, sewing and crocheting.
Though Oregon was her "home," she loved to travel and spent time all over the United States, visiting at least 43 states and living in several. Her favorites were Montana and Arizona.
She is survived by her daughter, Donna, grandson Ryan, Amanda and great grandchildren, Bryson and Amirah; grandson Trevor; grandson Eric, Donna, and great-granddaughters Kayla; Tori (great-great granddaughter Aubrey), Sierra and Madison; granddaughter Jamie, Jeff, granddaughters Alicia and Trisha; daughter-in-law Debbie, Doug and granddaughter Dawn, Allen, great grandsons Alex, Brady, Colton, Eiden and Finn; special nieces and nephews and their families.
She was preceded in death by her husband Buddy, son Jim, daughter Wendy, mom and dad, and all 10 of her siblings.
Her ashes will be placed to rest in Arlington with her family.