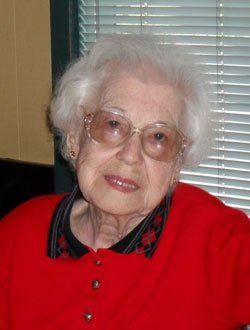 June Victoria Crow
The Dalles, Ore.
June 26, 1920 - April 17, 2013
June Victoria Crow, 92, a resident of The Dalles, Ore., died Wednesday, April 17, at a local assisted living facility.
She was born June 26, 1920, in Oildale, Calif., the first of two daughters to Clarence and Maggie (Hill) Kofahl. She was raised and educated in Bakersfield, Calif., graduating from Bakersfield High School in 1938.
She then attended and graduated from a dentistry trade school, becoming a dental hygienist. On Nov. 5, 1938, she and Clarence William Crow were married.
She resided in Bakersfield most of her life. She spent the last 15 years with her son Gary and daughter-in-law Betty in The Dalles, Ore.
She was an active member of Bakersfield Methodist Church, Fairfax Grange, and was a continuing member of the California Dental Hygienist Association. She was well known for her paintings, ceramic creations and many other craft hobbies.
She is survived by her sons Gary Crow and his wife Betty, The Dalles; and Gordon Crow and his wife Linda, Spokane, Wash.; eight grandchildren and numerous great- and great-great-grandchildren also survive.
She was preceded in death by her husband Clarence in 1995 and her sister Jean in 2012.
There will be no services per her request. She will be laid to rest beside her husband of 57 years, at the Hillcrest Cemetery, in Bakersfield California.