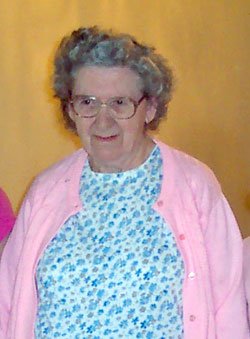 Lillian A. Lindhorst
June 13, 1923 - April 18, 2013
Lillian A. Lindhorst, 89, a resident of The Dalles, Ore., died Thursday, April 18, 2013, at a local care center.
She was born June 13, 1923, in Condon, Ore., to Otto and Vivian (Reynolds) Hoffmann. She was raised and educated in Condon.
In 1945 she and Preston Lindhorst were married and moved to Dufur, Ore., where they farmed until 1990 when she moved to The Dalles, Ore. She enjoyed yard sales and flower gardening.
She is survived by her children, Donovan Lindhorst, Gresham, Ore.; Vivian Dunn, Dufur; Larry Lindhorst, Dufur, Ore.; Daniel Lindhorst, The Dalles, Ore.; and Nancy Alvear, The Dalles, Ore.; stepsons Bud Lindhorst, The Dalles, Ore.; Bob Lindhorst, Portland, Ore.; and Don Lindhorst, Oroville, Calif.; sister Pearl Hayhurst, Lake Oswego, Ore.; and Verne Hoffman, Longview, Wash.; 14 grandchildren and numerous great-grandchildren and great-great-grandchildren also survive.
She was preceded in death by her husband in 1979.
Graveside services will be Thursday, April 25, at 1 p.m. at the I.O.O.F. Threemile Cemetery. A gathering for family members will be at Gateway Presbyterian Church following the funeral.
Memorial contributions may be made to Home At Last, 200 River Road, The Dalles, Oregon 97058
Spencer, Libby and Powell Funeral Home is in charge of arrangements.