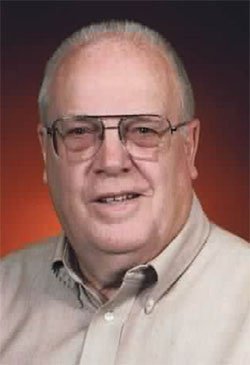 Harold " 'Hal' " Eugene Brown
Hermiston, Ore.
July 11, 1937 - April 17, 2013
Harold "Hal" Brown, 75, a former Sherman County resident, died April 17, 2013, at Ashley Manor Care Center in Hermiston, Ore.
He was born July 11, 1937, in The Dalles, Ore., one of four children to Robert Burton Brown and Lena Caroline (Lantis) Brown.
He graduated from Sherman County High School in 1955, Warner Pacific College with a bachelor's degree in psychology and in 1989 from Western Conservative Baptist Seminary with a master's degree in pastoral counseling.
He married Sally Eileen Fields on Sept. 7, 1957, in Wasco, Ore. She died in February 1973. On Jan. 31, 1976, in Portland, Ore., he married Diane Joyce Walz (originally from Ontario, Ore.).
In 1963, he was saved into the Christian church. He was a member of Kent Baptist Church. In 1975, he accepted a position as manager of Sherman County Grain Growers. And in 1983, he returned to school and eventually graduated from seminary.
In January 1990, he took a pastoral counseling position at Grace Community Church in Gresham, Ore. In 1999, he and his wife moved to Hermiston, Ore., to care for her parents.
He is survived by his wife, Diane, Hermiston; son Rex and Kerry-Lynne Brown, Portland; daughter Carole and Mike Ruikka, Goldendale, Wash.; grandchildren, Shelley (Brown) and John White , Ryan and Victoria Brown, Kyle Frolik and Shaina Frolik; great granddaughter Desiree Cucommon; sisters Dorothy (Brown) Benson and Margaret (Brown) Aschoff; brother Jim Brown and numerous nieces and nephews.
He was preceded in death by his parents, Robert and Lena Brown; his grandparents, James E. and Amy "Belle" (Burton) Brown; Beau Ward and Edith A. (Robertson) Lantis; and two stillborn sons.
A memorial service is set for Saturday, April 27, 2013, at 1 p.m., at the Kent Baptist Church in Kent.
His obituary may be read and condolences posted at www.burnsmortuary
hermiston.com.
Services for Harold Eugene Brown