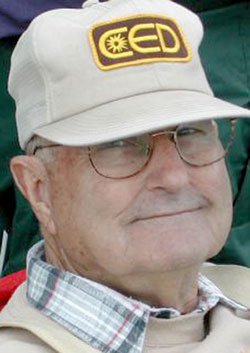 LRay Mikkelsen
The Dalles, Ore.
May 14, 1926 - April 23, 2013
LRay Mikkelsen, 86, a resident of The Dalles, Ore., died Tuesday, April 23, 2013 at his residence.
He was born May 14, 1926, in Spanish Fork, Utah, at his grandmother Clayson's house. He was the second of six children of Leonard Mikkelsen and Rosalie Clayson Mikkelsen. He attended grade school in a number of small towns in Utah and moved to Salt Lake City where his father worked for Remington Arms. He was attending Granite High School when he enlisted in the Navy at 17. Boot camp was at Farrragut, Idaho. He was then sent to the USS ABSD 1, a floating dry dock in the Hebredes Islands. He was in The Philippines when World War II ended. He was discharged May 18, 1946, at Bremerton, Wash.
His family had moved to Richland, Wash., so he joined them there. He met Shirley Parnell and they were married in 1947. Their children, Katherine and Kenneth were born in Richland.
He worked for General Electric 10 years in Richland and then was employed by Bonneville Power 30 years. His first assignment for BPA was the Midway substation.
He and his wife moved to The Dalles in 1963. He retired in 1986 and they spent 26 winters in Mesa, Ariz.
He enjoyed being busy: rock polishing, silver work, stain glass, woodworking and fixing things.
He is survived by his wife Shirley, his children Katherine and Kenneth; brother Jerry and sisters Irene and Marlene; four grandchildren and nine great-grandchildren.
Services will be Saturday, April 27, at 10 a.m. at the Church of Jesus Christ of Latter-Day Saints, 1815 East 15th, The Dalles. Interment with military honors will follow at the I.O.O.F. 18th Street Cemetery.
Spencer, Libby and Powell Funeral Home is in charge of arrangements.

Services for LRay Mikkelsen