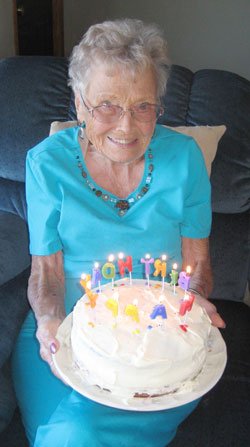 Donna "Ashley Kirsch" Ruth Hess
The Dalles, Ore.
unknown - April 24, 2013
Donna Ruth Ashley Kirsch Hess, 91, a resident of The Dalles, died April 24, 2013, at Mid-Columbia Medical Center.
She was born in Tygh Valley, Ore., the first of two children, to Eldridge and Alverta Ashley. She grew up in Wamic, Ore. She graduated from Maupin High School, and earned a degree in education from Eastern Oregon College.
She married Ernest J. Kirsch on May 9, 1942. They lived in Condon and LaGrande, Ore. During their marriage, she taught school in Wamic, Condon, Olex, and LaGrande. Her husband died in July 1978. After his death, she spent one year in the Ivory Coast as a missionary teacher, then moved to The Dalles and was active in Calvary Baptist Church.
She married W. John Hess On Jan. 3, 1982. They lived in Walla Walla, Wash., Wamic, and The Dalles. They were active in church, supported Young Life Malibu Camp and Camp Morrow in Wamic. John died in July, 2003.
She is survived by her daughter Diane (Kirsch) and Les Bradbury, Wamic; daughter Linda (Kirsch) and Jim Newton, The Dalles; stepson Lee and Harvalee Hess, Portland, Ore.; stepson Dan and Kathie Hess, Walla Walla; stepson Mark and Kathryn Southwick Hess, Walla Walla; grandchildren Steve and Stacy Bradbury, Kyle and Tina Bradbury, Jenelle and Len Rankin, Tygh and Ambria Newton, Bradly and Katie Newton, Jennifer and Haydn Mouat, Peter and Amy Hess, Jamie Hess, Mailee Hess, Mathew Hess, Michellie Hess, Brelynn Hess, Marieke Hess, 14 great-grandchildren, and numerous nieces and nephews.
She was preceded in death by her parents, husbands, and sister Julia (Ashley) Clark.
Funeral services will be Tuesday, April 30, at Spencer, Libby and Powell in The Dalles, at 10:30 a.m. Graveside services will follow at IOOF cemetery on Cherry Heights Road. Charitable donations are requested in lieu of flowers.