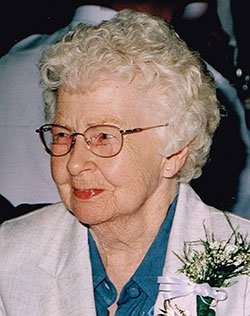 Helen M. Wallen Oppliger
Maupin, Ore.
May 9, 1916 - July 30, 2013
Helen M. Wallen Oppliger, 97, a resident of Maupin, Ore., died the evening of July 30, 2013, surrounded by her family.
She was born May 9, 1916, in Helena, Mont., to Swedish immigrants Ivar and Annie Wallen. The Wallen family moved to Bonners Ferry, Idaho, where she attended Bonners Ferry schools, graduating in 1934 as salutatorian. After high school she attended the University of Idaho, graduating in 1938 with a 4.0 GPA.
While teaching school in Orofino, Idaho, she met James Edwin Oppliger. They married Aug. 10, 1941. She taught high school for 30 years.
After retiring, she dedicated her life to knitting, gardening and spending time with family and friends.
She is survived by her husband Ed; daughter Lois Hull and her husband Gaile; grandsons Jeff Hull and Jim Hull; great-grandchildren Zach Hull, Lindsey Hull, Julie Hull and Jason Hull.
She was preceded in death by her parents and son Gary Oppliger.
A memorial service will be Saturday, Aug. 10, at 1 p.m. at the Maupin Community Church with Pastor Tim Morelli officiating. Private interment will be at the I.O.O.F. Threemile Cemetery. Memorial contributions may be sent to Southern Wasco County Ambulance Fund, P.O. Box 125 Maupin, OR. 97037.
Spencer, Libby and Powell Funeral Home is in charge of arrangements.
Services for Helen M. Wallen Oppliger