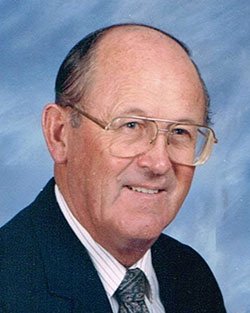 Donald Dean Thompson
Moro, Ore.
June 4, 1926 - August 1, 2013
Donald Dean Thompson, 87, died August 1, 2013, peacefully at his home in Moro, Ore., after a cancer diagnosis in October 2012.
He was born June 4, 1926, outside Moro, Ore., near Monkland. The family moved to Moro when he and his brothers were old enough to start school. During high school in Moro, he played many sports but basketball was his favorite. He attended Oregon State University and graduated with a double degree in business and agriculture in 1949.
He served in the Army at Fort Lewis . In 1950, he married Sharon Briggs and raised four children, Karen, Ron, Susan and Jan. He farmed the wheat and barley Century farm with his brothers and later his son (earning Conservation Men of the Year in 1983) and continued the family legacy of Appaloosa horses.
In 1980, after many years of involvement in the OWGL and ASCS, he left the farm and started his second profession as director in the Department of Agriculture at the state and federal levels, taking his wife, Dorothy May Tibbets, whom he married in 1982, to Washington, D.C., for many years.
He is survived by his wife Dorothy, son Ron and Sally Thompson, daughters Karen Umemoto, and Jan and Kevin Mellinger, stepsons Dirk Tibbets, Toyne and Jan Tibbets and step daughter Cheryl Parris. He has 14 grandchildren and 11 great grandchildren.
He is preceded in death by his parents Dewey and Inez, his brothers Ted, Eldon, and Keith and his daughter Susie.
A celebration of life will be Aug. 10, at noon at the Moro Community Presbyterian Church followed by lunch at the Moro Senior Center .Graveside services will be prior to the celebration at Rose Hill Cemetery at 10 a.m. Donations to the Sherman County Historical Society or Scholarship Fund are welcomed.
Spencer, Libby and Powell Funeral Home is in charge of arrangements.

Services for Donald Dean Thompson
August 10, 2013

Celebration of Life: noon