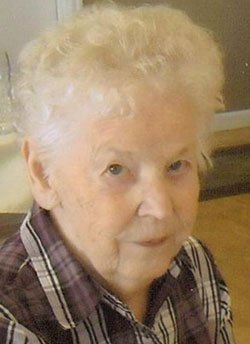 Crystal Nadine Kemp
Bend, Ore.
February 16, 1922 - April 9, 2013
Crystal Nadine (Nicholls) Kemp, 91, died Tuesday, April 9, 2013, in Bend, Ore.
She was born Feb. 16, 1922, in Bethany, Mo., to Ival and Hazel (Salmon) Nicholls, who resided on a farm in the Matkins Community in Harrison County in northwest Missouri. She was the fifth of eight children.
She was married to Lyle Edwards "Joe" Kemp and they had two children: Carolyn and a son.
She and her husband relocated to The Dalles, Ore., in 1950, following some of Joe's family to the area. They remained in The Dalles for many years. She relocated to Bend in 1988 to be closer to her daughter and grandchildren.
Her primary interest was cooking, and family enjoyed coming together, especially for her fried chicken, homemade ice cream, and fudge.
She was preceded in death by her parents, husband Joe in 1981, and granddaughter, Nanette Estep.
She is survived by her daughter Carolyn Coder (Wayne), Bend; a son; six grandchildren, 16 great-grandchildren, 15 great-great-grandchildren and 1 great-great-great-grandchild, a brother Dean Nicholls (Lois), Blue Springs, Mo.; and a sister Beverly Parker (Raymond), Independence, Mo.
Graveside Service was April 19 in The Dalles at the Odd Fellows 18th Street Cemetery.