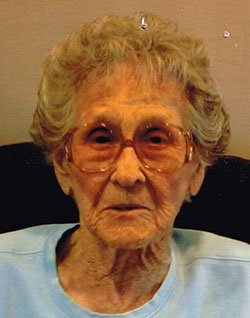 Vera J. Hicks
The Dalles, Ore.
February 25, 1920 - July 13, 2013
Vera J. Hicks, 93, a resident of The Dalles, Ore., died Saturday, July 13, 2013, at a local care center.
She was born Feb. 25, 1920, in Los Angeles, Calif., the oldest of three children to Stephen and Nellie (Patapoff) Kuznetzoff. She was raised and educated in Los Angeles, graduating from Roosevelt High School in 1939.
On September 21, 1943 she and John Edward Hicks were married in San Francisco, Calif. She has resided in The Dalles, Ore., for the past 37 years. She was a member of the Eastern Star.
She is survived by her children, Carol Ann, Gregory, William Hicks, and Patricia Paredes; grandchildren Bryan, Lisa, Eddie, Deborah, Lori, Chrissy and 14 great-grandchildren.
Private family services will be at a later date.
Contributions to help with final expenses may be made to Bank of America account 485010184010
Arrangements are by Spencer, Libby and Powell Funeral Home.