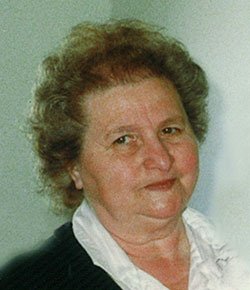 Lucinda "Cindy" E. Wooderson
Tygh Valley, Ore.
September 13, 1928 - August 5, 2013
Lucinda "Cindy' E Wooderson passed away on August 5th, 2013 at the age of 84. Cindy was born September 13th, 1928 in Long Lake, South Dakota to Emil & Emelia Henne. Later her family moved to Yakima, Washington. Cindy married Henry Wooderson Sr in 1948, marking 64 years of marriage. Cindy & Henry moved to Tygh Valley in 1952 where they raised 7 children.
Growing up, Cindy was the 1st employee for the famous 'Miners In & Out' in Yakima, which is still making their famous hamburgers today. She also loved baseball & was 1st baseman for the Tygh Valley women's softball team in the 1950's. Her dreams of baseball switched to her 2 sons, Roy & Henry, with the Tygh Valley Little League. Her enjoyments in life included evenings playing pinochle & cribbage with family & friends, the Wasco County Fair, and day trips to pick mushrooms and huckleberries.
Cindy enjoyed traveling to visit family around Oregon & Washington, including various Henne family reunions. Cindy was always cooking or baking for family and friends. She also enjoyed being around children & started a day care, as her children grew up & moved away from home. Cindy was a substitute & later head cook for Tygh Valley grade school. Cindy remembered everyone's name, birthday & wedding anniversary & would send tons of Christmas cards with a personalized note.
Cindy was the 5th youngest of 10 children; she is survived by brothers Joe Henne, Charlie Henne and sister Ada Koene. Daughter Lois Jean Mann preceded Cindy in death October 2010.
Surviving family, husband Henry Wooderson Sr, Tygh Valley, Roy & Jeannie Wooderson, Palmer, Alaska, Beverly & John Lousignont, La Grande, John Mann, Canada, Donna & Tom Troutman, Maupin, Carol 'CJ' Redman, Bend, Henry & Debbie Wooderson, The Dalles, Traci Stefanick, Bend. Grandchildren: Natasha & Karrina, Karisa & Jonathan, Lucy, Nick & Nathan, Jessica & Victoria, Chelsea, Trevor & Blake, Garret & Mason and 5 great grand-children.
Private graveside services. We invite everyone to a celebration of Cindy's life at the Dew-drop-in, Tygh Valley Fairgrounds, August 24th, 2013, Saturday, noon to 2pm. Please bring your favorite dish and enjoy gathering with many friends and family.
Services for Lucinda E. Wooderson
August 24, 2013

Celebration of Life: noon