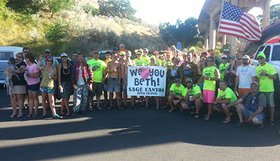 Beth E. Ashley
September 6, 1942 - August 2, 2013
Beth E. Ashley, born September 6, 1942, joined her favorite "child" Tick in Heaven on August 2, 2013. She was diagnosed with incurable breast cancer 7+ years ago, but many people might not have known it because she continued to be positive and a contributing member of the community.
Beth is survived by her husband Mike Ward, her children Debi Ashley (Richard Baltus), Steve Ashley (Julie Ashley) and Sarah Ashley, her five grandchildren, her mother Florence Peetz, her brother Lawrence Peetz (Joyce Peetz), and too many friends to list. She would not want you to cry for her because her life was everything she could have wanted. She had a wonderful family that she loved more than anything and would do anything for. And, she lived in a town where she was very much loved and respected.
At her request, there will be no service. Instead, she wants you to spend a day doing something you
truly want to do…read a book, sleep in, buy something you've really wanted, float the river, or just do
absolutely nothing.
Her ashes will be scattered in the Deschutes Canyon. Memorial contributions can be made to the South Wasco County Ambulance Fund or the Celilo Cancer Center Fund at Mid-Columbia Health Foundation.