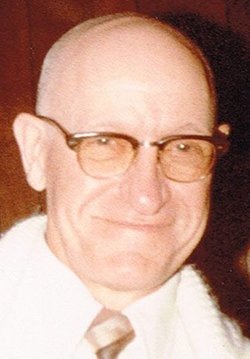 Ross Gilbert (Godfather) Stull
The Dalles, Ore.
September 25, 1925 - August 8, 2013
Ross Gilbert (Godfather) Stull, 87, a resident of The Dalles, Ore., died Aug. 8, 2013, peacefully at home with his family.
He was born Sept. 25, 1925, in Payette, Idaho, to Graff Javan and Jessie Lynn (Ringer) Stull.
He served in the U.S. Navy, as a sonar operator on the USS Chickasaw in the South Pacific during World War II.
He worked many jobs in his life but his love of the railroad finally led him to Alaska where he retired on the Alaskan Railroad in 1986.
He loved fishing and socializing and was always telling jokes.
On Feb. 19, 1946, he married Mary Lorane Spivey. They had four daughters, Ann Gronwold and husband Ken, Buckeye, Ariz.; Ellen Lord, Dallesport, Wash.; Jessie Kochis and husband Leo, The Dalles; grandchildren James Jordan and wife Kim, Cindy Eder, Karla Perry and husband Carl, Greg Murphy, Michael Murphy and wife Liz, Mark Lord, MaryEllen Lord, Lee Kochis and wife Becky, Chris Kochis; many great- and great-great-grandchildren.
He was preceded in death by his wife Mary, daughter Edna May Westby, son-in-law Marion (Bud) Lord, sisters Iola Blodgette and Inez Cartwright, brothers Blaine, Clifford and Max Stull, and great-great-granddaughter Victoria Gassner.
A celebration of life will be Saturday, Aug. 31, at 2 p.m., at The Eagles Lodge in The Dalles. Interment with military honors will be Saturday, Sept. 7, at 10 a.m. at Mt. Hope Cemetery in Baker City, Ore., followed by a celebration of life at noon at the Baker City American Legion.
In lieu of flowers, memorial contributions may be made to Providence Hospice of the Gorge, 1630 Woods Court Hood River, Oregon, 97031 in his honor.
Services for Ross Gilbert (Godfather) Stull
August 31, 2013

Celebration of Life: 2 p.m.