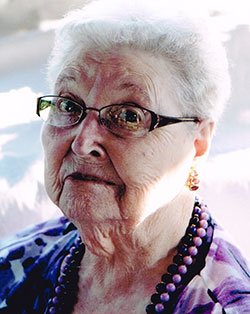 Verona Augusta Beaman Clemenson
The Dalles, Ore.
March 20, 1918 - August 15, 2013
Verona Augusta (Beaman) Clemenson, 95, a resident of The Dalles, Ore., died Aug. 15, 2013.
She was born March 20, 1918, in Kennebec, S.D., the eighth of 10 children born to Willis Sylvander Beaman and Anna Katherine Katt. She grew up in Burke, S.D.
She graduated from Burke High School and shortly thereafter met Robert Oswald Clemenson. They were married Aug. 25, 1938, in Yakima, Wash. They moved to Ellensburg, Wash., then moved to Spokane, Wash., which they called home.
She joined the workforce in 1971 after the death of her husband at Deaconess Hospital in Spokane. She worked in two different departments: Central Supply and then I.V. therapy as a secretary.
After the death of her daughter Nancy, she came to live with her youngest son Tim in The Dalles, Ore., for the past 10 years.
She was a longtime member of Lidgerwood Evangelical Church in Spokane.
She loved to cook, bake and entertain people at home. She enjoyed crocheting, needlework, canning, gardening, reading, and, in her later years, listening to "The Gaithers" gospel music.
She is survived by her daughter, Carol Jean Hamill, North Bend, Wash., and her children Shawn, Michelle and Kristy; son, Timothy John, The Dalles, wife Vickie and their children, Caleb, Jacob and Vanessa; two daughter-in-laws, Amelia Clemenson, Spokane, and her children Michael, Lisa, Tim, Peggy, Joel and Jodiel; Sue Clemenson, Des Moines, Wash.; and her children, Robyn, Cari Sue and Justin; also her only living sibling, sister Veloris Jane Sutton, Hillsboro, Ore. She had 28 great-grandchildren.
She was preceded in death by her husband Robert; her children Nancy, Robert, and Nick.
A graveside service is planned Aug. 29, at 1 p.m., at Greenwood Memorial Cemetery in Spokane.
Services for Verona Augusta Beaman Clemenson
August 29, 2013

Graveside service: 1 p.m.