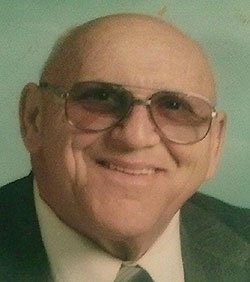 Harold "Curley" Allen Broeckel
April 1, 1931 - December 16, 2013
Harold Allen (Curley) Broeckel passed away in the early morning hours of 12-16-2013 after residing at a local care facility.
Curley was born April 1st, 1931 to Albert and Bertha Broeckel of Lacrosse, Washington. He grew up in the Lacrosse/Dusty area, helping his parents run the family owned wheat ranch.
Curley married after school and had two children Keith and Kara. He worked in the Farm Fertilizer Industry until his retirement in 1998.
Curley is survived by his son, Keith A. Broeckel of Woodland, Washington, and daughter, Kara Dightman of Arlington, Washington; a sister Lorrain Skaggs of Colfax, Washington, 4 nieces and nephews, 6 grandchildren, and 2 great-grandchildren.
Graveside services will be held at Dusty
Pioneer Cemetary,
Saturday 12-21-2013, 2:00PM, where Mr. Broeckel will be laid to rest next to his mother and Father.
Services for Harold Allen Broeckel
December 21, 2013

Graveside service: 2 p.m.