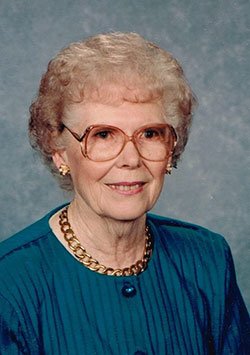 Anna Ruth Bottom
The Dalles, Ore.
March 17, 1919 - December 20, 2013
Anna Ruth Bottom, 94, a resident of The Dalles, Oregon died at home Friday, December 20, 2013.
Anna was born March 17, 1919 in Graceville, Florida the sixth of twelve children to
Jordan and Betty (Short)
Ogburn. She was raised and educated in Cordell, Oklahoma graduating from High School in 1939. On July 30, 1939 she and Shannon Bottom were married in Washita County, Oklahoma.
She came to The Dalles, Oregon in 1986. Anna was a member at the Life in Christ Center. She
enjoyed spending time with family, painting, sewing and needlework.
She was preceded in death by her husband Shannon, brothers Merle, Glen, Gene, J.B and Joe Ogburn and sisters Mary Thiesen and Edna Goodell.
Anna is survived by her sons Tony Bottom and his wife Lynda; Donald Bottom and his wife Barbara; daughters, Carolyn Knotts and Sharon Bailey and her husband Jim; brother Paul Ogburn; sisters Mildred Gressly, Erma Coleman and Betty Johnson; grandchildren Lynnette, Tonya, Nick, Misty, Cody, Amber, Kari, Kraig, Stacey, Michael, Michon, Steele and Kane. Twenty-five great grandchildren and two great great grandchildren also survive.
Visitation will be Thursday, December 26, 2013 from 2 to 5 pm at Spencer, Libby and Powell
Funeral Home. Services will be held Friday,
December 27, 2013 at 2pm at Life in Christ Center, followed by interment at the IOOF 18th Street Cemetery.

Services for Anna Ruth Bottom